USA, Lexington Kentucky - October 19th, 2009 (Joe Omielan) - Project Update
This year the plots were planted on May 21, 2009 in 15 inch rows. The design of the experiment is the same as last year. The objective is to "simulate" the effects of SBR and to measure the impact on Radiation Use Efficiency (RUE). We are using AG3905 (Group III) here while LSU is using DP4331RR (Group IV). Planting plots that are straight and evenly spaced is a team effort and an introduction to field research for our summer students. Here are some photos from planting.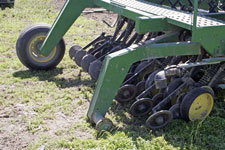 We were a bit delayed in starting until the flat tire on the drill was fixed. The tire "picked up" a nail on the way to the field.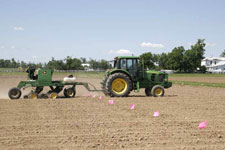 Here are the tractor and drill in action.
Our summer students, Alex Melnik and Jason Lucas (from left to right), are directing the tractor driver while the grad student on the project, Abdul Aqeel, is on the drill, making sure we have good seed flow.