USA, Lexington Kentucky - July 13th, 2007 (Joe Omielan) - Project Update
We had a very hot and dry spring and had to start irrigating early in the season.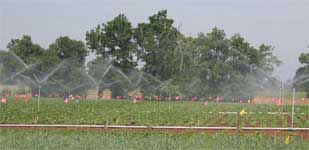 Fortunately, it didn't take long for the crew to become proficient in moving irrigation pipe. From left to right: Mee (Jakkapong Sukphan), Jonathan Riley, and Elena Prior.
This year we borrowed equipment from the soybean variety testing group to spray Gramoxone onto our alleyways.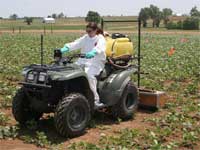 It was very effective after only a couple of days.