USA, Lexington Kentucky - October 19th, 2009 (Joe Omielan) - Project Update
We need to know the LAI of the control plots to calculate our defoliation targets. This means we need to take destructive samples, remove the leaves and run them through the leaf area meter. Collecting and processing LAI samples and then defoliating plots is labor intensive.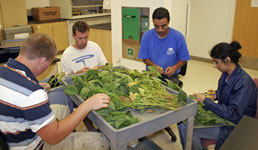 Here Alex, Jason, Abdul, and Anubha Pareek (from left to right) are removing leaflets from plants sampled for LAI.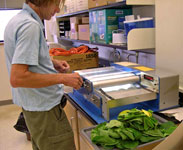 Joe Omielan is putting leaflets through the leaf area meter.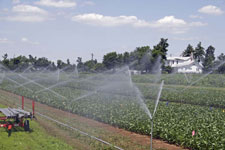 Plot maintenance includes applying irrigation when rainfall is low.
Vegetative growth in the plots has been good, as Abdul is demonstrating here.