USA, Lexington Kentucky - October 23, 2006 (Saratha Kumudini) - Project Update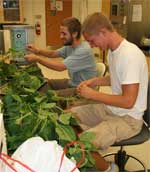 Soybeans finally reached R5 growth stage. Undergraduate Research Interns George Clements and Daniel Sheffler pulling leaves from LAI samples.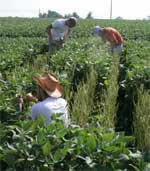 Daniel, George, Gustavo (Brazilian Intern) performing manual leaf removal to achieve 100% defoliation .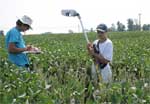 Dr. Joe Omielan and Elena Prior set to take NDVI (normalized difference vegetative index) measurements with Green Seeker in 100% defoliation plot.