USA, Lexington Kentucky - March 23, 2009 (Joe Omielan) - Project Update
Collecting and processing LAI samples and then defoliating plots is labor intensive. Fortunately, Abdullah Aqeel joined our group as a Ph.D. student and we put him to work in the field right away.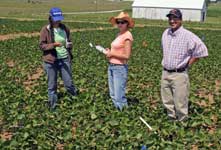 In the above photo Sri, Elena, and Abdul are measuring Light Interception (LI).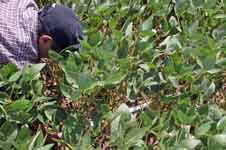 In this photo Abdul is positioning the light bar in a partially defoliated plot to measure the amount of light below the canopy. We measured the LI of the control and defoliated plots before each biomass harvest in the season.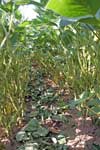 The photo above shows below the canopy of one of the defoliation plots in mid-August. The defoliation progressed from the bottom to the top as it does with SBR.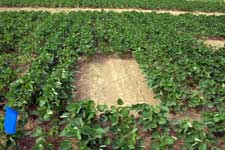 After measuring LI, biomass samples were harvested from 2 m2 areas, which were bordered by the same amount of defoliation. The biomass data will be used to quantify the impact of our treatments on growth and radiation use efficiency (RUE).