USA, Lexington Kentucky - October 19th, 2009 (Joe Omielan) - Project Update
After R5, fallen leaflets are collected from 1 m2 cages to estimate the decrease in control LAI. The plots are defoliated and at each sampling time a set of plots are measured for light interception (LI) before 2 m2 biomass samples are harvested. These data will be used to calculate radiation use efficiency (RUE).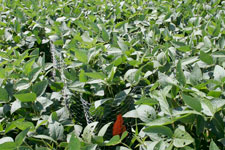 Here's a leaf collection cage shortly after installation.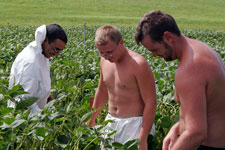 Abdul, Alex, and Jason are partially defoliating one of the plots.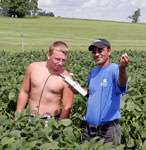 Alex and Abdul are measuring LI. We measure light levels above and below the canopy simultaneously.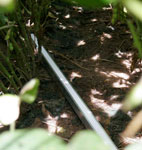 The light bar is placed diagonally between two rows under the canopy.