USA, Lexington Kentucky - November 12th, 2009 (Joe Omielan) - Project Update
This month was a busy one with plots to harvest, data to analyse, and posters to prepare for scientific meetings. Our group presented a number of posters at the ASA-CSSA-SSSA International Annual Meetings held in Pittsburgh, PA from November 1 to 5. The abstracts are available on the meeting website http://www.acsmeetings.org. The titles and links to PDF versions of the posters are listed below photos of the poster presenters.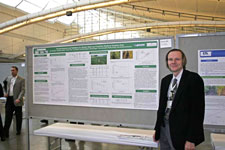 Here's Dr. Joe Omielan beside his poster titled "The Development and Validation of a Simple Yield Loss Prediction Model for Soybean Rust". (PDF)
Here's Elena Prior by the two posters she presented. Their titles are "Impact of Phakopsora pachyrhizi Infection on Soybean Leaf Photosynthesis and Radiation Absorption" (PDF) and "The influence of genetic variation in disease susceptibility on the photosynthetic competence of soybean rust infected leaves". (PDF).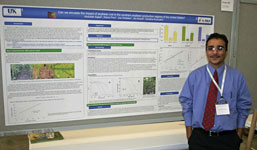 Here's Abdul Aqeel standing by hid poster titled "Can we simulate the impact of soybean rust in the southern soybean production regions of the United States?" (PDF)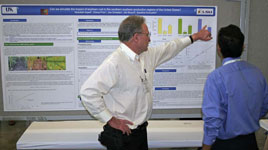 Here's Dr. Jim Board discussing Abdul's poster while taking a break from standing by his poster titled "Yield Response of Soybean to Partial and Total Defoliation during the Seed Filling Period". (PDF)