Fritillaries are a smaller group within the butterfly family Nymphalidae. All butterflies in this family have tiny front legs that lack claws (in most other butterfly families, the front legs have claws). This family includes many other common butterflies, including viceroys, checkerspots, and heliconians. Togther, all of the butterflies in this family are known as "brush-footed butterflies."
The fritillary subfamily is called Argynninae. Fritillaries are usually medium- to large-sized, and their wings are brownish-orange with wavy black lines and spots. As with all butterflies, fritillaries have scaly wings and coiled mouthparts.
Since most fritillaries look very similar, wing patterns must be closely examined and compared with pictures in field guides for accurate identification. There are also a few species of Checkerspots and Crescent butterflies (also in the Nymphalidae family) that look very much like fritillaries.
Detailed pictures of fritillaries and similar buterflies are available in the following field guides:
Butterflies and Moths by Mitchell and Zim
Peterson Field Guide to Eastern Butterflies by Opel and Peterson
Fritillary caterpillars vary in color depending on the species, but most feature 6 rows of branching spines that go all the way down their bodies.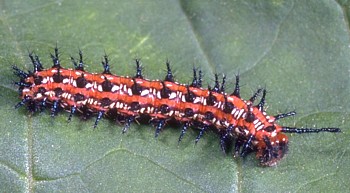 Fritillary Caterpillar (R. Bessin, 2002)
SIZE: Adult wingspan up to 3 3/4", caterpillar up to 2"
LIFE CYCLE
As with all butterflies, fritillaries have complete metamorphosis with egg, larval, pupal, and adult stages. Adults are active all summer long. Most species overwinter as larvae.
ECOLOGY
Fritillary adults and caterpillars are very common in fields, meadows, and other weedy areas. The caterpillars feed on violet. The adult butterflies feed only on nectar.
Although the spines on the backs of fritillary caterpillars provide them with some defense, they are nevertheless eaten by a wide variety of predators, including birds, spiders, and other insects. The adult butterflies are preyed upon by birds and flying insect predators, like robber flies and dragonflies.
PEST STATUS
Fritillaries are not considered pests.
COMMON KENTUCKY FRITILLARIES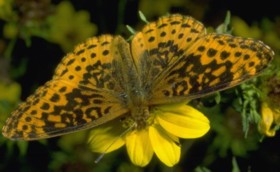 Meadow Fritillary ( R. Bessin, 2002)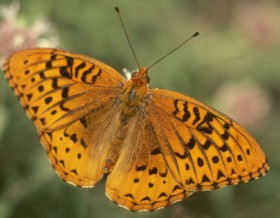 Greater Fritillary (Corel Photo CD, 1993)
COLLECTING & PHOTOGRAPHY
Look for adult fritillaries throughout the summer in open fields, meadows, and near the forest edge. Some of the small species are fast fliers, and can be difficult to catch. Use a butterfly net when capturing these butterflies to keep from damaging the wings.
Once captured, it is best to keep any butterfly in a "butterfly envelope". Visit this page to learn how to make your own butterfly envelopes:
http://www.kellscraft.com/butterfly01.html#COLLECTIONS
Butterflies make great photography subjects, but getting a good picture can be a challenge - even when the butterflies aren't flying, they are almost always walking around or moving their wings up and down. One technique: find a fritillary early on a cool summer morning. It will still be warming itself and will be less likely to fly away.
Fritillary caterpillars are much slower moving than the adults, and can be found on wild violets. All insect larvae should be preserved in alcohol. If you try raising a fritillary caterpillar, remember that it is very picky, and will only eat violet foliage.
MYTHS - LEGENDS - FOLKLORE
Do you know any myths, legends, or folklore about fritillaries? Let us know if you do!
---
Original document: 25 May 2004
Last updated: 25 May 2004

Monarch and Viceroy Butterfly photos courtesy Corel, 1993. Used with permission. Other pPhotos courtesy R. Bessin and B. Newton, University of Kentucky
The Kentucky Critter Files are maintained by Blake Newton, Department of Entomology, University of Kentucky.
Contact: blaken@uky.edu