COMMON KENTUCKY BUTTERFLIES:
CATERPILLARS OF COMMON KENTUCKY BUTTERFLIES:
COMMON KENTUCKY MOTHS:
COMMON KENTUCKY MOTH CATERPILLARS:
WHAT ARE BUTTERFLIES & MOTHS?

Butterflies and moths may be the most familiar of all insects. They also may be the easiest to recognize, with their unique coiled mouthparts and their large, scaled wings. The color patterns on butterfly and moth wings are created by tiny, overlapping "scales" (much like the scales on reptiles, only much smaller). These scales appear only among butterflies and moths.

ABOVE: Close-up of butterfly mouthparts. When a butterfly or moth is not drinking, its "tongue" is wound into a tight coil. The tongue is actually a tube, and it is able to extend and siphon water and nectar. This type of mouthpart, called "siphoning," is unique to moths and butterflies. (Corel Photo CD, 1993)
WHAT IS THE DIFFERENCE BETWEEN BUTTERFLIES AND MOTHS?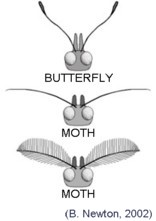 Butterflies and moths are closely related (they are in the same scientific order, Lepidoptera). Moths and butterflies both also have coiled mouthparts and scaly wings, so it is sometimes difficult to tell the difference between moths and butterflies. In most cases, butterflies fly during the day, and moths fly at night. However, this is not always true.
RIGHT: The best way to distinguish butterflies from moths is by their antennae: moth antennae are either straight and bare, or feathery. Butterfly antennae are always straight with a distinct "knob" at the end. Moth antennae never have knobs.
There are many different kinds of butterflies and moths in Kentucky. Click on the pictures above to learn more about specific types of adult butterflies and moths. Or, visit the Caterpillars section to identify butterfly and moth caterpillars.
---
Original document: 25 May 2004
Last updated: 12 March 2004

Photos courtesy R. Bessin and B. Newton, University of Kentucky
The Kentucky Critter Files are maintained by Blake Newton, Department of Entomology, University of Kentucky.
Contact: blaken@uky.edu