Sphinx Moths belong to the family Sphingidae within the insect order Lepidoptera (butterflies and moths). Some of the moths in this family are also sometimes called hawk moths or hummingbird moths and a few species are called hornworm moths but it is acceptable to call any member of the family a sphinx moth. Most sphinx moths have heavy, football-shaped bodies and relatively narrow wings. Their antennae are thickened at the tips.
There are many species of sphinx moths, and many of them look very similar. We only have a few examples here, so it is important to closely examine field guides for accurate identification. Detailed pictures of sphinxes and other moths are available in many field guides, including the following:
Butterflies and Moths by Mitchell and Zim
Peterson Field Guide to Eastern Moths by Covell
Sphinx moth caterpillars vary in color and shape, depending on the species, but most have smooth skin. Some, especially the hornworms, have distinctive horns at the end of the body. Pictured below is a typical sphinx caterpillar, the larva of the White-Lined Sphinx Moth.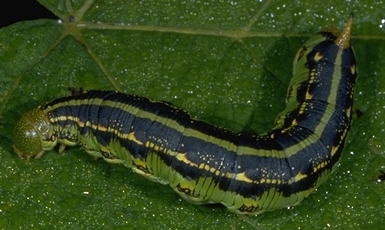 White-Lined Sphinx Caterpillar (R. Bessin, 2003)
SIZE: Adult wingspan up to 5 1/2", caterpillar up to 3"
LIFE CYCLE
As with all butterflies and moths, sphinx moths have a complete metamorphosis with egg, larval, pupal, and adult stages. Adults and caterpillars are active in warm months. Most species overwinter as pupae.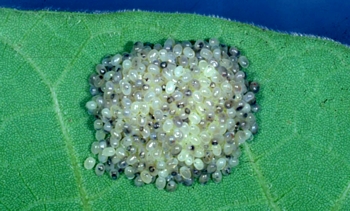 Catalpa Sphinx Eggs (Lacy L. Hyche, Auburn University)
ECOLOGY
Many sphinx moth adults and caterpillars are common in crops, gardens, meadows, forests; they are found anywhere that their host plants grow. Sphinx moth caterpillars feed on a variety of plants, depending on the species and some are important pests (tobacco hornworm, e.g.). Adult sphinx moths feed only on nectar.
Sphinx moth caterpillars are preyed upon by many creatures, including mantids, assassin bugs, birds, and spiders. Some sphinx caterpillars are partially defended by chemicals that they received from their food plants. For instance, the tobacco hornworm caterpillar gets nicotine, which is a poison to most animals, from tobacco. Some sphinx larvae exhibit defensive behaviors when attacked, such as thrashing and regurgitation. Sphinx moths are also eaten by many creatures, but they often have subdued colors which help to provide camouflage. A few sphinx moths, such as the clearwing hummingbird moths, are bright black and yellow and resemble bees: this color mimicry is believed to provide some protections from predators.
Unlike most moths, sphinx moths are very good fliers. Many species are able to hover in mid-air, just like hummingbirds. Sphinx moths use this ability to feed on the nectar of hard-to-reach flowers.
PEST STATUS
The only important sphinx moth pests are tobacco and tomato hornworms. Read about pest hornworms in tobacco curing barns in ENTfact 151.
COMMON KENTUCKY SPHINX MOTHS
CAROLINA SPHINX
GENUS and SPECIES: Manduca sexta
The Carolina Sphinx, Manduca sexta, also-known as the Tobacco Hornworm. The caterpillar is an important pest of tobacco and also feeds on a few related plants, such as tomato. The moth and caterpillar are both fairly large: up to 3" for the caterpillar and 2" for the moth. Carolina sphinx larva are often seen with cocoons of a parasitic wasp. The Tomato Hornworm (pictured below) is similar in appearance and feeds on some of the same host plants.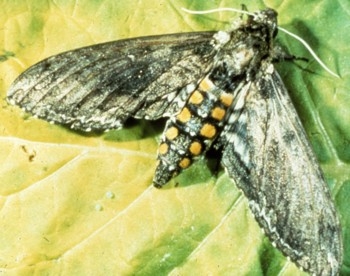 Carolina Sphinx Moth (courtesy R.J. Reynolds Tobacco Company)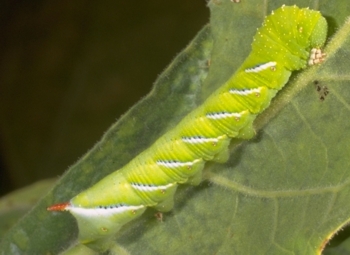 Caroilna Sphinx Larva (R. Bessin, 2001)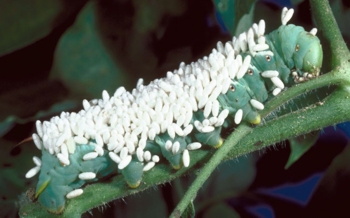 Parasitized Caroilna Sphinx Larva (Robert L. Anderson, USDA Forest Service)
TOMATO HORNWORM
GENUS and SPECIES: Manduca quinquemaculata
The Tomato Hornworm, Manduca quinquemaculata, also known as the Five-Spotted Hawk Moth, is very closely related to the Carolina Sphinx (pictured above). This two species are very difficult to distinguish and are found on many of the same host plants. Both species can be pests on tobacco and tomato .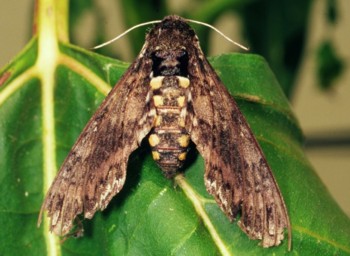 Tomato Hornworm moth (Jim Occi, BugPics )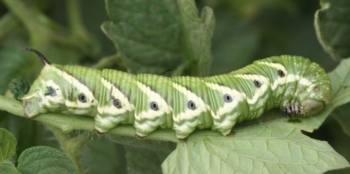 Tomato Hornworm caterpillar (Whitney Cranshaw, Colorado State University)
CATALPA SPHINX
GENUS and SPECIES: Ceratomia catalpae
The Catalpa Sphinx is found in urban areas where its larvae feed on leaves of the catalpa tree. The larvae, often called "catalpaworms," live in semi-social colonies and are sometimes seen in large numbers. These larvae are sometimes raised and sold as fish bait. The eggs of the catalpa sphinx are pictured above.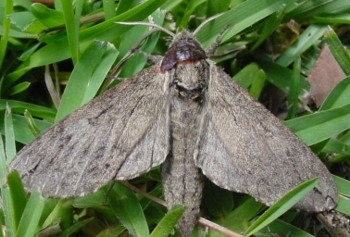 Catalpa Sphinx Moth (Herbert A. Joe Pase III, Texas Forest Service)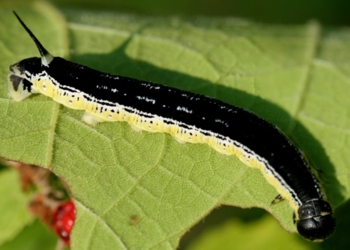 Catalpa Larva (David Cappaert, Michigan State University)
WAVED SPHINX
GENUS and SPECIES: Ceratomia undulosa
Pictured below are the adult and larval forms of the Waved Sphinx Moth, Ceratomia undulosa. Closely related to the Catalpa Sphinx (above), waved sphinx larvae feed on ash trees, lilac, and a few other hosts. The larvae look very similar to tobacco hornworms.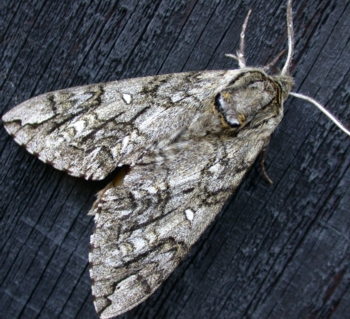 Waved Sphinx Moth (B. Newton, 2002)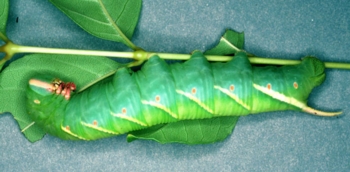 Waved Sphinx Moth Caterpillar (Lacy L. Hyche, Auburn University)
SPHINX spp.
GENUS: Sphinx
Pictured below are two examples of moths from the Sphinx genus, the Apple Sphinx (S. gordius) (which feeds on the leaves of apple, ash, blueberry and a few other hosts ) and the Great Ash Sphinx (S. chersis) (hosts include ash and lilac).
Apple Sphinx Moth (Corel Photo CD)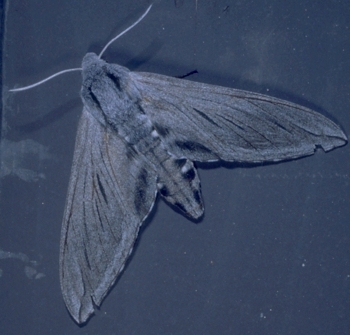 Great Ash Sphinx Moth (Corel Photo CD)
CLEARWING SPHINX MOTHS
GENUS: Hemaris
Sphinx moths in the Hemaris genus are usually referred to as Clearwing Sphinx Moths or hummingbird moths. At least two species are common in Kentucky, the Snowberry Clearwing (H. diffinis) and the Hummingbird Clearwing (H. thysbe). They both mimic bumblebees and are very difficult to distinguish from one another. Larvae of both species feed on similar host plants, including honeysuckle and snowberry.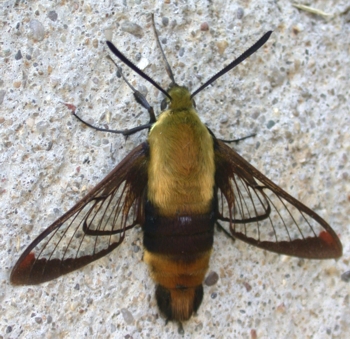 Hummingbird Clearwing (B. Newton, 2005)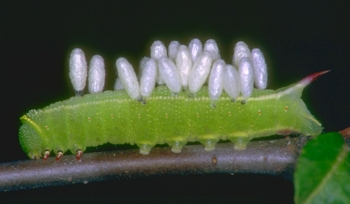 Clearwing Sphinx Moth Caterpillar with Parasitic Wasp Cocoons (Corel Photo CD)
COLLECTING & PHOTOGRAPHY
Sphinx moths are common all over Kentucky, but most are nocturnal so they are rarely encountered. Clearwing Hummingbird moths are active during the day, however, and can often be found in flower gardens. These moths are fairly easy to catch in an insect net but they can be difficult to photograph because they are almost always in motion (like a hummingbird) and a high-shutter speed and bright sunlight are essential for capturing a good picture.
If captured for an insect collection, it is best to keep any moth in a "butterfly envelope" until you are prepared to mount it on an insect pin. Visit this page to learn how to make your own butterfly envelopes:
http://www.kellscraft.com/butterfly01.html#COLLECTIONS
MYTHS - LEGENDS - FOLKLORE
Sphinx moths are so-named because of the characteristic sphinx-like pose adopted by some of the larvae when at rest (head and legs held up and tucked under).

---
Original document: 12 March 2008
Last updated: 26 Feb 2010

Spicebush and Black Swallowtail photos courtesy Corel, 1993. Used with permission. Other photos courtesy R. Bessin and B. Newton, University of Kentucky, except where otherwise noted.
The Kentucky Critter Files are maintained by Blake Newton, Department of Entomology, University of Kentucky.
Contact: blaken@uky.edu