Sulphurs and Whites, together known as "pierids" (from the family name, Pieridae), are usually easy to recognize by their colors. Most species in this family have wings that are bright orange, yellow, or white, often with a black markings. Female pierids often have different colors and patterns than the males. These butterflies do not have greatly reduced front legs, as do the butterflies in the Nymphalidae. Most pierids are small- or medium-sized butterflies. All butterflies have 4 scaly wings and coiled, siphoning mouthparts.
Because most sulphurs and whites look very similar, it can be hard to identify individual species without looking carefully at the wing patterns. Detailed pictures of sulphurs and whites are available in the following field guides:
Butterflies and Moths by Mitchell and Zim
Peterson Field Guide to Eastern Butterflies by Opel and Peterson

Most Sulpher and White Caterpillars are small and green with yellow or white stripes. Like all moth and butterfly larvae, pierid caterpillars have chewing mouthparts.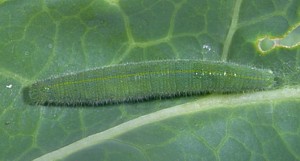 Imported Cabbageworm: a pierid caterpillar
(R. Bessin, 2002)
SIZE: Adult wingspan up to 2 3/4", caterpillar up to 1"
LIFE CYCLE
As with all butterflies, sulphurs and whites have complete metamorphosis with egg, larval, pupal, and adult stages. Adults are active throughout the warm months. Some pierid species are among the first butterflies seen in early spring. Most species have several broods each year.

ECOLOGY
Sulphurs and whites and thier caterpillars are very common in fields, meadows, and other weedy areas. The caterpillars feed on a variety of plants, depending on species. Some common host plants include clover, alfalfa, and various mustards and legumes. The adult butterflies feed only on nectar.
Thier green coloration helps pierid caterpillars avoid predation, but they are nevertheless preyed upon by a variety of creatures, including birds, spiders, and insects. Pierid adults are preyed upon by birds, crab spiders, and flying insect predators.
PEST STATUS
This family contains some of the only butterfly pests in our part of the country. The Imported Cabbageworm (shown above) feeds on cabbage and a few related plants. The adult form, often called the Cabbage Butterfly, Pieris rapae, is shown below.
COMMON KENTUCKY SULPHURS & WHITES
CABBAGE BUTTERFLY
GENUS and SPECIES: Pieris rapae
Cabbage Butterfly, Pieris rapae, is a white butterfly with black-tipped wings. Its larva, the Imported Cabbageworm, is a pest of vegetable crops. Read more about it in our Cabbage Insects factsheet.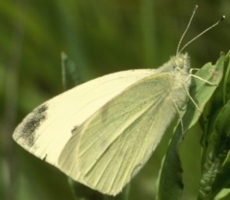 Cabbage Butterfly: the adult form of the Imported
Cabbageworm (Corel Photo CD, 1993)
SULPHUR
GENUS: Colias and others
Butterflies in the family Pieridae that are mostly yellow in color are often called Sulphurs. There are many species refered to as Sulphurs; pictured below is a typical example.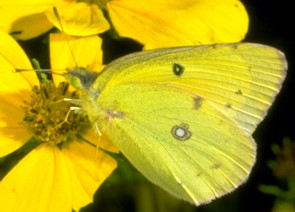 Sulphur (R. Bessin, 2002)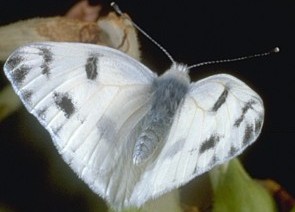 Checkered White (R. Bessin, 2000)
COLLECTING & PHOTOGRAPHY
Adult sulphurs and whites can be found throughout the spring and summer in open fields, meadows, and near the forest edge. Some of the small species are fast fliers, and can be difficult to catch. Use a butterfly net to keep from damaging the wings.
Once captured, it is best to keep any butterfly in a "butterfly envelope". Visit this page to learn how to make your own butterfly envelopes:
http://www.kellscraft.com/butterfly01.html#COLLECTIONS
Butterflies make great photography subjects, but getting a good picture can be a challenge - even when the butterflies aren't flying, they are almost always walking around or moving their wings up and down. One technique: find a sulphur or white early on a summer morning. It will still be warming itself and will be less likely to fly away.
Pierid caterpillars can be found feeding on various mustards and legumes. All insect larvae should be preserved in alcohol. If you try raising a peirid caterpillar, remember that it is very picky, and it will probably only eat leaves from the type of plant on which it is found when caught.

MYTHS - LEGENDS - FOLKLORE
Have you heard any myths, legends, or folklore about pierids or other butterflies? If so, let us know.
---
Original document: 25 May 2004
Last updated: 25 May 2004

Monarch and Viceroy Butterfly photos courtesy Corel, 1993. Used with permission. Other pPhotos courtesy R. Bessin and B. Newton, University of Kentucky
The Kentucky Critter Files are maintained by Blake Newton, Department of Entomology, University of Kentucky.
Contact: blaken@uky.edu