TAXONOMY
KINGDOM: Animalia | PHYLUM: Arthropoda | CLASS: Insecta | ORDER :Diptera | FAMILY: Tipulidae (crane flies)
Other Names: Tipulids, daddy-long-legs, leatherjackets (larvae), skeeter eaters
WHAT IS A CRANE FLY?
LIFE CYCLE
ECOLOGY
PEST STATUS
COMMON KENTUCKY CRANE FLIES
COLLECTING & PHOTOGRAPHY
CRANE FLY FACTS
MYTHS, LEGENDS, AND FOLKLORE
WHAT IS A CRANE FLY?
Crane Flies belong to the family Tipulidae. Common crane flies are long and thin with very long legs, and resemble giant mosquitoes. Unlike mosquitoes, though, crane flies do not bite humans or animals. Crane flies can be distinguished from other flies by the "V" shaped suture on the thorax (shown below). Like all true flies (order Diptera), crane flies have only 2 wings.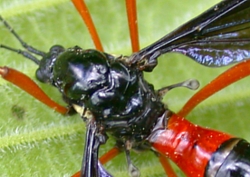 Crane fly: suture (B. Newton, 2005)
In many species, male and female crane flies can be easily distinguished: females have a pointy abdomen and males have a blunt abdomen.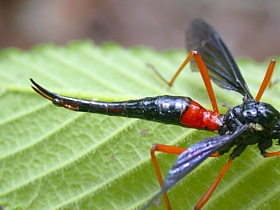 Female crane fly, Ctenophora sp. (B. Newton, 2005)
Immature crane flies are legless and wormlike, and, like most fly larvae, are very difficult to identify, even for experts. Some crane fly larvae are very large, up to almost 2" long. Some larvae develope a tough outer cuticle and are called "leatherjackets."

SIZE: Adult body length up to 1", larvae up to about 1 3/4 "
LIFE CYCLE
Like all flies, crane flies undergo complete metamorphosis with egg, larval, pupal, and adult stages. The larvae are legless and wormlike, and some are very large. Winged adults are active during warm months, especially fall and spring, with different species of adults active at different times during the year. Adults live only for a few days; just long enough to mate and lay eggs. Most species overwinter as larvae or pupae in moist soil, decaying vegetation, or underwater.
Crane Fly Larva (B. Newton, 2004)

Crane Fly Larva, detail (B. Newton, 2004)
ECOLOGY
Crane flies are associated with moist habitats. The larvae of many crane fly species live in moist soil where they feed on decaying vegetation or on plant roots. Other species live in streams. Many stream-living crane fly larvae feed on decaying vegetation, but some are predators of aquatic insects and other invertebrates. Adult crane flies live only a few days, and many species do not eat (some species are believed to feed on nectar). Adults are usually active at night or in shady areas during the day.
Soil-dwelling crane fly larvae are fed upon by a variety of creatures, including spiders, centipedes, and predatory beetles. Aquatic crane fly larvae are fed upon by fish and aquatic insect predators, like dragonfly naiads. Adult crane flies are a common food source for spiders, praying mantids, and birds.
PEST STATUS
Most crane flies are beneficial decomposers. Rarely, large populations of crane flies can cause damage to turf in poorly-drained soils. Crane flies are sometimes a nuisance when large numbers of adults swarm in urban lawns, but adults are harmless and do not harm humans, animals, plants, food, or homes.
COMMON KENTUCKY CRANE FLIES

GENERA: Tipula, Ctenophora, Nephrotoma, others
There are dozens of crane fly species in Kentucky, and most are similar in appearance and biology. The most commonly encountered species are in the Tipula genus, and these are typically 3/4" - 1" long and gray or brown in color. Crane flies in the Ctenophora genus are usually large (about 1" long) and shiny black, some with red or orange markings. Some of these resemble wasps. Members of the Nephrotoma genus are sometimes called "tiger crane flies", and these species often have banded color patterns.

Tipula

sp., female (R. Bessin, 2000)

Tipula

sp., male (R. Bessin, 2000)

Ctenophora

sp., female (B. Newton, 2005)

Nephrotoma

sp., mating

(B. Newton, 2003)
COLLECTING & PHOTOGRAPHY
Crane flies are common in Kentucky and can usually be found in cool, shady places during the warm months in Kentucky. In the spring and early fall they can be very common around homes. Crane flies are poor fliers, so they are easy to capture with an insect net. They will often remain still on a flower or leaf for a few moments creating a good opportunity for a photograph.
Larval crane flies can be more difficult to find. Some species are common in shallow, fast-moving creeks and streams where they can be found under submerged rocks and logs. Terrestrial larvae are harder to find, but can sometimes be collected in rotten logs or moist soil.
CRANE FLY FACTS
Crane flies are sometimes called "daddy-long-legs," a name also used for certain cellar spiders and harvestmen. None of these animals are closely related. This is an example of why scientific names are important: often, several organisms can share the same common name, or a single organism can have more than one common name.
Chen Young maintains the Crane Flies of Pennsylvania website which has detailed info about many species of crane flies, most of which also live in Kentucky:
http://iz.carnegiemnh.org/cranefly/index.htm
MYTHS - LEGENDS - FOLKLORE
Because they are sometimes called "daddy-long-legs," crane flies are sometimes associated with the mistaken belief that "daddy-long-legs are extremely venomous, but cannot bite humans." Although it is true that crane flies cannot bite humans, they are not venomous, and neither are the other types of "daddy-long-legs." Read more about this myth at the University of Washington website.
Sometimes, crane flies are referred to as "skeeter eaters." This is an interesting name, but crane flies are not predators and do not eat mosquitoes (not as adults, anyway: some larval crane flies are predatory, and may occasionally eat mosquito larvae).
People sometimes refer to crane flies as "male mosquitoes." This may have come from the knowledge that male mosquitoes don't bite. Crane flies are not male mosquitoes, although mosquitoes and crane flies are fairly closely related.
---
Original document: 17 November 2005
Last updated: 14 October 2008

Photos courtesy R. Bessin and B. Newton, University of Kentucky
The Kentucky Critter Files are maintained by Blake Newton, Department of Entomology, University of Kentucky.
Contact: blaken@uky.edu