SCORPIONFLIES
& HANGINGFLIES
Critter Files/Insects/Scorpionflies
By Blake Newton
University of Kentucky Department of Entomology
TAXONOMY
KINGDOM: Animalia | PHYLUM: Arthropoda | CLASS: Insecta | ORDER: Mecoptera (Scorpionflies & Hangingflies)
WHAT IS A SCORPIONFLY?
LIFE CYCLE
ECOLOGY
PEST STATUS
COMMON KENTUCKY SCORPIONFLIES & HANGINGFLIES
COLLECTING & PHOTOGRAPHY
SCORPIONFLY & HANGINGFLY FACTS
MYTHS, LEGENDS, AND FOLKLORE
Other Names: Mecopterans, Panorpids (Scorpionflies), Bittacids (Hangingflies), Hanging Scorpionflies (Hangingflies)
WHAT IS A SCORPIONFLY?
"Scorpionfly" is the common name for insects belonging to the family Panorpidae within the order Mecoptera. All adult scorpionflies have chewing mouthparts. Most scorpionflies also have 4 wings, although individuals belonging to the rare "Snow Scorpionfly" family (Boreidae) have no wings. Scorpionflies can be easily recognized by the long "rostrum," at the end of which are the mouthparts (pictured below).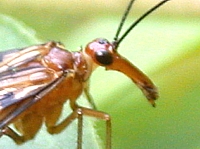 Long rostrum of a scorpionfly (B. Newton, 2005)
Scorpionflies are named because of the external male genitalia which resemble the stingers of scorpions. Scorpionflies cannot sting. Females do not have this structure.
Hangingflies are in the same order (Mecoptera) as scorpionflies, but they belong to their own family (Bittacidae). They resemble scorpionflies in many ways (they are sometimes called "hanging scorpionflies") but are distinguished by their long, "raptorial" (prey-catching) legs.
Like all insects, scorpionflies and hangingflies have 3 body parts, 1 pair of antennae, and 6 legs.
Scorpionfly and hangingfly larvae resemble moth caterpillars. They are rarely seen, but they are common in Kentucky.
SIZE: Body length of adult scorpionflies up to 3/4" long, adult hangingflies are up to 1" long
LIFE CYCLE
Scorpionflies and hangingflies have complete metamorphosis with egg, larval, pupal, and adult stages. Adult female scorpionflies lay small masses of eggs in soil. When they hatch, larval scorpionflies live and grow near the soil-layer before pupating in underground cells. Pupae are the overwintering stage. Adults emerge and mate in summer. Hangingflies have a similar life-cycle, but females lay their eggs in moss.

Drawing of a Scorpionfly Larva (from Miyake 1912, Tokyo
Journal of the College of Agriculture. Vol. 4, 117-139)
An illustration of the scorpionfly life-cycle can be seen here in a page from a historic entomology textbook.
ECOLOGY
There are several species of scorpionflies in Kentucky, and their biology is not well known. Adult scorpionflies of most species are believed to feed on dead insects, nectar, rotting fruits, and other organic matter. Some scorpionflies may be predatory on live prey, especially wounded or slow-moving insects. Scorpionflies are found in meadows, especially near the forest-edge. As with the adults, the habits of larval scorpionflies are not well-known. Many species are believed to be scavengers and opportunists, feeding on dead insects and decaying organic material.
Hangingflies are predators that feed on caterpillars, mosquitoes, flies, moths, and other flying insects. As their name suggests, hangingflies hang and wait in ambush for prey. They use their long, clawed legs to capture insects that get too close. Hangingflies hunt in grassy areas, meadows, and along sheltered cliff-lines. Larval hangingflies are believed to be predators.
Scorpionfly feeding on a juvenile

mantid (B. Newton, 2005)

Hangingfly waiting for prey

(B. Newton, 2005)

PEST STATUS

Scorpionflies are not pests and they do not bite or sting.
COMMON KENTUCKY SCOPRIONFLIES & HANGINGFLIES
SCORPIONFLIES
FAMILY: Panorpidae | GENUS: Panorpa
The only "true" Scorpionflies in Kentucky belong to the family Panorpidae and the genus Panorpa. There are several species in this genus, but they are all similar in size and shape with bold orange-and-black patterns. Kentucky scorpionflies are typically about 1/4"-1/2" long. They are very common in early summer in weedy areas near the forest edge.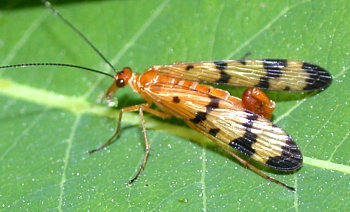 Male Scorpionfly,
Panorpa
sp. (B. Newton, 2005)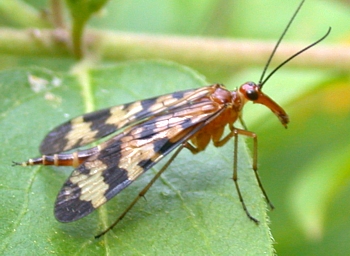 Female Scorpionfly,
Panorpa
sp. (B. Newton, 2005)
HANGINGFLIES
FAMILY: Bittacidae | GENERA: Bittacus and Hylobittacus
Hangingflies are common in Kentucky but they are rarely noticed, probably because they look similar to common crane flies. They can be distinguished from crane flies by the number of wings: crane flies have 2, hangingflies have 4. Kentucky hangingflies are typically a little less than 1" long. Most hangingflies found in Kentucky (like the one pictured below) belong to the genus Bittacus. Hangingflies in the genus Hylobittacus are similar but do not fold their wings over their abdomens when resting.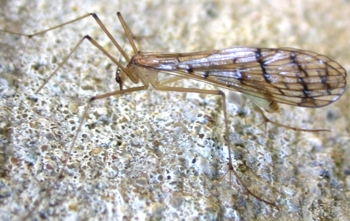 Hangingfly,
Bittacus
sp. (B. Newton, 2005)
COLLECTING & PHOTOGRAPHY
In early summer, scorpionfly adults are abundant and easy to find in Kentucky. Look in weedy habitats near the edges of forests. Scorpionflies are not fast flyers, so they are usually easy to capture with an insect net. However, a scorpionfly will not always remain still if you are approaching with a camera. Instead, it will often fly a few feet away and continue this pattern as you try to get close enough for a good picture.
Hangingflies are difficult to find consistently. Search for them in summer with a sweep net in weedy habitats, or look for them hanging under leaves or rocky overhangs. If you find one hanging, it will likely remain still for a photograph if it is not touched or disturbed.
SCORPIONFLY & HANGINGFLY FACTS
Snow Scorpionflies belong to the family Boreidae. They resemble "true" scorpionflies (family Panorpidae) but they are wingless. Snow scorpionflies live at high altitudes and are sometimes seen moving on the snow in large numbers in early spring when snow is still on the ground. They are not common in Kentucky. Read more about them here at Bugguide.net.
MYTHS - LEGENDS - FOLKLORE
Many people believe that male scorpionflies can sting with their scorpion-like tail, but the structure is used only for reproduction. Scorpionflies will not bite or sting.
---
Original document: 15 Dec 2006
Last updated: 15 Dec 2006

Photos courtesy R. Bessin and B. Newton, University of Kentucky
The Kentucky Critter Files are maintained by Blake Newton, Department of Entomology, University of Kentucky.
Contact: blaken@uky.edu