In the previous issue of Kentucky Pest News, I wrote a short article on Diplodia ear rot (http://www.uky.edu/Ag/kpn/kpn_09/pn_090811.html#TobSee). One follow-up relates to corn hybrid strip trials. Commonly, hybrids are placed side by side in strips in commercial fields as demonstration trials. If you happen to observe severe Diplodia ear rot in one of those trials, you might see substantial differences among hybrids.
It is worth comparing the level of ear rot in strip trials, because some information is always better than none, but it is also easy to be misled by results in a trial like that. What do I mean by that? Let's say that Hybrid A has 50% of the ears with rot, and Hybrid B has 10%. All of us would want to plant Hybrid B in any fields where Diplodia infestation had been found. Except here is the wrinkle: these hybrids might actually be equally susceptible.
How is that possible, given the dramatic difference in ear rot? Because in the case of Diplodia, the timing of spore-splash and infection relative to silking is really, really important. Crops that are just began are more susceptible than crops at brown-silk. And Hybrid A might have had the bad luck of being exposed to spores and infection at precisely the peak of its susceptibility, Maybe Hybrid B would even be more susceptible than Hybrid A if they happened to be exposed to identical disease pressure on their respective day of silk emergence.
I wouldn't ignore Diplodia ear rot observations from commercial field trials: such information is better than no information. On the other hand, don't put much weight in a low Diplodia rating for a particular hybrid, unless the seed company confirms that the hybrid is known to have some resistance verified by their breeder. Of course, a hybrid that got hit hard by Diplodia in a strip trial probably is pretty susceptible, so one should think twice about using that hybrid in a field known to be infested with Diplodia.

Many corn crops planted before mid-May have experienced low pressure disease pressure. As a general rule, Kentucky corn crops planted early or on-time have a lower risk of foliar diseases than late-planted crops. Furthermore, cool temperatures and many days with low dew points helped keep gray leaf spot—our principal foliar disease—at bay in many fields. I suspect that fungicides will be of little value in most of these fields. However, many fields were planted late, because of the wet conditions this spring. Fields that are still silking or have just completed silking are more likely to benefit from fungicide applications than earlier crops.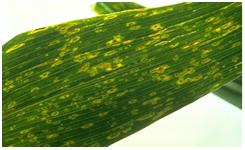 Figure 1. Young lesions of gray leaf spot (Leaf is backlit by skylight, which highlights the yellow halo around lesions).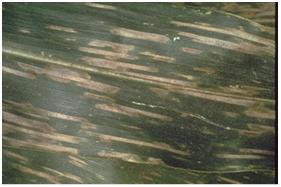 Figure 2. Mature lesions of gray leaf spot.
Why Are Disease Risks Higher in Late-Planted Fields?
Along with the generally higher disease risk of late-planted fields, weather has shifted during the past 3-4 weeks to become more favorable for disease, particularly gray leaf spot (Figures 1-2). Recent conditions have been generally warm and humid, with periodic thunderstorms in many areas, all of which favor gray leaf spot.
In addition, southern rust, caused by Puccinia polysora, has been found in the Madisonville area, and it is reported to be widespread at low levels in the Purchase Area of Western Kentucky. Southern rust is distinct from common rust (Figures 3-4). Common rust rarely causes significant yield loss, because breeding efforts have generally resulted in acceptable levels of resistance to that disease. In contrast, corn hybrids grown in Kentucky are commonly susceptible to Southern rust, which causes desiccation of foliage before crop maturity. This can not only affect grain yields but also stalk strength, by forcing the plant to draw on stalk reserves during grain fill. Premature desiccation can also affect silage crops planted very late. Normally if it comes in at all, southern rust blows in from the southern U.S. too late to generally affect Kentucky corn, but this is the earliest and most widespread I've seen southern rust in the 19 years I've worked at UK. Humid weather with temperatures in the high 70's and low to mid-80's°F will favor continued disease development.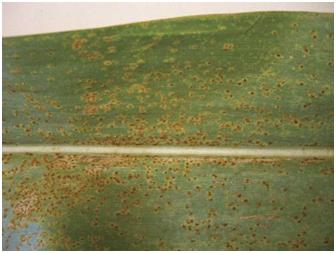 Figure 3. Southern rust pustules. These are typically oval, densely crowded on the upper leaf surface, and lighter colored than common rust. Source: Iowa State University Extension, http://www.ipm.iastate.edu/ipm/icm/2007/9-10/southernrust.htm.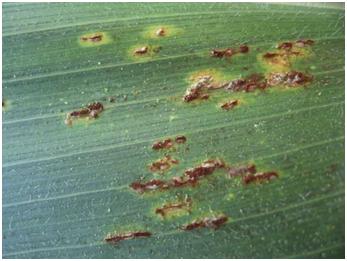 Figure 4. Common rust pustules. These are usually a cinnamon-brown color, widely scattered over both the upper and lower leaf surface, and oval to elongated. Source: Iowa State University Extension, (see link Figure 3).

Weighing Disease Risk
I think there is good reason to scout corn crops as soon as possible. I'm not making a blanket recommendation to spray fungicide on all late-planted crops. However, these crops are the ones where it makes sense to consider whether or not to treat, depending on disease risk and stage of crop development.
If considering applying a fungicide, make the decision promptly. The later the fungicide is applied, the less overall benefit there is.
If considering a fungicide, base the decision to spray on overall disease risk, as follows.
First, at what stage of development is the crop? The best resource for determining this is the Iowa State University publication, How a Corn Plant Develops, at http://www.extension.iastate.edu/hancock/info/corn.htm. In general, I would not consider applying fungicide to a crop that was in the late-blister stage or beyond if gray leaf spot were the only threat. I might stretch past that into the milk stage if southern rust were becoming active above the ear leaf, but I wouldn't treat a crop entering the dough stage.
How much disease is present? And how high up the plant is it? The higher up the disease is, and the younger the crop, the greater the disease risk. Is any southern rust present?
How susceptible is the hybrid to gray leaf spot? Hybrid susceptibility is probably the most important factor in driving gray leaf spot, so consider whether the hybrid is susceptible or partially resistant. The higher the level of partial resistance, the less benefit you'll get from a fungicide. Corn hybrids are generally all considered susceptible to southern rust.
Other risk factors for gray leaf spot include no-till, continuous corn, and planting along foggy river bottoms.
The presence of disease lesions on the ear leaf means increased risk (depending on crop stage). Table 1 and Figure 3 provide an idea of the relationship between disease severity and yield. Table 1 also illustrates the point that a corn crop can tolerate a little gray leaf spot during late grain fill. At current prices, a fungicide would probably have to provide at least an 8 bu/A yield increase to break even. And, of course, the possibility of improved stalk health may also be enough to justify a fungicide application in some producers' minds, but also factor in the potential for increased drying costs with a strobilurin application.
Table 1. Approximate relationship between disease severity at early dent and yield loss. Based on Extension materials originally published by Pat Lipps, The Ohio State University.
| | |
| --- | --- |
| Percentage of ear leaf affected by the early dent stage | Approximate yield loss expected* |
| 5% or less (see figure) | 0-2% loss |
| 6-25% | 2-10% loss |
| 25-75% | 5-20% loss |
| 75% to dead leaf | 15-50% loss |
*A range in yield loss occurs partly because hybrids differ in susceptibility.

Figure 5. Example of corn leaf with 5% damage from gray leaf spot. Image generated using CORN PRO software, developed by Forrest Nutter, Iowa State University.
Which Fungicides to Use?
In crops where gray leaf spot is the only threat, my assessment of the research indicates that the strobilurin fungicides (Headline® and Quadris®) provide the most efficacious and longest-lasting control. Pre-mix products containing strobilurins (Quilt® and Stratego®) are also good choices. Depending on price, the DMI fungicides (also called "triazole" fungicides) (Tilt®, Bumper®, Folicur®, and PropiMax®) might be attractive options, but in university research trials, overall disease-control performance is sometimes better with the strobilurins. Plus, be careful of pre-harvest interval restrictions with the DMI fungicides.
In crops where southern rust is of concern, DMI fungicides (Tilt®, Bumper®, Folicur®, and PropiMax®) make sense to me, for the following reason: all fungicides are best used as a preventive. This is especially true of strobilurin fungicides (Headline® and Quadris®). Strobilurin fungicides cause death and destruction to germinating spores, but often are weak at suppressing growth once the fungus has germinated. Think of this like pre-emergence vs. post-emergence herbicides. Strobilurins are like pre-emergence herbicides—they only attack the germinating spore (=seed). But they are weak at arresting growth once infection has begun (like a growing plant). So they won't do much to stop infections that have already started. The DMI fungicides and pre-mix products containing DMI fungicides (Quilt® and Stratego®) might make more sense if one wants to try to arrest an active outbreak of southern rust. However, the DMI fungicides have pre-harvest restrictions on how long after treatment you must wait between treatment and harvest, so pay close attention to the label restrictions. It's in the best interest of the agricultural community to keep the good will of its consumers, by using pesticides as wisely as possible.

Thanks to Bill Meacham of Pioneer Hi-Bred for providing southern rust-infected plant material for lab analysis.
There has been a string of reports of economic infestations of fall armyworm infesting sweet corn and late-planted field corn from multiple counties this last week. Extension entomologists from states to our south have described high populations of fall armyworm earlier in the year than is typical, so we need to watch for increasing numbers, particularly in southern and western counties as the summer progresses. It has been quite a few years since we have had fall armyworm populations that have arrived early enough to threaten corn. This is also compounded by the wet spring and cool early summer which has delayed corn development and kept fields vulnerable to fall armyworm egg laying longer into the summer. Fall armyworm prefers to lay eggs on whorl stage corn rather than tasseled corn, so fields that have progressed into the ear fill stages are less at risk.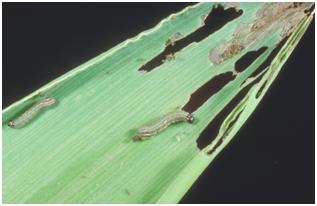 Figure 6. Small fall armyworm larvae.

Fall armyworms vary from light tan to black with three light yellow stripes down the back. There is a wider dark stripe and a wavy yellow-red blotched stripe on each side. Larvae have four pairs of fleshy abdominal prolegs in addition to the pair at the end of the body. Fall armyworm resembles both armyworm and corn earworm, but fall armyworm has a white inverted "Y" mark on the front of the dark head.
Fall armyworm can be a very difficult to control pest if infestations are not treated when the larvae are small. Early detection and proper timing of an insecticide application are critical. After the larvae reach approximately ¾" in length, they can form a frass plug in the whorl of the corn plant that reduces the ability of insecticides to contact the larvae. There are a number of insecticides that can be effective when applied while the larvae are small (See ENT-16 for field corn and ID-36 for sweet corn recommendations).

Figure 7. Fall armyworm egg mass.

Growers should be monitoring their corn fields, particularly all of their later plantings (read that as late May and later). Some Bt corn hybrids for corn borer control only provide suppression of fall armyworm, so these fields will need to be monitored as well. Control needs to be considered when 25% of the plants show damage symptoms and live larvae are still present.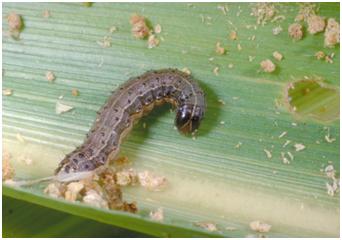 Figure 8. A large fall armyworm larva.
For more information on fall armyworm in corn, read ENFACT-110, http://www.ca.uky.edu/entomology/entfacts/entfactpdf/ef110.pdf