During the week of August 17, downy mildew was confirmed in several locations in Kentucky. In collaboration with North Carolina State University, we maintain sentinel plots in Breathitt, Fayette, and McLean Counties. Downy mildew was confirmed in each of these sets of sentinel plots during this time frame, and in two gardens in western Kentucky. Our sentinel plots are planted with several cucurbit types to help determine when the disease appears, and which strains of the downy mildew pathogen, Pseudoperonospora cubensis, are moving in. There are five known pathotypes, all of which go to cucumber and netted melons. Pumpkins, squash, and watermelons differ in sensitivity to the different pathotypes. Cucumber only was affected in western Kentucky and in Fayette County, but the disease was found on cucumber and butternut squash in Breathitt County. With two pathotypes active in Kentucky, it is inevitable at this point that late-season cucurbits like pumpkins and winter squash will be affected by downy mildew. The extent will be determined by the weather; in general, frequent rains and moderate temperatures favor this disease. Timely action now can help stave off severe losses to downy mildew later. Downy mildew is an explosive disease. Entire plantings can be lost to this disease within a week after symptoms first appear if fungicides are not applied.
We've had favorable weather over the past week, and likely movement of inoculum into western, central, and eastern Kentucky from sources in Tennessee and Georgia. Fortunately, the forecast for the next 5 days indicates less-than-favorable conditions for downy mildew. However, given the presence of the disease across a large swath of Kentucky, producers should be applying a protectant fungicide (chlorothalonil or mancozeb) to cucurbits for downy mildew. We know that, sooner or later, downy mildew (and other diseases) are likely to strike – we just don't know when with any certainty. The beauty of being on a preventive program with materials like chlorothalonil or mancozeb is that a baseline level of protection is in place to help against downy mildew and other diseases, such as powdery mildew (which is very active as well). Compared to untreated plantings, those being treated preventively suffer much less damage after initial exposures to downy mildew, giving the producer time to add downy mildew-specific fungicides and still have a chance of getting things under control.
Refer to Kentucky Pest News No. 1207 http://www.uky.edu/Ag/kpn/kpn_09/pn_090804.html) to see a recap of control options. You can also check ID-36 for rates and a full list of chemicals available to commercial growers. I have summarized a few suggestions to control both powdery and downy mildew for organic growers and homeowners as well:
Home gardeners: Use good management practices, including adequate fertility and irrigation management (water early if irrigating overhead). In the case of powdery mildew, removal of heavily affected foliage (assuming the entire plant is not consumed) can remove a substantial amount of inoculum. Homeowners can use over-the-counter vegetable fungicides that contain chlorothalonil, mancozeb or maneb (maneb only on pumpkins and winter squashes), or fixed copper. Sulfur products are also very effective against powdery mildew, and downy mildew to a lesser extent. Just be mindful that sulfur can burn foliage if the air temperatures exceed 90 F. Another, easy-to-use remedy is baking soda. Add 1-3 tsp. per gallon of water for best results. With all fungicides, regular applications are critical. During favorable weather, spray every 5-7 days and during drier and hot weather, extend the schedule to every 7-10 days. Coverage of upper and lower leaf surfaces is important to achieve good control, as is starting the spray program before disease is seen, or when symptoms first appear. The latter will serve for powdery mildew; however, for downy mildew, preventive sprays are a must. Controlling downy mildew will require some type of fungicidal spray; products that will provide some control include chlorothalonil, mancozeb or maneb, and fixed copper. Sulfur is somewhat suppressive as well.
Organic Producers: Follow the guidelines as listed above for good management practices. OMRI-approved fungicides are limited to some sulfurs, some fixed coppers, and potassium bicarbonates. Check product labels to verify that they are approved for organic production. Powdery mildew will be controlled with sulfur and suppressed by fixed copper if the materials are applied preventively and in a timely fashion. Potassium bicarbonates are also effective against powdery mildew, but have no residual activity and must be applied regularly. Against downy mildew, fixed copper will be the best bet. There are also biopesticides and biorationals such as Serenade (Bacillus subtilis) and neem oil that show some suppressive activity. With all products available to organic producers, as with home gardeners, good coverage and timeliness are critical to have any hope of controlling either powdery or downy mildew effectively.
Please keep a close watch on this situation, and let us know if you find downy mildew on cucurbits in your area.
Austrian and Mugo pines growing in Kentucky landscapes are showing the effects of infections by the Diplodia tip blight fungus, Diplodia pinea. The disease is noticeable in landscape pines now and, in recent weeks, diseased specimens have been appearing in the U.K. Plant Disease Diagnostic Laboratory. Austrian, Mugo, and Scots pines are often planted in Kentucky landscapes and plantations because of their dense, green foliage and symmetrical shape. When healthy, a grouping of Austrian pines can form an attractive year-round screen. Diplodia tip blight, also known as pine tip blight, or Sphaeropsis tip blight, is a devastating disease worldwide, but especially here in Kentucky on exotic two-needle pines such as Austrian pine (Pinus nigra), Mugo pine (P. mugo) and Scots pine (P. sylvestris) in landscape settings and Christmas tree plantations.
Tip blight symptoms on Austrian pines first appear on the newly elongating candles (shoots) in late April to early May. As its name indicates, the shoot tips are killed very quickly and by late May, the diseased tips are noticeably necrotic and stunted (Figure 3). Needles, even before they are out of the needle sheaths, start to turn a straw brown color and droplets of resin can be seen exuding from these dead needles. Some of the diseased needles may begin to break out of their sheaths, but often their growth is halted resulting in stunted, dead needles. Symptoms on Austrian pines are most characterized as progressing from the shoot tip inward. Over a few days to a week all of the needles on infected candles will turn brown and die and shoots will appear brown through late summer (Figure 4). The candle as a whole will be stunted, necrotic, and eventually brittle from resin exudation. The necrotic shoot and needles can sometimes give these dead tips a gray color.
As the fungus progresses from the tip back towards the trunk, older needles will turn straw color and die. This generally happens later in the year or the following year. Progression of the fungus can lead to branch dieback and eventually death of the tree. These symptoms typically start in lower branches of the tree (Figure 5) and progress toward higher branches year after year until the tree dies or is so damaged it needs to be removed (Figure 6). On landscape Austrian pines in Kentucky, disease symptoms generally begin to appear after trees reach cone-bearing age, typically 12-13 years old.

Close examination of infected shoots will often reveal the presence of tiny black dots (pycnidia) on the base of infected needles (Figure 7). Pycnidia are black fungal structures embedded in and protruding through the host tissue, and in D. pinea are only produced on dead host tissue, such as cone scales (Figure 8) and dead needles. Pycnidia are tiny but can be seen with the naked eye, resembling black pepper sprinkled on the dead cones and needles. It is not uncommon to see dead cones and needles from infected trees covered with pycnidia. The pycnidia release spores in warm, rainy spring and summer weather which we have had in abundance this year. These spores are dispersed by rain splash and windblown rain. Pines are most susceptible to D. pinea infection in spring when shoots are just elongating and not yet lignified. As the fungus colonizes the host, it kills the host cells resulting in necrotic symptoms and sometimes resin production. An additional field symptom, canker disease, also is often accompanied by excess resin (Figure 9). After the fungus has killed the host tissue, it can produce pycnidia which can overwinter and be a source of inoculum the following spring.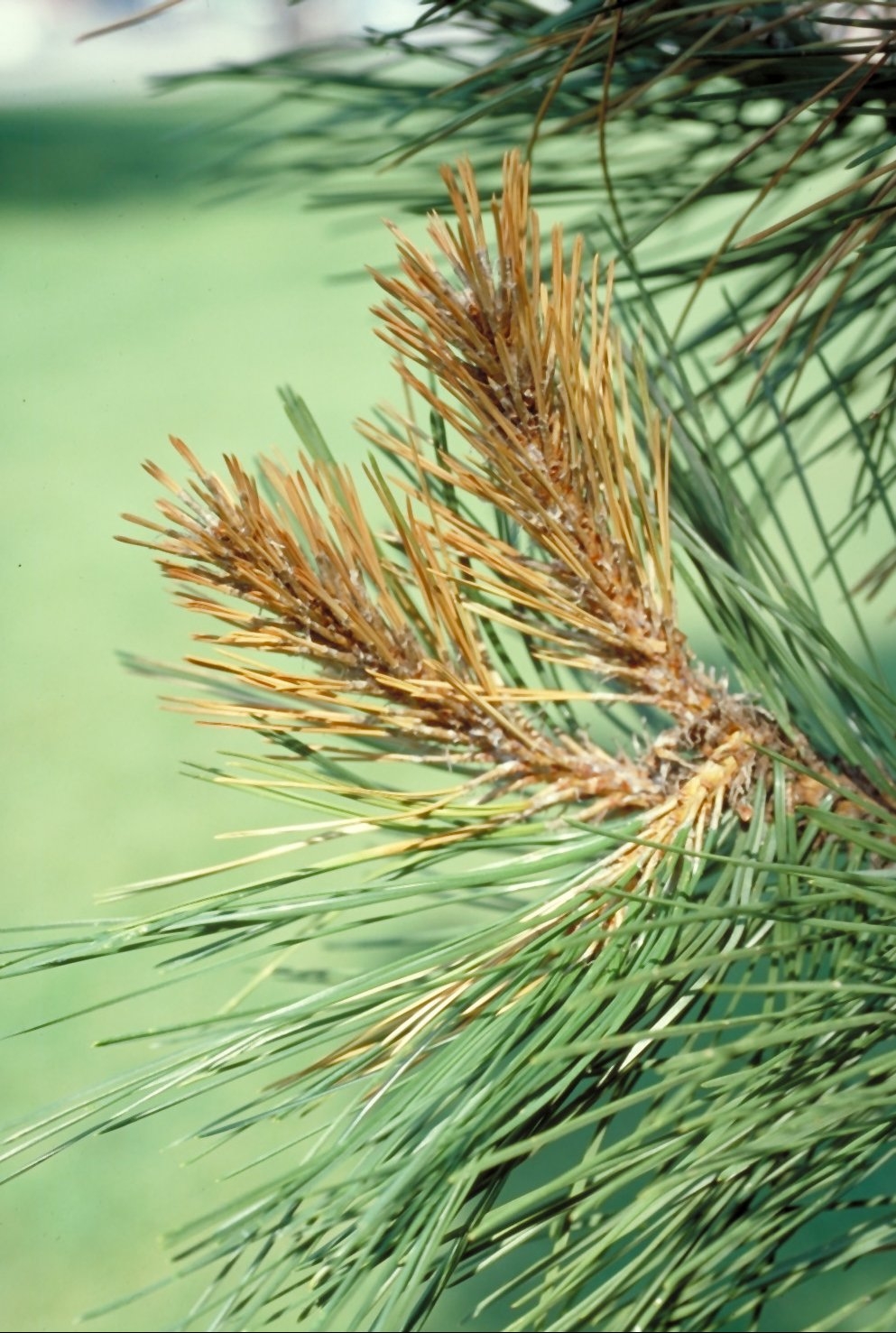 Figure 3. Multiple stunted and necrotic Austrian pine shoots infected with Diplodia.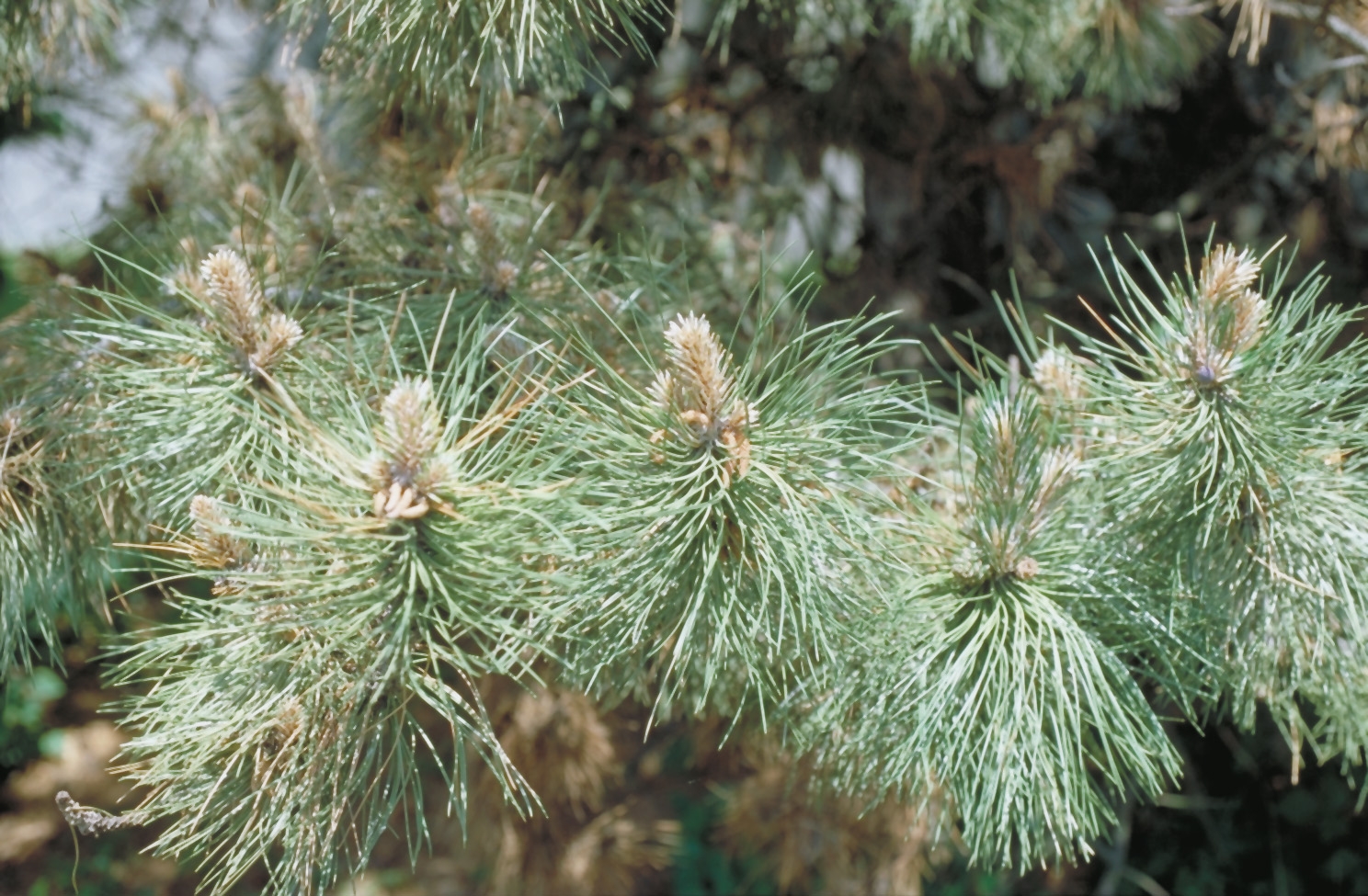 Figure 4. Brown shoot tips killed by Diplodia as they would appear in summer.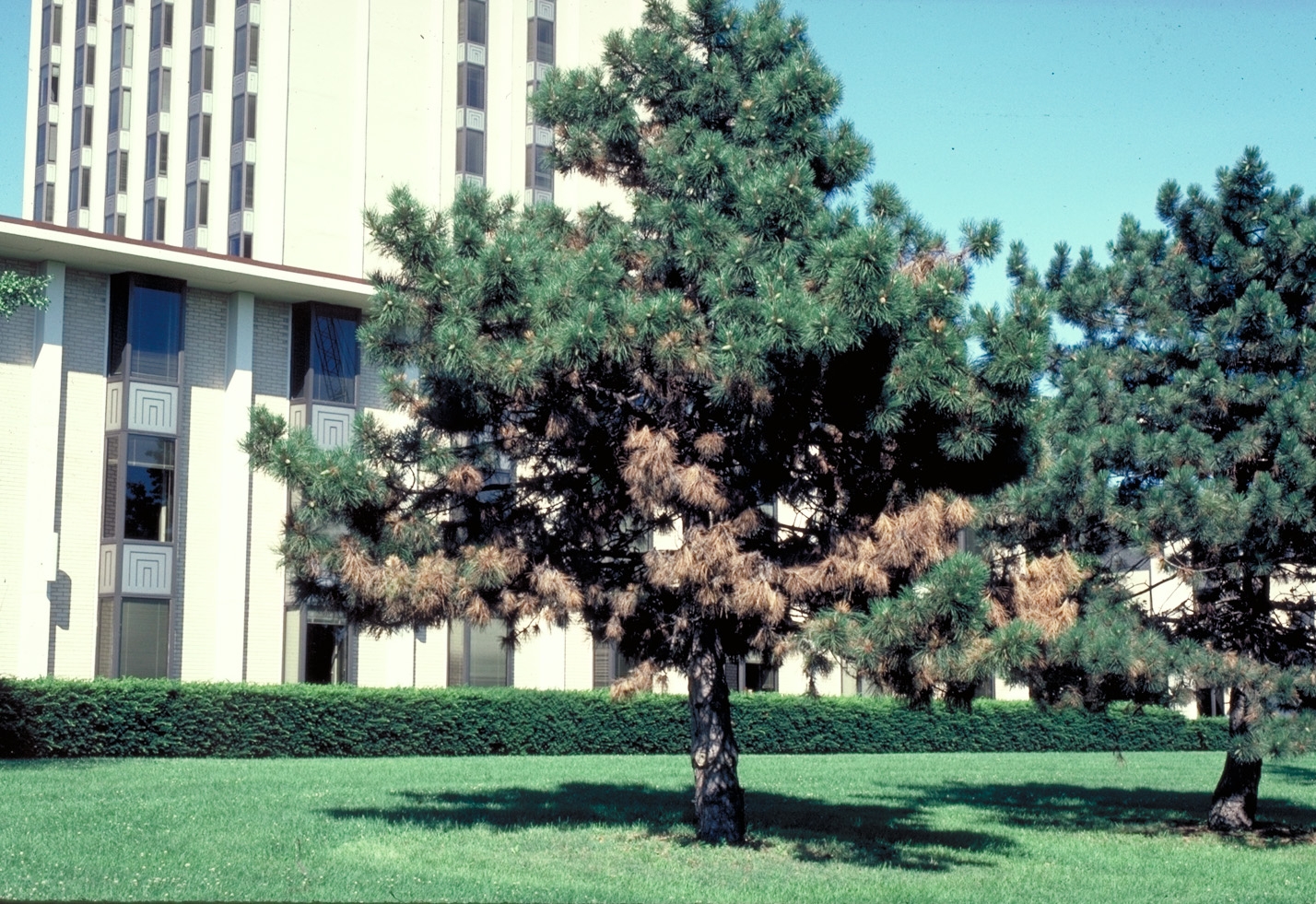 Figure 5. Dead lower branches of Austrian pine infected by Diplodia tip blight.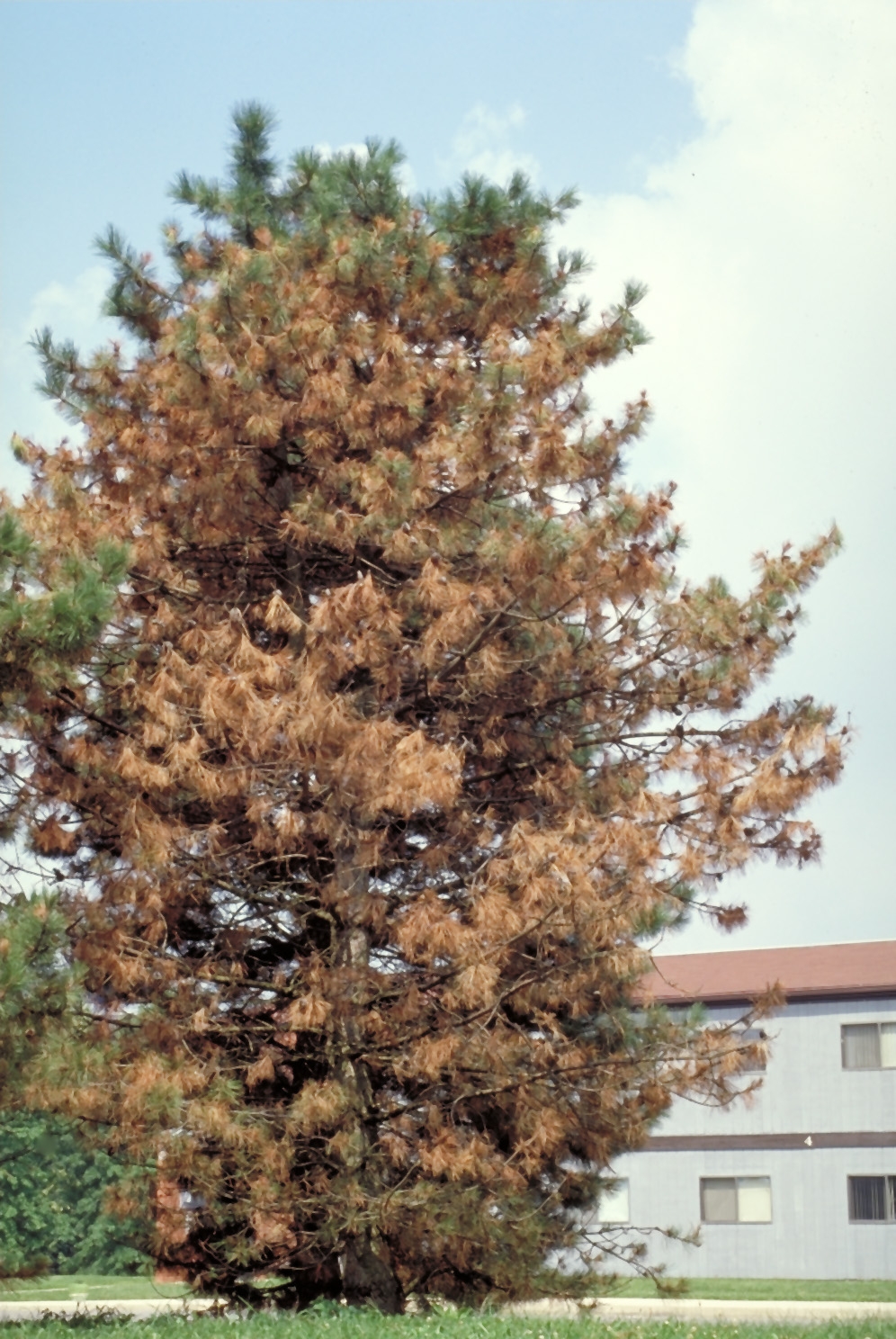 Figure 6. Diplodia tip blight has nearly killed this landscape Austrian pine.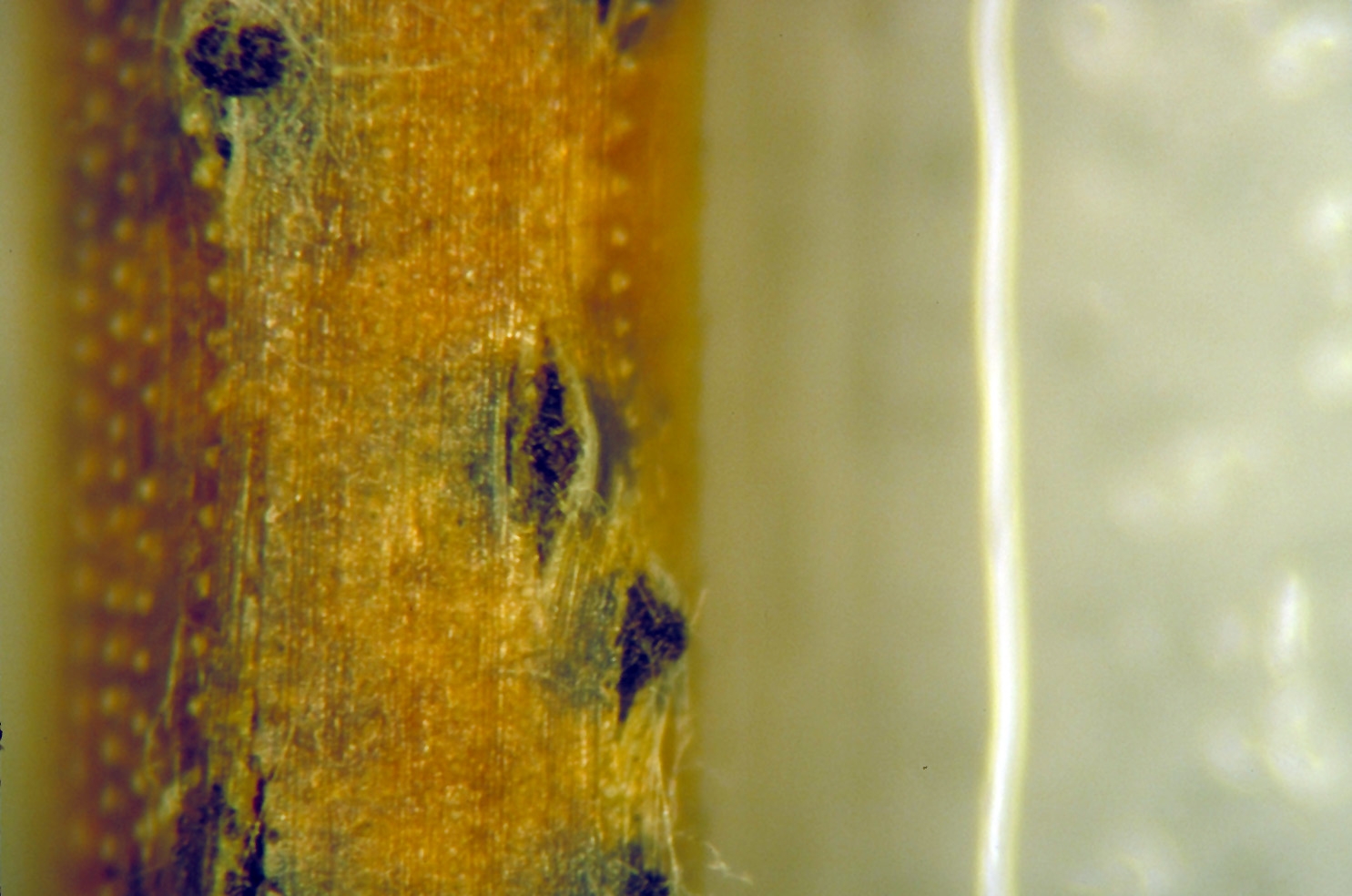 Figure 7. Close-up of Austrian pine needle with pycnidia.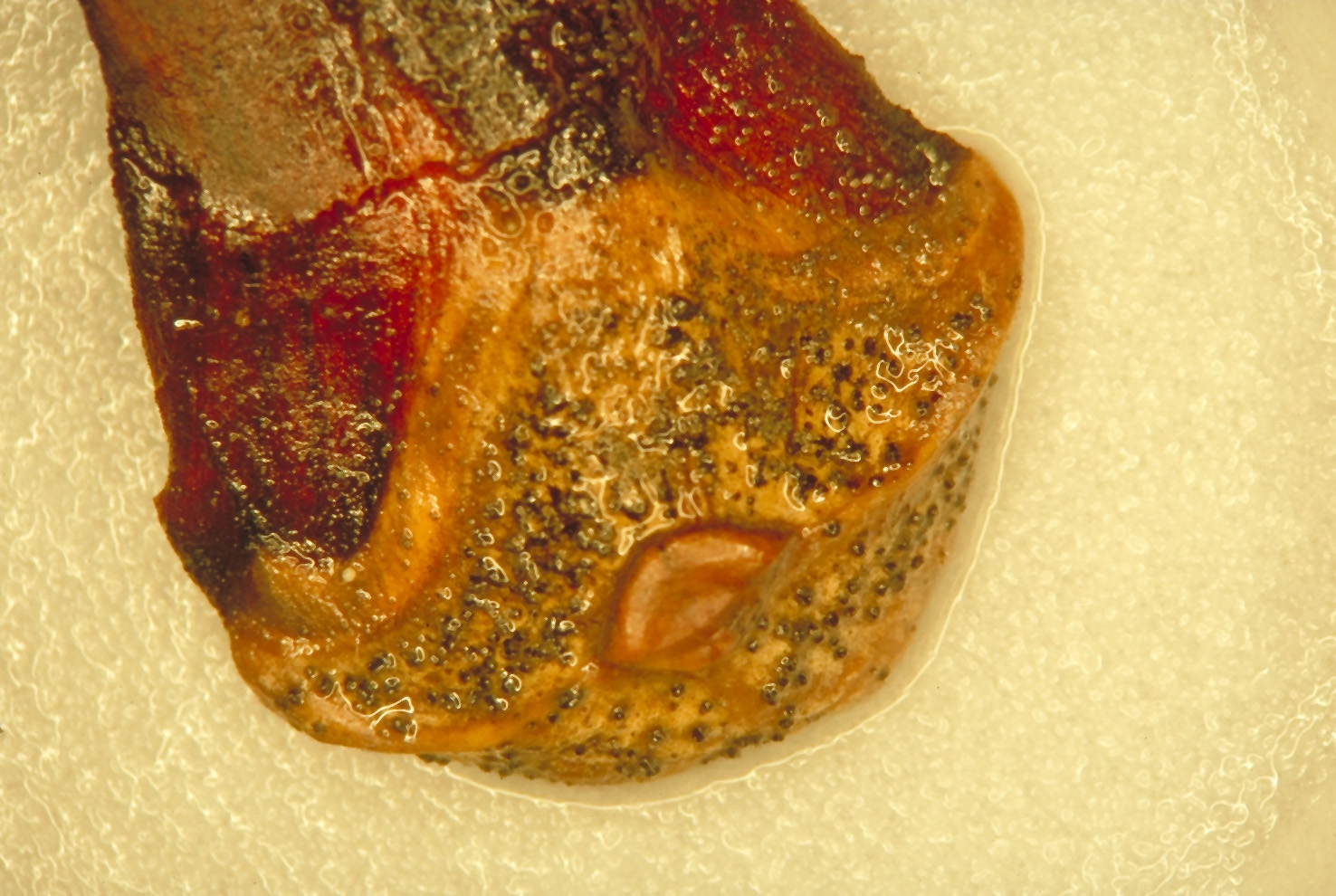 Figure 8. Austrian pine cone scale with Diplodia pycnidia.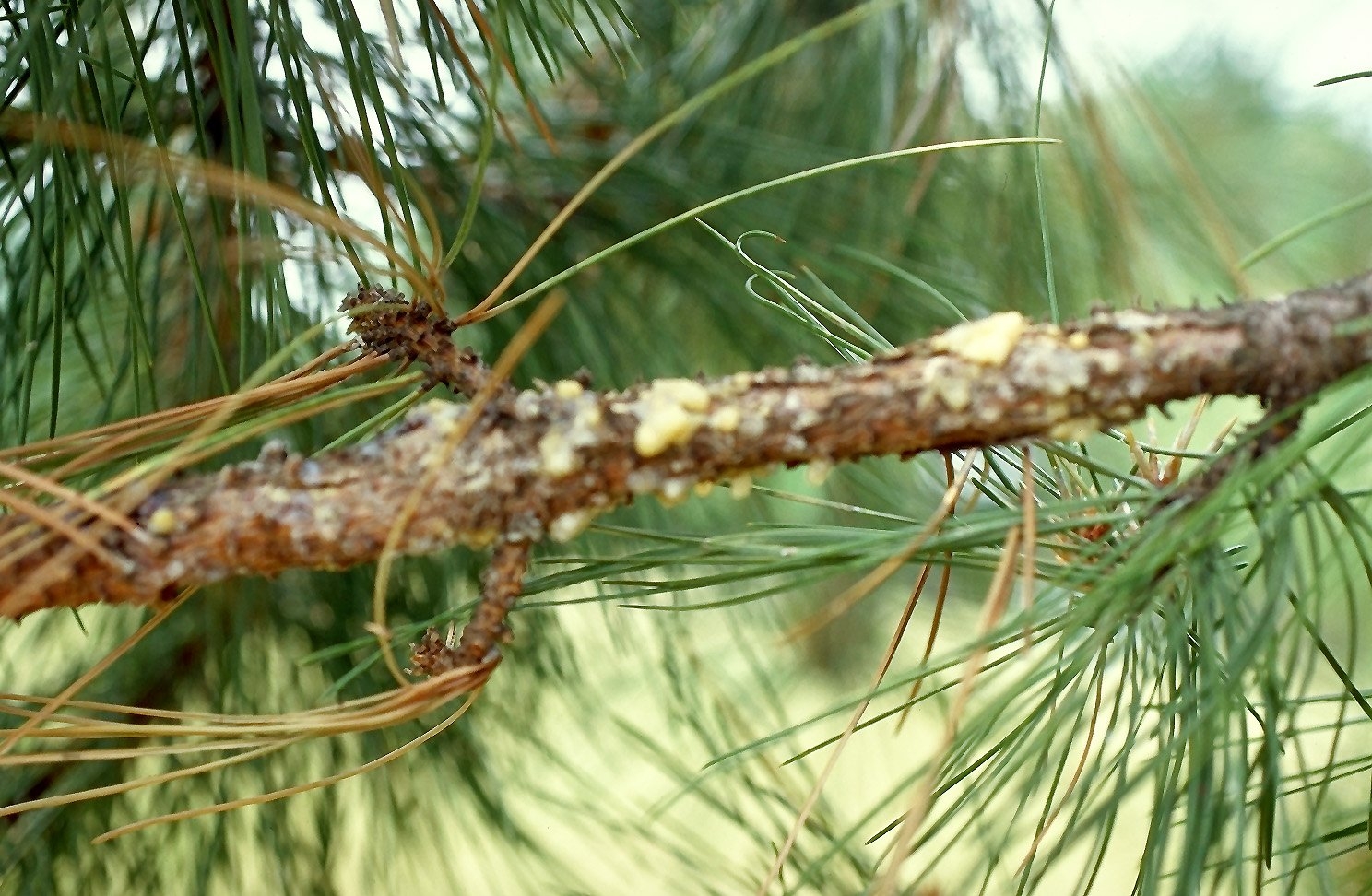 Figure 9. Diplodia-caused canker and excess resin production on Austrian pine branch.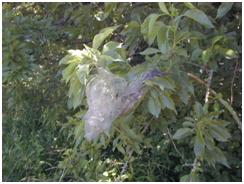 Figure 11. Fall webworm tip at end of branch.

The light gray silk tents of fall webworm caterpillars, recently hatched from masses of 400 or so eggs, are visible at the ends of tree branches. These caterpillars are covered with long white to yellow-tan hairs. They feed on over 100 species of deciduous trees, including black cherry, walnut, hickory and mulberry.
Fall webworm larvae incorporate the leaves they are eating into their tent. The tent is expanded to include more leaves as needed. They can be numerous enough to completely defoliate trees but this is not common. Usually, little real damage is done to trees but the ugly webs detract from their aesthetic value. Accessible nests can be pruned out and discarded. But insecticides are effective on small larvae if chemical control is necessary and the sprayer can reach foliage around the nest. There are two generations in Kentucky each year- from mid-June to early July and again in August.