Australia, 2011
All images and associated pages copyrighted © by Don Chesnut, 2011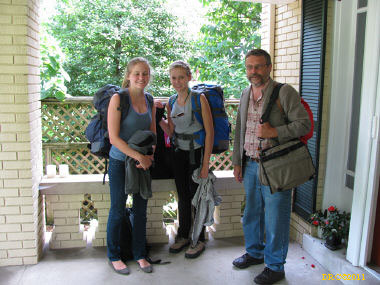 This is all we took on this trip.

I went to Australia to attend the International Carboniferous Congress-Permian in Perth (www.iccp2011.org) with two of my daughters. Afterwards, I traveled through Indonesia, Singapore, Malaysia and Thailand alone. The following is composed of my daily journal entries and photographs taken during the trip (please excuse the tedious and poorly-written nature of the journal). Or you may rather go through my thumbnail catalog (pages A, B, C, D, E, F, G).

27 June 2011, Monday


We were all packed by 1:30 pm. Jaqi Carfagno picked us up at 2 pm and took pictures of us on the porch.
She drove us to the Bluegrass airport and dropped us off. We went through check-in and security. Then we went to DeSha's cafe where we played cards and drank iced tea. Nora and Mary ordered bruschetta with mozzarella, tomatoes and basil and Mary also had a tomato-basil soup. At 4:20 we went to the gate area. Mary and I worked on our journals and Nora read.

Our plane left at 5:20. It was about a 2-hour flight to Dallas-Ft. Worth airport. We made our way to terminal C where our next flight leaves. The temperatures is 100 degrees F here.

We ate at a food court. Mary and I had BBQ and Nora had chicken nuggets and fries. I was next in line to a very big fellow who I assumed was an athlete. A lady came up to me and asked me to take a picture of her and the fellow. I took the photo and later she told me he was Chris Wilbur. I said "all right." I don't have a clue who he is.

When we got back to the gate, we found that our departure gate had changed and was in another terminal. We got back on the Skytrain and went to Terminal A and our new gate.
We took off at 8:50 pm and arrived at Los Angeles about 10:00 pm. We took a shuttle to the International terminal to catch our Qantas flight to Sydney. We boarded the plane to Sydney about 11:15 pm. The plane was completely full and a large number of high schoolers (People to People) came on board as well. We were never able to get seats that we wanted, they were assigned by the airline. We were in the middle aisle; I sat between strangers and the girls sat in one row in front of me. The Australian fellow next to me was very nice. I told him where I was from and the conference that I was going to. He was a consulting coal-mining engineer and had been to Lexington. Two young Australian girls sat next to me on the other side.



28 June 2011, Tuesday


For dinner, I was served broiled mahi-mahi, salad, bread, cheese and a nice Australian shiraz. I watched the movie "Adjustment Bureau." It was difficult to hear the dialogue over the engine noise. I didn't care for the characters at all. I also watched the movie "Cedar Rapids" which wasn't any good either.

I was sandwiched in on all sides and pretty uncomfortable. It's a 14-hour flight, unfortunately. I tried sleeping but it was not possible. There was just no room to stretch my legs. We passed the International Dateline and it became Wednesday.



29 June 2011, Wednesday


After many cramped hours, I decided to watch another movie, The Way Back (Wikipedia link). It was a National Geographic movie and a story (said to be true in the credits) about political prisoners in prison camp in Siberia in the 1940's. Several men escaped in the winter blizzard and walked across Siberia, Mongolia, China, Tibet, the Himalayas, to India. Only three made it to India, several dying along the way. I enjoyed the movie and would watch it again (when I could hear it better). About 5:30 am, we were served breakfast. I had a hot breakfast of scrambled eggs, link sausage, mushrooms, muffin and yogurt and coffee.

We landed in

Sydney

a little after 7 am. We went through passport control and customs and then found our shuttle bus. We didn't have any checked luggage; the girls followed my advice and just took packs and field bags. We got out a half hour at least before the others. We took the shuttle to the Travelodge Hotel on Wentworth. We got there about 9 AM but could not check in till 2 PM. Our Australian travel agent failed to take this into consideration. We had to put our luggage in storage.

So we headed out to Circular Quay (quay pronounced "kee" here). We walked through the beautiful Hyde Park and the girls took lots of photographs.
Then we came upon the Royal Botanical Gardens and the girls liked this even better. We will come back here.
We went to Circular Quay and ate outside the Guylian Cafe, a European chocolate company. We all ordered cappacino and Mary ordered quiche lorraine and Nora had a lox-cream cheese-spinach-caper sandwich. We all caught up in our journals in this pleasant environment. Everyone is wearing winter clothing (it is winter here), but the temperature, to us, is shirt-sleeve weather. Very pleasant.
After out break, we walked to the Opera House and took photos. We then walked around Circular Quay. We relaxed awhile on a bench.
At 2 pm we boarded a Captain Cook Cruise called a "Coffee Cruise." We went to a table in the covered part of the upper deck. The wind has picked up, the sky is cloudy and the air is much cooler. The large number of people who are outside will be cold. We toured around the harbor for 2-3 hours. A lady described the sites and history through the PA system. When we got to the mouth of the harbor, we were served tea or coffee and various tea cakes. It rained some.




30 June 2011, Thursday


I got up at 6 and took a shower. I went to the breakfast buffet (not included) and had scrambled eggs, link sausage, bacon (ham), croissant, and potato nuggets and coffee. The area was filled with middle school students from different groups. The girls got up, had tea and we waited in the lobby for our "Panorama Sydney Sights" tour.

Our bus picked us up at 8. Our driver was Mel (Melanie). A French lady and a family of Danes accompanied us. It was a nice tour and everyone was very friendly. We stopped at Bondi Beach and had a coffee.

rocky shore (Permo-Triassic sandstone), Mary at sea wall, another view, the girls on the rocks, another view, sandstone outcrop with steps, trough crossbeds, Mary and the carved steps, lady and Sydney Harbour Bridge, carved sign for Mrs. Macquarie's Road, path along sandstone outcrops
distant view of Sydney skyline, closer view, rocky point at mouth of harbor, cliff at point, another view, crossbeds in the sandstone, another view of rocky point, posing at rocky point
We got back to our hotel by noon. At the hotel, we filled out our journals and I reconfirmed our reservations for tomorrow's tour.

We then walked a few blocks to the Australian Museum. We saw exhibits on Indigenous Australia, a special exhibit on tropical birds, exhibits about skeletons, minerals, fossils, dinosaurs, birds, insects, etc.

After we finished the museum, the girls were hungry, so we walked to Chinatown and went to a Korean restaurant. We each ordered a sizzling platter and shared our food. It was a good meal. I ordered chicken with kimchee, Mary ordered chicken with veggies and soy sauce and Nora ordered chicken with chili.

When we left about 5 pm, it was dark and the pavement was wet. We walked back to the hotel. We got to our room about 5:30, but it felt like 10:30. I worked on my journal and had a VB beer while the girls read. Everybody ended up falling asleep by 7:30.



1 July 2011, Friday


I woke up about 3 am, but stayed in bed till 6:30. I got up, took a shower and went down to breakfast. I had the same thing as yesterday. After breakfast, I read the paper in the lobby. By the time I got back up to the room, the girls were up.

We walked to the New South Wales Art Gallery, but it wasn't open till 10, more than an hour away. We went to the little kiosk cafe across the street and the girls ordered something to eat and two cappacinos. After they finished, we walked through more of the botanical gardens. This must be one of the best botanical gardens in the world. The girls took lots of photos. We also saw hundreds of flying foxes, the Succulent Garden and lots of very interesting plants. We saw again the Masked Plover (aka Masked Lapwing, Wikipedia entry) that we saw yesterday with its chicks. These plovers have a sharp spine on each wing that they can use to jab someone. We spent most of the morning here and missed our chance for the art museum.
Instead, we walked to the Opal Museum. They have on display lots of opalized fossils of dinosaurs, plesiosaurs and other fossils. Their opals were too expensive for us though. Mary happened to meet one of her old friends here. The friend was with a student tour group and is staying at our hotel. They will do something together later tonight. We walked back to the hotel to get ready for our next tour. At 1 pm, we walked through Chinatown to Darling Harbour to meet our tour bus. There were 4 or 5 ladies from Australia and a couple from New Zealand also on the tour. We drove across the Harbour Bridge and toured the neighborhoods up to Manly Beach. At Manly Beach, we got out and walked around a bit. It was raining lightly. After 45 minutes, we got back on the bus and headed back to the south side of Sydney. It was rush-hour traffic and took awhile, but the driver-tour guide dropped us off at our hotel.
Nora and I went to a Rajasthani restaurant called "Jaipur." Nora ordered Chicken Biryani and I had Lamb Vindaloo, plus garlic nan. We both liked our meals. By the time we got back, Mary met with Kate and her friends and they went out to eat. She got back around midnight. They fed the possums at Hyde Park.



2 July 2011, Saturday


I woke up about 4 am, but I didn't get up till 7. I took a shower and then went down for breakfast. Their menu doesn't change, so I had the same as before. I did have toast and Vegemite (Wikipedia entry) too. After I finished, Nora came down for breakfast and I joined her. We went back to the room and packed. We leave this evening for Perth but we have to check out at 11 am. We put our packs in storage and walked down to the Rocks.

We found the Saturday Open Market at the Rocks and looked at all the crafts and food stalls. I stopped at the Lowenbrau restaurant and had two beers, a Stiegel and a Spaten. When the girls were through shopping, we walk to the New South Wales Art Gallery. We spent our time in the 15th-19th century part. After the art gallery, we walked back to the hotel and waited for our shuttle to the airport.


We landed at

Perth

, de-planed and were in the baggage claim area by 9 pm. We got a taxi to take us to the Kings Park Motel (in the Subiaco suburb of Perth) which was in walking distance to our conference. I paid the taxi driver 30 Australian dollars and rang the bell for the receptionist. The nice husband and wife owners came out and welcomed us. They told us that there was a problem with our suite. A pipe had burst and the room was unusable. And they had no other rooms. By now, it was 10 pm. They told us that they had booked us a residence apartment some miles away (not within walking distance of the university). The husband drove us and our luggage to the new place. We are to check in tomorrow, but can take the apartment now. There are two bedrooms and a common area with small kitchen. There is a washer and dryer too, which should come in handy. I have no idea where we are though. The girls took showers/baths and I filled out my journal. We haven't eaten since breakfast and there doesn't appear to be any restaurants in the area. We are two time zones away from Sydney, so it is 12:30 am Sydney time as I write this.



3 July 2011, Sunday


I got up at 6:30 am and took a shower. I also had a cup of coffee. Nora got up shortly after and took a shower. I walked to the reception area. We are staying at the Darby Park Serviced Residences. I talked to the lady there and checked in. We're in the Subiaco suburb of Perth. Lynne at Kings Park Motel will pick us up tonight at 4:30 to take us to our conference registration. They will also pick us up at 8 am next Sunday to our field trip group. I haven't figured out what to do about the rest of the week though.

We walked around the neighborhood. There are lots of trendy shops, stores, coffee houses and restaurants. We went to a Coles grocery store and bought food items for the week. We went back to the rooms and snacked a bit. I had granola (muesli) and filled out my journal. Then I talked to the receptionist and found out where the closest bus stop was and which bus to take to campus. The buses only run every hour on Sunday and I had just missed it. I walked to a package store and bought four varieties of local beer and a bottle of cabernet for the apartment and carried them back.

At 4:30, we went to the reception area and Bruce (the co-owner of Kings Park Motel) picked us up and drove us to the Icebreaker and Registration at the University of Western Australia. [This conference was the International Carboniferous Congress-Permian in Perth (www.iccp2011.org).] I met up with a lot of my colleagues and introduced my daughters.
At 7 pm, Bruce picked us up and drove us back to our apartment. Back at the apartment the girls had popcorn and watched TV while I caught up in my journal and studied the talks for tomorrow. My three posters arrived and I'll set them up tomorrow. The girls are on their own for tomorrow.



4 July 2011, Monday


I got up at 7 and took a shower. I fixed a bowl of muesli and milk and had a cup of instant coffee. The girls got up before I left and had some breakfast. I gave them some money and suggested that they talk to the receptionist about things to do and how to use the bus.

The day was cool (about 40 degrees F) but clear and sunny. I decided to walk to the university. I put my mp3 player on and listened to my Indonesian language lessons. It took about an hour or 1.5 hours to get there so I guess it was about four miles. I got to the opening session just in time.

I have seen lots of old friends at this meeting, Russians, Chinese, Czechs, Japanese, German, French, Aussie, Irish, Brits, American and others. I had lunch with an old schoolmate, Joan Esterle and two of her former students. We walked to a Viet Namese restaurant near campus. I had a nice Pho soup and a durian smoothie. I was very pleased to see that they had durian. I enjoyed both.

We went back to the talks and I saw that the staff had already put up my posters for me. I have a poster on Carboniferous of the Appalachian and Black Warrior Basins, another on the tectonic assembly of Asia, and the third on the tectonic histories of the Lhasa and West Burma tectonic blocks.

When the last talk was over after 5 pm, the staff served Australian wine and pizza. I had a glass of wine and talked to friends. I didn't have pizza because I wanted to eat with Nora and Mary. I caught the #97 bus and rode it to Rokeby Rd and Hay St. and walked the rest of the way to the apartment. I got there about 6:30 and both of the girls were asleep. They said that they had been to downtown Perth and had been out all day. They didn't want to go out to eat. For our July 4th meal, I fixed pasta shells (with marinara for Nora and with pesto and Parmesan for Mary). We also had a baguette and wine.



5 July 2011, Tuesday


I got up at 6:30, took a shower and had a bowl of muesli and a cup of coffee. I emptied the dishwasher and took the towels out of the dryer and put them up. I said goodbye to the girls, they were sleeping. I walked to Rokeby St. and caught the #97 bus to campus.

I saw some very interesting talks on the end-Permian mass extinction. Snacks, tea, coffee were served at the breaks and a lunch was served as well. At the end of the day, food and wine were offered.

After the talks were over, I caught the #97 bus back to Subiaco and walked the rest of the way to the apartment. Both girls were awake and watching TV. We walked around looking for a restaurant that everyone could agree on, so we ended up buying food at the grocery and taking it back. I don't think the girls were very hungry. They did eat at an Indian restaurant for lunch. The girls spent most of their time today in Subiaco, but I think they might have been a little bored. We watched a little TV and then went to bed.



6 July 2011, Wednesday


I got up at 5:30 and had muesli, milk and coffee. I got up a little earlier because today we all go on a field trip. I took a shower and then woke the girls. We walked to the bus stop, boarded #97 and headed to the campus.

On campus, we boarded our bus, which left at 8 am. We drove southward for about 2 hours to the town of

Collie

. [free download of conference guidebook.] We went to the Premier Mine, an opencast mine of several Permian coals. We went to two active pits and I looked at the coals. I noted vitrain, clarain and fusein bands in the sub-bituminous coal. It is low in ash and sulfur.

visitor center at Collie, another view, Volker, Volker and I
Premier Coal office, Mary at one of the pits, the group, group looking down, multiple seams in the highwall, the three of us, closer view of highwall, ramps in the fill, large Caterpillar truck, truck and excavator
plant fossil from

Glossopteris

flora, another plant fossil

After leaving the mine, we went to a restaurant in the town of Collie and had a nice sweet potato-pumpkin soup and buffet of potato and ham salad, green salad, oriental-style noodles, rice, sauce with meat, and green beans.

After lunch we went to the Lake Clifton thrombolite locality (Wikipedia entry). It is the largest fresh-water thrombolite locality in the southern hemisphere. A thrombolite is a deposit secreted by bacteria and single-cell algae (the deposits are clotted, not laminated). We also saw and photographed several kangaroos in the area.

some kangaroos, hopping away, another view
sign for thrombolites, emergent thrombolites, another view, strandline of emergent thrombolites, thrombolites in water, round thrombolites, another view, more thrombolites, overview, close-up, group on boardwalk, another view, closer view

Later, we went to a small vineyard that made fruit wines. The husband and wife owners were very friendly and offered many samples including mango, mulberry, strawberry, etc. We also had some cheese, nuts and crackers to snack on. We headed back to Perth as it got dark.

At the university, Dr. Backhouse, the field trip leader gave the girls and me a ride back to our apartment. That was very nice of him. At the apartment, I walked to Woodpeckers Pizza and ordered a pizza with Italian sausage, olives and other ingredients. I brought the pizza back to the apartment and we ate most of it. I filled out my journal and then went to bed.



7 July 2011, Thursday


I got up at 6:15, had muesli and coffee and then took a shower. I woke the girls and they ate. The three of us left the apartment and walked to the university. Halfway there, we met Arthur Mory, one of the Australian geologist working at the conference. He is also the co-leader of our post-meeting field trip. He suggested that we walk the rest of the way through Kings Park. As we walked, he showed us some of the plants along the way.

When we got to the university, the girls and I attended the talks on the Permian extinction event and the Triassic recovery. We had tea and snacks at the two tea times, ate lunch at the conference, and attended the poster session.
The girls changed into their dress clothes (they looked very nice) and we all walked to the conference banquet held at Matilda Bay Restaurant on campus. We had a very nice meal of pumpkin-sweet potato soup, salad, chicken and large prawn with couscous, and a dessert with creme brulee. And we had nice local wines. We sat with two Americans, a Czech, a Canadian, a German and an Australian. We had many interesting conversations.
At the end of the banquet, Dr. Backhouse and his charming wife, Elizabeth offered us a ride back to our apartment. We got home about 10 pm. We soon turned in for bed.



8 July 2011, Friday


I woke up at 6:15 but didn't get up till 7. I had muesli with milk and a couple of cups of coffee. I took a shower and got ready for the conference. I called Kings Park Motel to confirm that they will pick us up at 7:30 on Sunday. The girls can store a backpack there while we are on the field trip.

At the conference, I attended the plenary session by Peter McCabe, and then several other sessions till tea time. At tea, I took down my posters. However, the glue that was used to hold the posters to the boards was so strong that all the posters were damaged and glue was left on the posters. They would be un-usable at future conferences. I was going to mail the posters back home and use them for another conference, but now that they can't be used, I won't mail them back. I threw the posters away, but I still had other conference items to mail home. I walked to the post office and mailed our three conference packs, booklets, and other items.
Back at the conference, I attended several talks till lunch time. We all walked to the University Club where we had a special lunch banquet and conference closing. The commission (a UNESCO subcommission) announced that the next meeting, in 2015, will be in Kazan, Russia, about 500 km east of Moscow. After the lunch, we all went outside where a photographer made a group photo.
We all said our goodbyes and I walked back to our apartment. I got there about 5. The girls were relaxing. I went to the VIC bar next door and had a Little Creatures pale ale then returned to the room. I worked on my journal for awhile.

The girls took me to their favorite Indian cafe. I ordered Lamb Vindaloo extra spicy, Mary had Mumbai aloo (potatoes), and Nora had southern Indian spicy chicken Chettano (or something like that), plus garlic nan and rice. I had a lemon-lime bitter soda (non-alcoholic) and Mary had a mango lassie. After the dinner, we went to the grocery and bought a few food items and then walked home. I watched a little TV and then went to bed.



9 July 2011, Saturday


I woke up about 6:30, but didn't get up till 7:30. I had muesli, milk and coffee and then took a shower. I fixed muesli and coffee for Nora. Then the girls had mandarins and grapefruit (Mrs. Backhouse gave us two the other night).

We walked around Subiaco. I got cash from an ATM and we got coffee and hot chocolate at a coffee shop. We then went to a shop and bought Nora a pair of running shoes. We dropped the shoes off back at the apartment and walked east along Hay Street till we got to the free shuttle bus route of the CAT line. The girls had done this before. They took me to downtown Perth and we walked along the many shops of the pedestrian area. The girls found an Internet cafe and spent some time there. I walked a few doors down and found a Chinese massage place and got a massage. Nora bought a leather, round-brimmed hat to wear in the outback and we bought three souvenir hat pins for the Perth region.
Then we went back to the apartment. We had some food left over so Mary had a can of chicken noodle soup and Nora and I had shell pasta. I had mine with marinara and Nora had pesto sauce. We also had sliced baguette bread, carrots, and mandarins. I washed a load of laundry and we started packing. We walked to a Belgian chocolate place (next to the Regal Theatre) and the girls had a fresh strawberry frostie and some sort of chocolate cake. I had a mango-passion fruit smoothie. We all went to bed after we finished packing.


10 July 2011, Sunday


I got up at 6:00 and had muesli, milk and coffee. I then took a shower and folded the laundry. I woke the girls. They had a little breakfast while I checked out. At about 7:30 we got the call that our ride had arrived. We went to the Kings Park Motel and waited for our field trip bus. [This was the Perth-Carnarvon Basins excursion; free download of field trip guidebook.]

We boarded the bus and started our long bus ride to the Carnarvon area. We had lunch at a bayside picnic area where we had chicken, potato salad, soup, apple, bread, etc.
We re-boarded the bus and headed to our first site along a stream (Locality 1: Irwin River Coalseam Conservation Park). We had to wade the stream many times and the water was cold. I took my shoes off and waded the stream, but I ended up getting mud and water in them anyway. I took a lot of photos including some of glacial diamictites (Wikipedia entry) in the Permian strata. One dropstone (Wikipedia entry) boulder was very large.
We headed to the town of

Geraldton

where we stayed at the Ocean View Motel. My roommate was Gregg who is at John Hopkins. He is a geochemist and a nice young man. The girls are in the room next door. I washed the mud out of my shoes and wore socks and sandals to the restaurant next door (to the embarrassment of the girls). We had a buffet dinner that included Salisbury steak, chicken in curry, fried fish, fried calamari, and vegetables. After dinner, Arthur gave me newspapers and the girls and I put newspapers in our shoes to wick out the moisture. I worked on my shoes with a hairdryer as well, and then went to bed.



11 July 2001, Monday


I got up at 5:45 am and took a shower. I packed my pack and checked my shoes, they were still slightly damp. I used the hair dryer on them for a few minutes and then went to breakfast by 6:30. I sat with the girls and a French-speaking fellow from Montreal, now working in Nova Scotia. He works on Mississippian-age clastic sequences in Nova Scotia. I had fried eggs, Australian bacon, toast, fruit, and Vegemite, plus coffee.

It is cloudy and rainy today. We loaded onto the bus and headed on a 500 km ride to Carnarvon. We had a morning restroom break at a campsite on the Murchison River, named for the famous British geologist, Sir Roderick Murchison (Wikipedia entry). I took a couple of photos of the river. I also repaired Nora's boots. The front sole had de-laminated on both boots and became filled with sand. I removed the sand and used filament tape to fasten the toes of the boots. It wasn't pretty, but it should work for awhile. I always carry filament tape for repairs. By the time we reached the Murchison River, the rain had stopped and the air felt warmer (we are farther north). However, we heard that the Shark Bay area had half-a-year's-rainfall yesterday and the roads are bad. We will have to alter our schedule of stops. Later, for morning break, we stopped at Billabong Road House. The girls got some chocolate ant I got a Bundaberg ginger beer. The landscape, normally very arid, is covered by many shallow pools of water. Some of the roads are closed. It is warmer here than it was in Geraldton.
The bus continued to

Shark Bay

(Wikipedia entry) World Heritage Site. We went to the main visitor center at Hamelin Station and walked along the boardwalk over the stromatolites. The tide was high so that all the live stromatolites were covered, but the water was clear. I took lots of photos. We walked along the beach composed of

Fragum erugatum

clam shells, denoting a high-abundance, very low-diversity fauna restricted by the high salinity of Hamelin Bay. We also looked at the very recently-made,

Fragum-

coquina limestone that was quarried for building stone locally. We had a picnic lunch of fried chicken, cold cuts, bread, sliced cucumbers, tomatoes, apples, etc. After lunch we walked to the souvenir shop/cafe and I took photos of a slab of Permian

Jimbacrinus

fossils. I also bought a stromatolite cap because my old Survey cap is falling apart.

boardwalk at Hamelin Bay (part of Shark Bay), another view, concentration of

Fragum

clam shells, old stromatolites along the strandline, shallow stromatolite, part of the algal mat, coalescing stromatolites, small stromatolites, mat on substrate, series of stromatolites, overview of stromatolites, closer view, another view, yet another view, video (Youtube), boardwalk, Drs. Haig and Davydov, numerous stromatolites
concentration of

Fragum

at beach, quarried blocks of

Fragum

coquina, closer view, algal mat on beach, beach-top coquina, outcrop of lithified coquina, closer view, another close view, group at outcrop, Arthur Mory at outcrop, flowering bush, coquina quarry, overview of quarry, video (Youtube), yellow-flowering bush

Jimbacrinus bostocki

, a platycrinitid calyx and

Jimbacrinus

arms, label for crinoid, another

Jimbacrinus

, dorsal-cup view of two

Jimbacrinus

crowns, slab with two

Jimbacrinus
We then got on the bus and continued our bus ride. We stopped at an overlook just south of the Wooramel River. The overlook is on a Cretaceous mesa capped by a calcrete. To the west, we could see several supratidal flats that are normally dry, but now contain water due to the recent rains. In the distance, we could see Hamelin Bay (beyond the supratidal flats).
In

Carnarvon

we went to Fascine Lodge. After we got our rooms, we went to the bar, got a beer and played some eight ball. Tom Algeo and I played the first games, then Mary played Arthur Mory and after that others played. At 7:30, we went to the dining room of the restaurant and served ourselves from the buffet line. I had large tiger prawns (local), local oysters, salad, fish, vegetables, and had a small piece of cobbler or strudel for dessert. It rained heavily while we were in the restaurant/bar. I hope it is not so rainy when we are camping. After eating, I went back to the room and went to sleep.



12 July 2011, Tuesday


I got up at 5:45 and took a shower and then my roommate, Greg, did the same. We went to the restaurant at 6:30 for breakfast. We had a buffet of poached eggs, hash browns, mushrooms, broiled tomatoes, beans, ham (Australian bacon), toast, coffee, etc. Mary took some Vegemite packets for souvenirs. We boarded the bus by 7:30. So far the sky is clear although everything is wet.

We made our first stop at Coolkilya Pool (Stop 3) along the Manilya river bed. We had three walks, some of which were long. It is partly cloudy, but very hot and dry and the sun is intense. We used sunscreen and the girls also used insect repellent. The flies like to get on one's face, but they don't bite. I saw some nice fossil beds with chonetids,

Strophalasia

,

Neospirifer

, and other spiriferids, numerous very large productoids, bivalves, plates from the crinoid

Calceolispongia

, large branching trepostome bryozoans, etc. We also saw many varieties of birds and several gray kangaroos.
After the walk back to the bus, we had grilled hamburgers with sliced beets, cheese, tomatoes, etc. I also had lemonade and coffee. We all help with setting up and breaking down of the lunch stuff and also wash the dishes.


We went to the station (i.e., ranch) homestead and we set up our tents. I picked a secluded spot and set mine up. After pounding the tent stakes in, I looked around and saw that there were 3 tents set up about a meter away from my tent. I pulled up my stakes and dragged my tent much further away. Then I helped a Chinese couple set up their tent. We have access to bathrooms here and we camp here for two nights.




13 July 2011, Wednesday


I got up at 6:45 and got in the breakfast line. I had an egg fried over easy, toast and Australian bacon and coffee. We washed our dishes and then made our lunches. I made Nora a salami sandwich, plus granola bar and orange. I am just going to have an apple, I have been eating too much.
We walked to our first stop of the day, Manilya River (Stop 9) and looked at slump features. We also made a group photo at the top of a hill.

recent sediments in the Manilya River, another view, Sasha at slump structures, more slump structures, yet more, closer view
recent sediments (from flood) again, tool marks and animal tracks, another view of tool marks, closer view
view from hill, another view,

Spinifex

grass, group photograph, unusual grasshopper with fake horn, Rose-breasted cockatoo
We boarded the bus and took off for our next stop. We stopped briefly at South Branch Well locality (#6) to look at the boulder-sized dropstones.
We don't stop at 7. We continued our trip but we had to split into two groups. We took the 16-passenger Mitsubishi 4-wheel drive on a 45-minute track to Toby Bore (locality #8). We saw 3 red kangaroos. We got out and spent most of the day walking the outcrop. It was a long, hot hike and we had to keep drinking water to avoid heat problems. We ate the lunch we packed in the shade. We saw lots of the Permian section here and the girls collected crinoid stems to take back home. After we finished we rode the 4-wheel drive back to the bus and headed to our station-homestead camp, another hour drive. The other group will be behind us by an hour.
Back at camp, I took a cold-water shower. After the other group arrived, we bought a beer and started dinner. We had spaghetti with Bolognaise sauce, salad and garlic bread. After dinner we had a nice campfire and everyone sat around it. We went to bed shortly after.



14 July 2011, Thursday


I got up at 6:30 and got in the breakfast line. I had Bolognaise sauce over toast, a Carnarvon banana, granola, milk and coffee.

We divided into two groups again. The first group left in the 4-wheel drive and the rest of us struck our tents, sleeping bags, etc. Then it was our turn to take the 4-wheel drive to a locality about 5 km away from camp. We looked at Tournaisian (Early Mississippian, Moogooree Limestone) section with abundant

Spirifer

sp. and

Syringothyris

and something that looked like

Composita

. We looked at dolomitized, shallow-subtidal to perhaps near-supratidal dolostones. This locality is not in the guidebook. We waited a few minutes for our 4-wheel drive and then caught our ride back to camp.
Last night we had a change of plan because of a road being washed out. We were originally going to the Kennedy Range to camp out in the national park. Instead we will go to Shark Bay, camp out near Carnarvon and visit Carbla Point locality that we had to miss earlier. Now, we are going to Dead Man's Gully (Stop 5) again, but this time, we are doing transect A-B (instead of C-D). The outcrops were next to the road and we walked along collecting fossils. There were abundant brachiopods, rugose corals, and crinoid columnals. I found a crinoid crown with multiply-branched arms. I'm not sure the dorsal cup was preserved but cleaning should tell. I also found a large platycrinitid primibrachial plate and abundant platycrinitid stem plates. I gave the specimens to the field trip leader who will deposit them in their museum for further study.
We walked back to the bus where lunch was waiting. I had an olive loaf (mortadella) and salami sandwich with tomatoes, cucumber, beet root, greens and sides of beans and corn. I had a Carnarvon banana for dessert.


Carnarvon

. Our bus rolled into a caravan camp much to the dismay of others already there. We set up our tents and air mattresses. I helped the cook slice potatoes and make a cold apple-graham cracker dessert. For dinner we had stewed lamb chops in a French onion sauce with corn and vegetable sides. Margaret Frasier had a birthday and we sang Happy Birthday to her as they brought out a birthday cake. We all sat around the tables and talked a lot and then everything broke up about 10 pm. Our tents were all packed together about a foot apart and I could hear heavy snoring throughout the night.



15 July 2011, Friday


It rained lightly in the morning. I got up about 6:30 and had toast with orange marmalade, granola and milk and two cups of coffee. We then struck camp which was made difficult because of the wet conditions and red sand everywhere. Sand stuck to everything and it was difficult to put the tents into their sleeves.

We boarded the bus about 8 am and headed out to

Shark Bay

. The girls have had a great time and have socialized with everyone on their own initiative and everyone has been friendly with them. We got to Carbla Station and had tea and cake for morning break. The flies were very dense and many crawled over my face constantly. We were again divided into two groups and the first group took the 4-wheel drive bus to Carbla Point. After about 45 minutes, it was our turn. Wayne, a friendly and witty Australian was the driver and owner of the 4-wheel drive bus. He has a beard and numerous rings pierced in his ears. He was interesting to talk to. When we got to Carbla Point we got into our swimming wear and entered the water. It was very cold, about 50 degrees F (it is winter here). It took 5 minutes to get used to it. We swam around looking at the stromatolites (this is part of Shark Bay). When Arthur Mory got out, he let me use his mask and fins. We are about the same size. The goggles made a big difference. After about 20-30 minutes, we got out of the water and walked around, looking at the various hypersaline environments. After awhile, our 4-wheel drive bus came back (it had taken the other group back) and we returned to camp.
We had lunch which consisted of three types of herring (I had a curry and a mango herring), tuna, luncheon meats, bread, sandwich fixings and instant soup. Also I had ripe olives and mixed vegetables. I talked to the owners of the station. They are trying to make it a research station for scientists and students. Last week, they had a group of astrobiologists from the U.S.

part of our group in front of Wayne's four-wheel drive bus (Wayne in red shorts)
We got back on the main bus after thanking our hosts. We said goodbye to Wayne and then headed south to Geraldton. I hung the girls wet clothes on the curtain line at my window. We got to

Geraldton

and our hotel, Ocean View Motel, about dark. My roommate is Gregg again. We all went to the bar for a complimentary beer or wine and then walked to the "China Moon" restaurant about a block away. There was a light rain. It seems to have rained here the whole time we were gone. We had lots of different dishes, some with chicken, pork, beef, shrimp, etc. I asked the two waitresses where they were from and they said the Philippines. Pierre, the Montreal geologist now working in Halifax, is a vegetarian, and they sauteed some vegetables for him. Charles Henderson got up and gave a short speech about the field trip, the leaders and staff. Then we all walked back to the hotel. I went to bed right away.



16 July 2011, Saturday


I got up at 5:45 and went down to breakfast. I had two fried eggs, bacon, hash browns, toast and coffee. I got a paper clip from the desk and replaced the broken cotter pin on my pack. We then loaded onto the bus. This is our last day of the field trip. I said goodbye to Vladimir Davydov and Arthur Mory. I am supposed to send Vladimir a tonstein sample from Kentucky when I get back.

We headed down the Indian Ocean Drive, a coastal highway with views of the ocean. We stopped at a very nice cove called Green Head, for tea. The cliffs are Pleistocene dune sands covered by Holocene dune sands. The sands are calcium carbonate. The Pleistocene rock was dominated by aragonite and the deep dissolution created caves. Along the beach were very abundant

Sepia

(cuttlefish) shells,

Spirula

shells, barnacles (goose neck), true limpets and mussels. There were many varieties of sea weed too. We had our tea break here. I had a milo-coffee-milk drink, cookies and a mandarin orange. The girls are having a good time. They are reading a lot and share earphones while listening to music on their mp3 player.

sign for Jurien Bay Marine Park at Green Head, another view, another sign, the bay, the other side, video, another video,

Sepia

shell, other side of shell, globular green alga,

Spirula

, another view, gooseneck barnacles, red alga, another view, sea lettuce (green alga), sign for dangerous caves, cliff line, waves along the beach, another view
We traveled south to the town of Cervantes and visited Lake Thetis (Wikipedia entry). At Lake Thetis, we saw more stromatolites, but these are the first that we have seen that were biochemically precipitated by cyanobacteria. The others were made by trapping of sediments by the mucus-layer secretions of bacteria. We walked around the small lake taking photos of the stromatolites, a couple of large black spiders (Mygalomorphs?), and the sand dunes.

yellow-flowered bush, sign for Lake Thetis, boardwalk to the lake, succulents (Samphire) and mud, boardwalk over the lake, old stromatolites, old stromatolites (these may have been moved), shallow stromatolite, stromatolite (or thrombolite) with top removed, several stromatolites, sign for stromatolites, two stromatolite heads, overview, series of stromatolites, partial thrombolite, another overview, another view, view with beach, stromatolite at water level
large, black spider (3-4 cm), closer view, another view, closer view, another view, yet another view, fangs project forward
overview of lake, dunes across the lake, sign about dunes, Aymon, Mary and Nora, another view, yet another view, old thrombolite, looking at several old thrombolites, closer view, another view, close-up of thrombolite fragment, another old stromatolite, Nora and stromatolites
After the lake we went back to

Cervantes

for our lunch. We stopped at the restaurant in the Cervantes Pinnacles Motel. We had our choice of fresh local prawns, lobsters, or steak. Mary and I got the local lobster and Nora got the steak. We all shared. We also had chips (fries), salad, bread and I had a Pure Blonde beer.
entry) at Nambung National Park. There we saw thousands of limestone pillars ranging from child size to greater than adult human size. They are thought to have been formed by rainwater moving through the carbonate sands along tree roots. The resulting concretions (rhizocretions) were then exhumed when uncemented sands were blown away. I took lots of photos.

sign for Pinnacles center, small pinnacles, closer view, overview at end of walkway, panorama of pinnacles, video, close-up of pinnacle (watch for scale), closer view, another pinnacle, close-up of pinnacle core, numerous pinnacles, Margaret and pinnacle, closer view, Mary and Nora, people at four pinnacles, another view, yet another view, structure at top of pinnacle, top of another one, our group and pinnacle, vertical half of pinnacle, small pinnacle, small rhizolith?
We reboarded the bus and spent several hours driving to Perth. We arrived at

Perth

about 5:30. We got our backpacks and said our goodbyes to everyone and then walked about a mile and a half to Kings Park Motel. We checked into our two adjoining rooms and got settled. We walked to our favorite Indian cafe. I ordered masal dosa because the girls had never had a dosa before. Nora had a spicy chicken chettinan (as before) and Mary had chicken tandoori. We had rice and garlic bread and Mary had a mango lassi.
We returned to our rooms. We gathered our dirty laundry and put it on my floor for tomorrow. I watched a little TV, filled out my journal and the went to bed.



17 July 2011, Sunday


I got up at 7 am and took the dirty laundry to the laundry room and got it started. I'll have to do two loads. I went back to the room for coffee and TV while waiting on the laundry. The girls are sleeping in. The clothes finally dried after three times in the dryer. The laundry came to $20.

After laundry, we walked to the main part of Subiaco and stopped at the girls favorite coffee shop. They had a latte, hot chocolate, croissant and blueberry muffin. We then walked to the theatre and saw the last Harry Potter movie. It was pretty good.
We then walked toward downtown Perth and caught the free shuttle to the pedestrian area. The girls got on the Internet. Nora had to fill out some forms for her next college semester. I didn't bring my journal so I couldn't send my e-mail entries. I did get another half-hour back massage while I waited for the girls. About 3 pm, we went to a Japanese restaurant nearby. I had a fried tofu dish, rice and miso soup. The sauce on the tofu was very good. Nora had a plain udon soup and Mary had a vegetable tempura udon soup. After lunch, we caught the free shuttle to get back close to Subiaco. I had to have stern words with a drunk (or drug addict) who was bothering the girls and he made a big scene. At least he didn't bother the girls anymore. We walked back to the motel.




18 July 2011, Monday


I got up at 6 am, had a cup of coffee and took a shower. I finished packing and woke the girls up. We went to the office, checked out and called a cab. The cabby was a friendly fellow from Poland. We talked a lot about Poland and I mentioned the cities there that I had visited. He is returning there this Sunday for holiday. I enjoyed talking to him.

We arrived at the domestic airport terminal and got our boarding passes for both of our flights. Our first flight is to Brisbane and the second, to Cairns (pronounced "Cans" here). After a fairly long check-in, we went through security and boarded our plane, another Virgin Blue flight. We arrived in Brisbane about 3:15 pm (we are two hours later here) and the girls got a garlic cheese pizza at a restaurant. We went to our next gate, a Virgin Blue flight to Cairns. We boarded and took off about 5:15 pm.

We arrived at

Cairns

at 7:15. At baggage claim, we saw a man holding a sign with our name. He was with Airport Connection shuttle service. We were the only passengers. He was originally from the south end of New Zealand's South Island. He took us to the Pacific International Hotel on the Esplanade. Nora called her classmates Michael and Sam who are here for part of the summer. They are coming to pick her up and show her the sights.



19 July 2011, Tuesday


I got up at 6:20 and had a cup of coffee and bowl of muesli. I woke the girls and we walked to the marina.

We boarded the Ocean Spirit, a large motorized/sailing catamaran by 7:50. We went out to Michaelmas Cay (part of the Great Barrier Reef) and anchored. It took about 2 to 2.5 hours to get there. We rented wet suits and used their snorkels, masks and fins. They took us to the beach and we were allowed to snorkel in a portion of the reef demarcated by buoys and rope. Nora and I lost Mary right away because she followed the wrong man for a long time. We saw lots of fish, corals and many of the famous giant clams (

Tridacna

, Wikipedia entry). It was fascinating. There were lots of birds nesting on the island too. We met up with Mary back at the beach and returned on the launch to the catamaran. We had a nice buffet lunch. I had fried fish, boiled shrimp, bread, cheese and fruit.

the big catamaran, view of hills around Cairns, closer view, our area, the front deck of the boat
the girls in their wet suits, Mary, nesting birds on the island, different birds, parents and chicks, more birds and chicks, birds flying, wading into the water
After lunch, it was our turn on the "semi-submersible." It was like a glass-bottom boat, but the windows were along the side and the passengers were below water level. After 15-20 minutes we returned to the big boat.

the girls in the submersible, passenger area, view from window, coral rock, variety of coral, more varieties, more coral, and more, some fish, passenger area again, leaf coral and coral heads, variety of coral, edge of coral, a

Tridacna

, soft coral, another

Tridacna

, broken coral debris, staghorn coral, deeper coral, coral edge, variety of coral, deeper coral, three different coral heads, two

Tridacna

s, Angelfish,
After a while, we headed back to the marina and arrived there about 5:15 pm. We were back at our hotel by 5:30. We all took showers. I filled out my journal while I waited for the girls. Nora is going to go out with her friends again tonight.
After I took my shower, we walked down Esplanade St. The girls knew an Indian restaurant that they wanted to try. It was only a block away. I ordered Lamb Madras curry (extra spicy), Mary had Aloo Matter, and Nora had Chicken Biryani. We also had stemmed rice and garlic naan. The madras curry had very nice flavor but it was only medium spicy by our standards. The girls ate it with no problem. After dinner, the girls looked at souvenirs and then we went back to the hotel by 8 pm. Nora went out with her friends and Mary and I watched TV for a little while. I went to bed a little after 9 pm.



20 July 2011, Wednesday


I got up at 6:10 am, dressed and made a cup of coffee. I woke the girls at 6:40. We got down to the lobby by 7:05 and loaded onto our bus for the all day "Daintree Walkabout" tour. After about 1.5 hours we arrived at the Kuky Yalanji Dreamtime Walks at Mossman Gorge. Our Indigenous Australian (Aborigine) guide was Roy. We were very lucky to get Roy because he is the trainer for other guides and is an expert cited in several books and author of one. He has also guided scientists from pharmaceutical companies into this rain forest. The tour through the forest was about 1.5 hours and was very educational and entertaining.

local sugar-can rail cars, large orb-weaving spider, another view, Kookaburra, closer view
Roy, stinging plant, tree with spikes, Roy and hut, another view, large seed, nut, nut-cracking stone, pool in creek, another view, view down creek, creek, another view, poisonous tree, orange ear fungus, another view, large strangler fig, strangler fig (host tree long gone), another view, strangler fig around young tree, Roy and camp, ground-stone tools, petroglyph of Emu, crossing creek, creek, another view, closer view, Roy making body paint, video, soap leaves, closer view, suds, close-up, Roy, creek, orange and red seeds, tea and discussion, blue and lilac flower spike
After the tour, we drove to a plush rain forest resort, Silky Oakes Lodge and had lunch. All three of us had Barramundi fish, salad and nice bread. We all liked it.
Then we drove to the Daintree River and got on a boat for an hour-long natural history tour. We saw a number of salt-water crocodiles (Salties) and three different kinds of mangrove (those with a, prop roots; b, pneumatophores; c, ribbon roots). It was a relaxing and fun cruise.

swallow on our boat, another view, our boat, the tidal creek, tree snake (middle of photo), salt-water crocodile, another view, close-up, another view, another croc, another view, close-up, another view, mangrove with prop roots, mangrove with ribbon roots, another view, pneumatophores, some kind of seed pod, Mary, Nora, water monitor?, another croc, another view, tree frog, better view, another croc, closer view, another view, large croc on bank, closer view, another view
We drove a short distance to Scomazzon's Fruit Farm where they grow a great many tropical fruits. We were served a platter of about 6 or 7 types of tropical fruit including passion fruit, red dragon fruit, sour sop and several others. They grow many more than this but I guess these were in season. They even grew durians but it wasn't available.


overlook onto beach, another view, yet another view, view with girls, another view, yet another view
sign about beach dangers, closer view, another sign, Nora on the beach
another overlook, another view, yet another view, Nora at overlook, another view, Mary and Nora
We got back to our hotel about 5:30. The girls took a shower and then we walked around to look for a place to eat. We found Perrotta's, an Italian-style restaurant. I had a yellow tuna crudo. It was nicely "presented" (i.e., fancy). The tuna was marinated but uncooked (crudo). It was fine but didn't have much flavor. The girls shared farfalle pasta with prosciutto, peas and marscapone, and they had a salad. For dessert, they had a walnut brownie with vanilla ice cream. The girls shopped for souvenirs and I went back to the hotel. We repacked everything and got ready for our travels tomorrow.



21 July 2011, Thursday


I got up at 4:20 am, brushed my teeth and had a cup of coffee. I woke the girls at 4:40.

About 4:50, we went down to the lobby. I checked out after paying $17 for two local phone calls. Our shuttle was waiting for us, when we got to the lobby. We got to the domestic Cairns terminal and the girls got their boarding passes on a Virgin Blue flight to Sydney. From Sydney, they will fly back to the states. I saw them off at their gate.

My flight is in the Cairns international terminal and the counter doesn't open till 9:45. I stayed in the domestic terminal because the other terminal opens later. I filled out my journal. I thought about buying a book, but decade-old paperbacks are $30. Everything here is triple the cost that it is back home. For example, a six-pack of local beer is more than $20. I waited till 9 am and walked to the International Terminal. It's sunny and about 70 degrees F, very nice. I waited till 9:30 when my check-in counter opened. I got my two boarding passes and an Australian customs form. I went through customs and security. In the departure lounge, I got a latte and an ANZAC cookie. It's a crisp, dark cookie with oatmeal, ginger?, cinnamon, etc. I have a long wait here too. I boarded the plane to Darwin at 12:15 and it took off at 12:45.

We flew over the two northward projecting peninsulas and the Gulf of Carpentaria. I noticed thousands of brushfires across the landscape. These are all set by aborigines to drive out game, to refertilize the soil and to allow new, tender vegetation to sprout.

We landed at Darwin at 2:45 pm local time. I was directed to the international transit lounge where we were not permitted to leave. There is a small espresso bar here, but it is not open. I am hoping that something opens with food and drink before my next flight at 7:30 tonight. I've only had a cookie and coffee this morning. Mary and Nora should be well over the Pacific by now. The espresso bar finally opened and I had a lamb-rosemary filo pie(?) with very small mixed salad and a VB beer. The filo pie was pretty good. I bought a battery for my mp3 player and listened to Indonesian language which drew a lot of attention as I silently (I think) mouthed out some strange language. I noticed a lot of people staring at me. After an hour and a half, I listened to Neil Young which wasn't as stressful. This is a very long wait in a crowded room with nothing to look at but other people looking back.

I loaded onto the plane at 7:00 pm. All of the flights that we have had in Australia are no frills flights. If you want a drink of water or tea, you pay for it ($3). I've got another window seat over the wing and the plane is packed. This Jet Star flight leaves Darwin at 7:30 and should arrive at Denpasar in Bali at 8:45 pm local time. On board the plane I filled out an Indonesian customs form and an Indonesian arrival/visa form. For the next part of my trip, follow the link below.