Bali, Indonesia
2011
All images and associated pages copyrighted © by Don Chesnut, 2011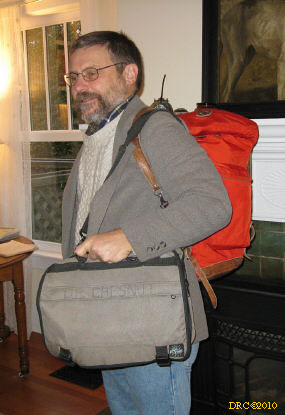 This is all I took on this trip.

I went to Australia to attend the International Carboniferous Congress-Permian in Perth with two of my daughters. Afterwards, my daughters returned home and I traveled through Indonesia, Singapore, Malaysia and Thailand. The following is composed of my daily journal entries and photographs taken during the trip (please excuse the tedious and poorly-written nature of the journal). Or you may rather go through my thumbnail catalog (pages H, I, J, K, L, M).





21 July 2011, Thursday


For the previous part of my trip, follow the link above.

On board the plane I filled out an Indonesian customs form and an Indonesian arrival/visa form. After landing, I paid US$25 for a visa and then went through immigration control and customs. I exited the terminal and saw about 70 or 80 people holding signs for tour participants, hotel clients, and finally I saw an Intrepid sign with my name on it. The driver was Dawa (Day-wa) and he drove me to

Ubud

. He's a very friendly fellow and told me lots about Bali and Intrepid. [I was signed up for Intrepid's Bali/Lombok combination trip; or one could sign up for just the Bali part.]

I arrived at the Artini 2 Cottages hotel at 10 pm. It was dark but I could tell it was charming. After putting my things in the room, I went to the pool-bar area and had a large Bintang beer and filled out my journal. Dawa told me about several restaurants in the area and showed me an hour walking loop on the map for tomorrow. Tomorrow is entirely free. I'm glad, because today largely sucked. I'm too tired to go out to eat now though. There is a very vocal and unusual frog chorus going on and I rather enjoy it. It rises in a crescendo and the falls away, and then some frog starts it all over again.



22 July 2011, Friday


I woke up about 5:30 but didn't get up till 6:45. I took a shower and put on my shorts and sandals for the first time. I slept very well last night. The temperature must have been about 70 degrees F, but I used the ceiling fan on low.

I went down to breakfast by 7 and was amazed how picturesque this place was. There were lots of interesting landscaping with stone statues and exotic plants. I heard the usual rooster and pigeons, but I also heard a number of new bird calls at day light. I say "

Selamat pagi

" (Good morning), and they ask me "

Apa kabar

" (How are you) and I reply "

Bai

" (Good). At breakfast I got coffee. I was shown a breakfast menu (breakfast is included) and I ordered banana pancakes with a side of papaya and pineapple. There is a very fragrant fruity honey which I poured over the pancakes. Dad, you would like it. I'll try to find out what it is. I sat next to the swimming pool. A few other people filtered in, but I'm the only one here for the Intrepid trip (I'm two days early).

an entrance portal, another view, a group of rooms, interesting landscaping, the pool area, pool, bas relief near pool, lower compound, steps and landscaping, dove, closer view, monkey statue, water monitor statue, rooms in the lower cottages, interesting landscaping, entrance to a room, view down pathway, stone carvings, Frangipani tree, Frangipani flower, entrance to Artini 2 Cottages, another view
I went out and started the loop walk. I stopped at one of hundreds of Balinese massage places and got a nice, but very oily massage. Probably not a good idea for a very hot and humid day. I felt pretty oily and sweaty for the rest of my walk. The walk took about 1.5 hours. I went through the Monkey temple forest and saw lots of monkeys and took photos as well.

the street in front of the hotel, one of many temples, sign for temple, temple, statues, ornate door, clothing shop, trays for sale, kites, video of kinetic art, more kites
front of Monkey Forest Sanctuary, sign for the sanctuary, another view, pathway in forest, one of several pathways, one of the macaque monkeys, monkey on log, monkey on table, another view, two monkeys, mother and baby, girl and two monkeys, monkeys near fountain, monkey reclining, two monkeys on stone, mother and baby, another pathway, group posing, large statue
Ganesh statue in front of store, another temple, temple, another view
When I got back to the hotel, I went for a swim and then ordered Mie Goreng for lunch. This is a fried noodle (soft) with some sort of oriental cabbage, carrots and a little chicken and some oil and seasonings. Several of the hotel staff came and sat with me and I spoke a little Indonesian with them. They are all very friendly and helpful. The suggested that I try some local specialties such as crispie duck and suckling pig. I will try the duck tonight and the pig tomorrow. There are lots of kites flying in the sky, all different types and sizes. I can see them from my balcony where I'm writing this entry and drying my trunks. My balcony overlooks the pool too.
I left the hotel and walked to the "Dirty Duck" restaurant. It was another beautifully landscaped and designed place. I ordered the Crispie Duck, their signature dish. It came very quickly. It was half a duck. I'm guessing that they put a dry rub on it and roast it till the skin is crispy. It was served with steamed rice, two varieties of sambal, one an Indonesian version of chipotl and the other some mixture of onion and chilies in a liquid. There was also a side dish of green beans cooked with sprouts and something like shrimp paste (it was a little like Sichuan Green Beans). I pulled the duck apart and ate every last morsel except for the bones and I ate some of them too. It was good. I dragged the pieces of meat through the chipotl-like sauce.
I walked back to the hotel and sat at a low table near the pool and bar (same as last night) and filled out my journal while drinking a Bintang. Tonight is my last night here alone. The others on the tour will arrive tomorrow and I will have to share a room with another fellow for two weeks. I hope he is nicer than I am. The weather for the last couple of days has been very comfortable. Lows seem to be 68-70 degrees F and highs about 83-88.


23 July 2011, Saturday


I got up a little after 7 and took a shower. I went down to the pool-bar area for breakfast. I ordered a fruit jaffle (whatever that is) and had a cup of coffee. I brought some insurance forms that I have to fill out for my Intrepid tour. At my table was Lynn, an instructor of Egyptian archaeology at a community college in California and Ellen and her two brothers, Jackson and Will from Melbourne, Australia. The three siblings are on the tour with me. They are all very nice and good company. I found out that I don't have to change rooms after all. I'll be rooming with Andy, the trip leader. He is from Australia.

Later, for lunch, I had Nasa Goreng Special at pool side. It was peaceful here and I didn't want to get into the busy streets just yet. There are lots of butterflies and birds here. Most of the birds I don't know, but there are several swifts or swiftlets patrolling the area. This Goreng was served with fried rice (nasa). The goreng was two skewers of chicken in a rich peanuty sauce. They also have a satay, so I don't know how it differs from this dish. After a bit, I went for a walk to locate an ATM, which I may need later. I went back to the pool and swam some.

At 7 pm, all the group (minus two late night arrivals) and the leader met in the bar area. There is a couple from England, a geography teacher from Scotland, and the rest are Australian, one from Adelaide, some from Melbourne. They are all very nice and in their 20's or early 30's.

We boarded two bus-type taxis and drove 20 minutes to get to the Night Market on Gainan(?) Street. Andy explained all the food items to us. I had a selection of batter-fried vegetables from one stand, at another, an omlette with Indonesian chili paste on it, and later, a folded paper cone with peanuts, spinach, beans (two types), coconut, chili sauce, etc. It was all from three different stands and the total price was around $2.

omlette at a restaurant kiosk, the woks and stove, another view, part of our group eating, another view, yet another view, my fried-food kiosk, close-up, my paper-cone kiosk, another kiosk, cooked ducks, cooked chicken, more cooked birds, roast pig, mixed meats, paper-cone kiosk
After an hour, we rode back to the hotel and six of us sat in the bar area and talked for awhile. I left and went to bed early.



24 July 2011, Sunday


I woke up at daylight, about 6:15. I went down to breakfast about 7 and I was the only guest there for about 45 minutes. I had coffee and the banana pancakes with side of papaya and pineapple again. Slowly others of my group arrived and we all talked for awhile. At nine, we had another meeting and we had two new Australians that had arrived late last night, a mother and daughter.

At 10, we walked to our small bus and drove out of town. We stopped out in the country amidst rice paddies and walked leisurely back to town, about 5 km. I took lots of photos along the way. We stopped at an art gallery that looked like a temple. Apparently, that is how most of the family compounds look. They are walled compounds with a stone portal and protective god statues near the entrance. There are multiple houses, a north, south, east, west, a ceremonial house, a kitchen for each sibling family and other buildings.

rice paddy, several paddies, cutting grass for feed, family compound, rice paddy, another view
art gallery/family compound, entrance, our walking guide, another entrance, art on display, lady weaving palm or bamboo, another view, yet another view
our group walking along the road, heron in rice paddy, another view, levels of rice paddies, setting rice plants, several paddies, house and paddies, building bamboo-framed house, overview, leveling paddy, another view, ducks in paddy, village, another view, big house on slope, houses on hill, another view, creek under bridge, close-up, other side, saying goodbye to our guide
When we got back to Ubud, it was lunch time. Andy walked us to some good restaurants. Three of us opted for Ms. Oka's Roast Pig (Bu Oka Babi Guling) restaurant. This place is world famous. I ordered a Bintang beer and the roast pig (babi guling) special. The special was three courses (served at the same time) of steamed rice, pork-and-vegetable soup, and a plate with meat and a side of greens and rice. There were four kinds of meat consisting of a piece of brittle, roasted pig skin (excellent), roasted pork (very succulent) with some kind of chili sauce, several pieces of blood or heart sausage, and six or seven pieces of crispy-fried cracklings. This was the best lunch I've had in a long time. I highly recommend it.
The three of us walked back to the hotel. I got my notebook and caught up on my journal at poolside. I also had a nice swim.

At 6:30, we all got together and walked about 10 minutes to a temple (Hindu). We were attending the famous Kecak ("kech-ak") dance and chants (Wikipedia entry). We were seated in a compound within the temple walls. About 50 or 60 men came out chanting and sat down in a semi-circle. They chanted, swayed, and shook their bodies in time with the chants. Then Balinese dancers came out and enacted the story of Ramayama. It lasted about 40 minutes and was incredible. I've never seen anything like it. In the next dance, a group of women came out and sat down in front of the men. Two little girls came out in costumes and danced a complex dance with fans. The final dance was the shortest. A man made a large mound of coconut husks and he poured kerosene over it and lit it. After a while, a group of about 30 men came out, sat down and started chanting. A man came out in a horse costume and danced around the fire. He was barefoot and kicked the burning coals across the ground and walked over the coals many times. I took photos, but my batteries died, so I'm not sure what was actually taken.
After the kecak dance we walked several blocks away to the Tetruk (?) restaurant. I had beef curry and ordered it extra spicy. I also had a Bintang beer. We all had a lot of nice conversations and then a few of us walked back to the hotel.

I packed, filled out my journal and went to bed. Andy came in before I turned the lights out and we talked a bit. He's about five years older than my son, Donald.



25 July 2011, Monday


I got up about 6:30 and went down to breakfast. I was the first there and had coffee and omelet with toast and a side of bananas, papaya, and pineapple. A few others came in and I had breakfast with them. I went to my room, took a shower and finished packing. I paid my bill at the desk which came to about $30. I walked to an ATM and got a few more rupiahs.

At about 9:15, we loaded our packs onto a van and we all got on our mountain bikes. We rode through the crazy traffic out into the countryside. We had some nice views but it was impossible to take photos while riding. We made numerous stops, including a midwife birthing center (Bumi Sehat, www.bumisehatbali.org), organized by an American lady (a CNN local hero). It reminded me of Frontier Nursing Service (www.frontiernursing.org) in eastern Kentucky. I made a small donation. We stopped at a durian farm and a lady opened the durian and we all got to try some. Andy and I had by far the most. Most people don't like the smell of durian. We also stopped at a place for palm wine which we sampled. We saw wood carvers, rice planters and other sites as well. The bike ride was about three hours and the day was hot and humid. I think my shoulder and neck got sunburned. At the end of the ride, we stopped at a temple pond and had green coconut milk and the jelly-like meat. We boarded the vans and headed out. The bikes went back on another truck.
We stopped at another place for lunch. It was at the Senang Hati Foundation (www.senanghati.org), a place that helps people with disabilities. We had a buffet of very nice vegetarian dishes, rice, and one chicken dish. It was very good. A man played a bamboo xylophone while we ate. After the lunch we toured the facility. Many of the disabled people had had polio, but there were others as well. We went to the gift shop and I bought a drawing made by one of the young men there. The lunch and gift shop purchases go to help the foundation.
On our way to

Sidemen

(Sid-e-men) we came along a temple festival march. We got out and watched it go by. I filmed part of it.
Back in the van, we could catch glimpses of a very large volcano, Agung.




26 July 2011, Tuesday


It rained all night, sometimes heavily. I got up at 6:30 and went to the restaurant area. All of the cottages, pool, restaurant are built on the side of a steep hill. I can hear the sounds of rapids not far below, but I can't see them for the trees. The edge of the restaurant drops steeply and forms sort of an overlook. The landscaping is stunning. This resort seems to be very isolated from the usual tourist businesses.
I had coffee and Mie Goreng (fired noodles with vegetables) with a fried egg over it. I was up about an hour before I saw anybody else. Our large table slowly filled up and everybody stayed to talk. It's a very sociable group of people. I went back to my room by 9 and packed. We will take our packs to one room to be stored while we do our morning walk.

At 9:30, we gathered at the lobby and started our village walk. We made frequent stops for discussions about crops, etc. We stopped at a weaving place where a lady had a belt or waist loom (backstrap loom). She was weaving an intricate design and using embroidery for the design (songket weaving). Our local guide met us there and we walked through several villages. We went to another weaving company that used tie-dying to color the threads. The threads are then put into a loom and intricate designs are woven (ikat weaving). We continued the walk through rice paddies and farming plots. Some of the paths were fairly steep and slick. We walked across a swinging bridge and stopped for arrack (distilled spirits) at one place. After three hours of walking, we came to a large bridge across some shallow rapids. The wife of one of our bus drivers had prepared lunch for us, each in a folded banana leaf. My lunch leaf had fried noodle dish, steamed rice, tofu paddies, hard-boiled egg, soy bean-fried bars (tempah), chili paste sambal. I had three bags of sambal which people gave me and I used them all.
We rode back to the hotel and had a nice cool swim for an hour or so. I then had a shower and caught up in my journal. About 4 pm, we went to the lobby. I paid my meal bill and we loaded our packs on the vans. We drove a long way up to the mountains, but stopped at a supermarket to get snacks for our climb tomorrow. We stopped at an overlook and saw for the first time, the large volcano, Batur (Wikipedia entry), and the large caldera lake within which it sits. I took several photos from the caldera-rim overlook, but it was dusk and the light wasn't very good.

Danau Batur (the Batur caldera lake), another view, yet another view, lake and caldera wall, panorama of Batur and lake, Batur volcano, Kedisan, large fumerole, Batur and lake, clouds over Batur, caldera rim
We then drove down to the bottom of the caldera and went to our hotel in

Kedisan

, Segara Hotel, with a great view of the volcano. One can see steam coming from a secondary cone, and the black carpet of a large lava flow. I got a room to myself. At seven, we met in the restaurant and all sat at one big table. There are many French tour groups here and they outnumbered us, three to one. I got the buffet, which included fried fish from a fish farm in the caldera lake, plus fried rice, fried noodles, tempah, fritters (corn and coconut?), potatoes, sambal, etc. I had a Bintang for drink. After dinner, I went back to the room and prepared for tomorrow. We have to get up at 3 AM.



27 July 2001, Wednesday


I got up at 3 AM, dressed and waited till we mustered at 3:30 at the restaurant. We rode the vans and drove a short distance to where the climbing guides were.

We started the trail up Mt. Batur and we used flashlights to see where we were going. I had a 6-LED flashlight that works very well. It took almost 3 hours to climb to the summit and it was somewhat difficult going because of all the loose volcanic cobbles, pebbles and granules sliding under your feet. When we got to the top, we waited for the sunrise and when it came we took lots of pictures. The most recent eruption of the volcano was the year 2000, but one could see several fumeroles, traces of sulfur, steam, and a sulfury smell in a few places. When the sun came up, I also saw a "glory" (Wikipedia entry) in the opposite direction. It was a shadow of myself in the mist, with a rainbow halo going around my shadow. I also took photos of the steep crater walls. For a snack, I had a packet of durian-cream-filled cookies. We then spent about 1.5 hours walking down by another route.

at the top before sunrise, start of sunrise, in the cloud, video A, our group, same with flash, Abang volcano on caldera rim, lighter sky, video B, our group with guide, another view, yet another, crater rim of Batur, Abang and caldera lake, panorama, Batur crater, video, crater rim, panorama of crater (note fumeroles), a fumerole, another fumerole, sunrise, video C, closer view, another view, yet another view, yet another, closer, Abang, Abang overview, Abang clouds, glory, another view, village on lower slope
old lava crust, taking a break at the bottom
At the bottom, we got in our vans and drove back to the hotel. We were there by 9 AM. At the hotel, I took a shower and repacked all my things. I also caught up in my journal.
At 10:30, we met at the restaurant, loaded our packs onto the vans and spent 2.5 hours driving to Lovina, on the beach. We stopped along the way and ate some fresh mangoes and banana and had a nice coconut candy that was chewy.

At

Lovina

, we got out next to the beach and went to an open-air restaurant. I had a mixed seafood grill and a Bali Hai beer. The lunch consisted of steamed rice and three skewers with tuna, squid, prawn, tomato, green pepper and onion. I thought it was pretty good. After lunch we walked a couple of blocks to our hotel, Angsoka Hotel. We stay here two nights so I'll get some laundry done. I have a room to myself again. This area is hotter and more humid than Ubud and the rooms are purported to have air conditioning. I also see a ceiling fan, which will probably do for me. The temperature seems to be in the upper 80's F (sweaty). I went swimming to cool down. There are a lot of European families here, I noticed.
I booked a massage at a place our tour guide recommended and a driver picked us up and took us there. It was more expensive, about $17, but it was the best by far. I got back to the hotel by 7 and I met up with all the others at a nearby restaurant. I had curry chicken with a sauce of chopped thai peppers and steamed rice. We all stayed long after with lots of conversation. It certainly is a nice group of people. I went back to my room by 9:45 and went to bed by 10. I'm very tired from being up since 3 AM and the long climb up the volcano.



28 July 2011, Thursday


I woke up at 6, but got up at 7. I got my dirty laundry together and my notebook and went to the restaurant area. The restaurant doesn't open till 7:30, so I worked on my journal. I said good morning to everyone "

Selamat pagi

" and "How are you?" (

Apa kabahr

). Everyone is busy cleaning everything and getting ready for the day. The drivers are washing their vans and cleaning them out. We are within half a block of Lovina Beach. It has sand but a muddy bottom and no waves. It's more of an estuarine environment. Today, we will go snorkeling, but not at the beach. Some of the others found an Internet cafe, but had a difficult time using it because the keyboard wasn't set up for English. At 7:30, I ordered breakfast. I had coffee, fruit plate and an omlette. On the fruit plate were slices of papaya, banana, watermelon and a slice of lime.

At 8:30, we met with our day packs. We got into the vans and headed west. We stopped in one town,

Seririt

, and visited a market. We walked around and looked at the various food items, herbs, tobacco, etc.
After the market, we kept heading west. We finally turned into the parking lot of a small pier at

Labuhan Lafong

. The pier was used for snorkeling and scuba trips to a small island offshore. I paid for a banana-leaf lunch to take to the island. It included steamed rice, sambal, tempeah, lots of sardine-sized fried fish, chicken, noodles, mixed peanut blend, and some mixed green vegetables. We got our snorkel, mask and fins and headed out to the island in two narrow, but long wooden boats, powered by outboard motors. It was very, very windy and there were big waves and many whitecaps. We were following the wind, so we didn't get splashed much. We could see 3 large volcanoes on Java including Merapi (not the famous one). After a half-hour boat ride, we arrived at

Menjangan Island

. I thought we were going to crash, because of the large waves, but they managed to drop the anchor. We hopped on one boat and out the other side to the pier. The small beach was very crowded, but very few people were snorkeling. The waves were just too much. Andy suggested that inexperienced snorkelers should not go here, but five of us went in. I didn't use fins, I just walked into the water in my Teva sandals, waded into the waves and started snorkeling. It was magnificent! It was worth all the effort and was probably the best snorkeling I have ever done. I've snorkeled in the Florida Keys, Bahamas, Hawaii, the Great Barrier Reef, Fiji, and other places, but this would rate at the top. Just a few tens of meters from the shore was the wall, a drop off that descended to deep waters (couldn't see the bottom). Regardless of the large waves, the water was crystal clear, no turbidity at all. There was a great diversity of fish and a great abundance as well. I swam in schools of brightly colored fish. I saw all the usual characters, such as parrot fish, surgeon fish, trigger fish, small wrasses, angelfish, tangs, etc., just different coloration (and species) than I've seen before. There were great varieties of corals, soft and hard, sponges,

Millepora

, small giant clam (

Tridacna

, Wikipedia entry), etc. I hated to leave.
When I got out of the water, I joined the others and had my lunch. Everyone else from other snorkel boats had left to the leeward side of the island, so we had the beach to ourselves.

another view, fossil coral head, another one, yet another, and another, another one, another with foot for scale, small one, few people at landing at lunch, closer view of pier, banana-leaf lunch
After lunch, we reboarded the boats and headed to the leeward side as well, passing a large statue of Ganesh, the elephant-headed god. We anchored near the other boats and there were almost no waves. Everyone snorkeled here. Oddly, the water wasn't as clear here as on the windward side and the density of fish was less. However, it was still worthwhile. We snorkeled here for about an hour. I saw the usual fish and corals again, but also saw two pipe fish and a couple of groupers or sea bass. But I was really excited to see all the stemless (comatulid) crinoids (Wikipedia entry) nestled in all the corals. There were green ones, black ones, black and white-banded ones and yellow banded ones. They were in a little bit deeper water at the edge of the wall here. I was the last to get back on the boat.

The boat ride became pretty rough when we got to the windward side and every bounce brought large cascades of water to douse us. There was just no way to avoid it. I got my day pack and covered it with a towel, but it was still wet. We passed one place on the island where waves were crashing along a rocky cliff line. We started our way back across open water when the engine quit on our boat. The wind was starting to turn the boat perpendicular to the waves, which is not a good thing in a long, narrow boat. We were also drifting back toward the rocky cliff. Because we were drifting along with the waves, it looked as if we were staying in one place, but this was an optical illusion, we were definitely drifting back pretty quickly. The boatmen finally got the engine running; it must have gotten saltwater in it from all the waves crashing. The more-than half-hour trip back to the pier was slow going against the very stiff wind. Everything was soaked by the time we got back to land.

We then headed back to Lovina. After an hour or so we stopped at Air Panas hot springs park near

Pengastulan

(near Banjar). There were three pools. I started at the top one which was the warmest, then the deeper one which was small-pool sized, and another small one where the water falls on you from a greater distance. The water in the top pool had a sulfury smell, but the others had lost that smell.
We continued to Lovina and got there by 6. I took a shower to get all the remaining salt or sulfur off me. I hung my wet things to dry and filled out my journal. At 7, I walked to our rendezvous point, the nearby Jasmine Restaurant, a Thai restaurant. Andy had saved a large table for the group. I had a spicy mince chicken curry with steamed rice and a Bintang beer. It was a good meal. We all stayed and talked for awhile. I walked back to the hotel and was in bed before 10.



29 July 2011, Friday


I woke up at 6, but didn't get up till 7. I took a shower and then went to breakfast by 7:30 (when they open). A couple came in and said hello. They asked me how I liked the dive yesterday (they must have seen our group there). I, of course, said that it was magnificent and they agreed. The edge of the wall, at just 1.5 meter depth, dropping to the depths suddenly, was most impressive, we agreed. They were French-speaking, but spoke excellent English and bahasa Indonesia. I met them latter as they were checking out and we talked some more. As it turns out, they were professors studying geomorphology and geologic hazards associated with the recent eruption of Merapi (the big volcano in central Java). I told them that I was a geologist. We talked about geology and volcanoes. His name was Dr. Wassmer Patrick. I told him about potential tsunamites and seismites (Wikipedia entry) in Kentucky. He gave me his business card and we talked about doing collaborative work in Kentucky. His wife, also a professor, is studying the impact of lahars (Wikipedia entry) on the population, and trying to predict where the greatest lahar areas might be. They also study the impact of pyroclastic flows (

nuée ardente

, in French)(Wikipedia entry). I went back to my room and caught up in my journal, and began packing again.

I walked the beach road between our hotel and the main street that enters the Lovina Beach area. There are lots of hawkers here. I got a quick massage from a beach-massage lady (Niti) and bought a bag of fruit from her friend. The fruit was mostly rambutans, but there were also a mangosteen and a snakeskin fruit. I asked Andy to pass them around to the group later.
We gathered in the parking area after paying our laundry bills and we loaded our packs onto the van. At noon, we walked a few blocks to a lady's house. She had prepared a special dinner for us. There were about ten Indonesian dishes plus steamed rice and bananas. I can remember chicken satay (sate), tuna satay, fried fish and coconut cakes, corn fritters, potato cake, sweet potatoes in sauce, several other skewers, several mixed vegetable dishes, cucumbers, tempeah, etc. Andy ordered a special hot sambal for the both of us.
After the excellent lunch, we walked back to the hotel and got into the vans. We rode for about an hour till we got to Munduk Falls. We walked along a path through several spice plantations (which just looked like forest). Andy showed us clove trees, coffee, cacao, and many others. We saw one variety of coffee called Loak Kopi (Wikipedia entry). A wild civet cat loves coffee beans. The cats choose the ripest and best tasting seeds to eat. After they digest the seed, the bean is defecated and locals collect the droppings. The beans are washed, roasted, and made into very nice smelling coffee (and expensive). The civet cat only digests the flesh surrounding the bean. We continued our walk and got to a very high falls. I changed into my trunks and got into the water. The water, falling from a tremendous height, made a powerful wind, spray, and current. I tried to make my way to the falling water but the wind was too strong. I tried backing in and got pretty close. No one else got in, which surprised me, but they did take photos. We continued our walk through the hillside family houses and trees. After about an hour, we ended at a family-owned coffee processing shop. We sat around the drying coffee beans and the lady served us some very nice coffee. It was a very relaxing time.
After the coffee, we got to the vans and headed to

Bedugal

(pronounced beh-DOO-gle). We stopped at an overlook into another caldera, a remnant of Batukau volcano. We could see two lakes, called the twin lakes, in the caldera. There is a third lake, but not within our view. We could also see the ocean.
We headed down the rim of the caldera to our hotel, Strawberry Hill Hotel. This is a very nice hotel and I have my own cottage. I took a shower, took some photos, and caught up in my journal. At 6:30, I went to the hotel restaurant and shot two games of pool with Jackson. At 7, we all sat a one big table and ordered dinner. I had a three meat satay that came as skewers over a charcoal broiler. It was served with steamed rice and a dish of satay sauce. I ate every bit of it and dumped the satay sauce on the rice to eat afterwards. We are up in the mountains and it is cool. The staff built a fire in the fireplace and everyone enjoyed sitting in front of it. I went back to my room by 10, filled out my journal, and went to bed.

van ride to Bedugal, another view
sign for hotel, reception area, fish pond, view from my room, other cottages, my balcony, my room, another view, yet another view, ceiling, bathroom, another view
dining area (with fireplace in back), Jackson making a shot



30 July 2011, Saturday


I woke up at 4, but didn't get up till 6:30. A little after 7, my breakfast arrived at my door. Breakfast at this hotel is brought to your room. We all filled out our breakfast forms last night. I had two poached eggs, two pieces of ham, two pieces of toast and jam and a bowl of cut strawberries, bananas, papaya, and pineapple. This mountainous area produces lots of strawberries, probably because of cool temperatures. Outside, it is very foggy this morning. After packing, I paid my dinner bill. In the restaurant loft, I found an Internet computer (a Mac) with an English keyboard. I sent out several quick e-mails telling everyone that I was OK. Soon after, we loaded the vans.

We made a short drive to the Eka Karya Botanical Gardens. We got out in the middle of this very large park. I walked through the orchid collection, the cactus house, the medicinal plants garden and the rose garden. Then I walked down to the main gate. I was very impressed by the quality and quantity and landscaping in the gardens. This is worth some effort to get to. There were many other areas that I didn't get to including an adventure area with sliding cables and tethers. Will and Jackson spent most of their time there.
At 11:30 we got back in the vans and went to one of the lakes in the caldera, Lake Bratan (Danu Bratan). This is the source for much of the water for Bali. We got into outrigger canoes, three to a canoe, and paddled a very short distance to a Hindu and Buddhist temple complex, Pura Ulun Danu Bratan. We took lots of photos and walked around the temple compound.

boarding the outriggers, part of our group, view from my canoe, video, the temple complex, temple for the lake goddess, another view, closer view, pagoda-like temple, view of both, near the temples, one of the canoes, another view, temple complex, candi bentar (entrance portal), the pagoda-like temples, temple overview, another view
two couples visiting the temple, closer view, temple with umbrellas, offerings, ornate door, mosque, mythical lion, adjacent statue, three shrines, five gods, another view, family in front of one, colorful gods, mother and daughter, Buddhist stupa, eagle topiary
We then loaded onto the vans again and drove to a bakery. We all ordered lunch. I had a nice ham and cheese baguette, others had pizza, savory pies, rolls, etc. We also walked around a local marked and looked at the fruit and vegetables.
We had an hour and a half drive back to

Ubud

and returned to Artini 2 cottages. I got a much nicer room and Andy is my roommate again. I went for a swim and caught up in my journal. Three of us then went to a massage place that Andy recommended and got an hour massage for $7.50.
We had an organizational meeting at the hotel at 6:30 for those going on the Lombok tour. Four of us from the Bali tour are continuing with the Lombok part. The rest of our Bali group are returning home. We met the new people, six in all, three from England and three from different parts of Australia.

Then at 7:30, our Bali group got together for a farewell dinner at the "Dirty Duck" restaurant. I had the crispy duck again as did about four others. For dessert, I had mocha ice cream. We all went back to the hotel and had a beer and said our farewells. I went back to my room, added to my journal and went to bed by 10.



31 July 2011, Sunday


I woke up at 5, but got up at 7. I took a shower and went for breakfast. I had coffee and pineapple pancake with honey and side of fruit (they were out of bananas or I would have had banana pancakes). I then walked to an ATM to get cash for Lombok. Lombok has very few ATMs or money exchangers. I finished packing and gathered with the group. The missing Dutch woman showed up, so our group is complete now. We loaded the vans and headed to the coast. Continued at the following link...