Lombok, Indonesia
2011
All images and associated pages copyrighted © by Don Chesnut, 2011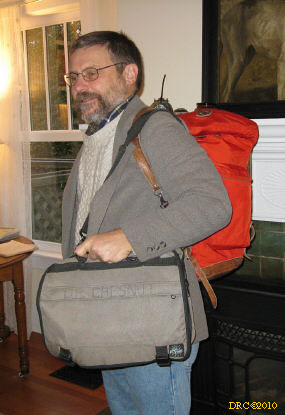 This is all I took on this trip.

I went to Australia to attend the International Carboniferous Congress-Permian in Perth with two of my daughters. Afterwards, they returned home and I traveled through Indonesia, Singapore, Malaysia and Thailand. The following is composed of my daily journal entries and photographs taken during the trip (please excuse the tedious and poorly-written nature of the journal). Or you may rather go through my thumbnail catalog (pages N, O, P, Q, R).




31 July 2011, Sunday


I woke up at 5, but got up at 7. I took a shower and went for breakfast. I had coffee and pineapple pancake with honey and side of fruit (they were out of bananas or I would have had banana pancakes). I then walked to an ATM to get cash for Lombok. Lombok has very few ATMs or money exchangers. I finished packing and gathered with the group. The missing Dutch woman showed up, so our group is complete now. [I was signed up for Intrepid's Bali/Lombok combination trip; or one could sign up for just the Lombok part.]

We loaded the vans and headed to the coast. We stopped mid-way to see how coconuts were husked and used. The trip to the ferry took about 1.5 hours. At the ferry landing, at Padang Bai, we boarded a large metal ferry which carried passengers, motorcycles, cars and ladened trucks. We stored our luggage in a row of seats and then went to the top deck. A nice breeze was blowing which was welcomed. The day is partly cloudy but could get hot without a breeze. The ferry crossing takes about 4 hours. We pass through the famous Wallace Line (Wikipedia entry) named for Alfred Russel Wallace (Wikipedia entry) a co-developer of the Theory of Evolution and colleague of Charles Darwin. He noted that from Lombok and south-eastward, the biota was of an Australian type and that from Bali and northwestward, the biota was Asian. We passed over the Wallace Line in the Lombok Strait and I took a photo of it. We had a banana-leaf lunch that Andy had purchased earlier.

husking coconuts with sharp spike, video, another view, baby
on the pilot-house deck looking aft, the bow and dock, pilot house, the Padang Bai port, ferry building, the harbor, Bali coastline, small beach, Bali in the background, next to the pilot house, Lombok Strait, wave splash at bow, the Wallace Line (Lombok in the distance), another view, Lombok Strait, video, Bali and Agung volcano in the clouds, Lombok in the distance, taking a break, Lombok, harbor at Mataram, closer view, fishermen (must not be any sharks), more fishermen, getting closer, gearing up, bow of ferry
We arrived a little after 3 and loaded onto one smallish bus. We have a 2.5-hour drive to our hotel in

Tetabatu

called the Green Orry Inn. We made a couple of stops, one to get ice cream, another to look at a roof-tile factory. They use coconut husks and hardwood slabs for firing the tiles. We stopped and bought rambutans and longans which we ate on the bus.

kids at one of our stops, another view, rambutans (and small bag of longans), another view
tile-making shop, another view, clay blocks, stamping machine to make tiles from clay, damp tiles, the kiln, un-fired tiles, fired tiles, coconut husks for kiln, another view
We arrived after dark. I have a single room tonight (there is an odd number of males, one has a wife, the other, a son with him). Ramadan starts very early tomorrow. Lombok and most of Indonesia is Muslim. Only Bali is Hindu.




1 August 2011, Monday


I heard prayers and chants from about 3 or 4 AM on. I got up before 7 and took a cold-water shower. Others had a hot shower last night (the water is solar heated). I had banana pancakes and coffee for breakfast and took a couple of photos of Mt. Rinjani (Wikipedia entry), an active volcano that had completely blown away its top in the 13th century.

porches for three rooms, truncated Rinjani volcano, another view, orb weaver, Rinjani and spider, hotel walls, hotel entrance and office
view from dining room, another view, yet another view, view framed through window, dining room
After breakfast we had a local guide and we spent a couple of hours walking up the rice terraces on the slopes of Rinjani.

nicely-tended garden, tobacco, chilies, walk along the paddies, guide talking about rice, another view, flooded paddy, more chilies, another view, several paddies, guide and banana tree, paddy, Gertrude and vine, rice drying, lean chickens, another view, young rice plants, threshing rice, video, closer view, another view, yet another view, closer view, overview of farms, another view, father and son, black and white sea eagle (looks like bald eagle), overlooking paddies, tobacco, another view, cloves drying, family compound, another view, kids, village video, scarecrow, bamboo bridge, crossing the bridge, video, another crossing, three ladies with harvest, another view, closer view, another view, paddies on steep hill, hillside paddies, more paddies
We then boarded the bus and rode a short distance to the Gunung Rinjani National Park. We walked about a half hour to another tall waterfall, the Jeruk Manis waterfall. I went swimming in the pool and the water was pretty cold. After the others saw me about six also went swimming in the pool.

sign for the Mt. Rinjani park, another sign, our group walking, view from path, the Jeruk Manis waterfall, video, another view, closer view, lahar deposit?, another view, overview of deposits, closer view, base of falls
We drove back to the hotel for an hour break and then rode the bus to a weaving village. We had lunch there and made a village tour looking at the various weavers. We went back to the shop and I bought four scarves for my daughters.

bas relief at weaving center, entrance, inside the shop, variety of Indonesian food, better view, another view, Chris with men's sarong, Holly with red sarong, another view, father and son, another view
dying threads, video, weaving on backstrap loom, video, bucket of dye, another weaver, another view, yet another weaver, another view, different weaver, another view, cute little girl, cute kids, another view, more kids, boys, another kid, more children, another view, two kids
We got back on the bus and drove to a pottery village. We watched a lady turning a pot with her feet, although she didn't throw it and turn it as we would. It was built up as she went. We went to the showroom and some people bought some small items.

ball of damp clay, video of turning pot, turning the pot, another view, pot getting larger, scalloping the lip, finished pot, pots drying, kids watching, another view, cute little girl, another view, yet another view, and another, hand-made ceramic stoves, pottery shop, another view, more pots, even more
We went to the city of Masbagik. I went to the ATM to replenish my cash after purchasing the scarves. I then walked around while the others got airline tickets for the end of the tour. As the sun went down, there was another call to prayer at the big masjid (mosque). People can break their fast this time of day and the streets are busy with people going to meet others for food and celebrations.
We got back on the bus and drove to our hotel by 6:30. We ordered our meals for the 8:00 dinner and then I went to my room and took a warm shower. The water is solar heated so there is a limited time for warm water. We learned today that the reservations for our hotel in Gili Air (Air Island) had been dropped for some reason. Andy had made reservations weeks ago, but for some strange reason, they lost the reservation and now the hotel has no vacancies. It was the only hotel big enough for our group. Andy will have to leave tomorrow night and travel to the island to look for new places for us. We will probably have to split up into two or more groups for two or more hotels. We will see how it works out. At 8, I joined the others in the restaurant. I had Tom Yam Seafood which was like a Tom Yum-style Bouillabaisse with chunks of seafood, tomato, etc. It was excellent. I would definetly order it again. After dinner we all talked awhile and the I went to bed at 10, as the Ramadan chants continued.



2 August 2011, Tuesday


I got up at 7. There had been chanting and prayers from the adjacent mosque during the night. I packed and went to breakfast. I had my favorite, banana pancake and coffee. I bought a packet of dried vanilla beans that I will give to my family as souvenirs (if they are not blocked at customs). We put our packs in the reception area and I paid my bill.

We got on pony carts, two to a cart (three of the big guys had one cart apiece). We rode to a market place that was very busy and walked around examining the produce, tobacco and other items. We rode a short distance to a bamboo-weaving shop. We saw ladies weaving baskets. One lady wove a bamboo ring for me which I'll take home as a souvenir. We gave our drivers a tip and they left.

the pony carts, trotting down the road, jerky video, view from our cart, another view, the cart behind, getting out at the market
onions, the crowded market, dragon fruit and snake skin fruit, produce in the shade, chilies, another view, beans and lentils, prepared foods, another view, fish paste?, chicken, Andy with broom, brooms, prepared foods, vegetables, home-made slices, water spinach?, beans, small dried fish, soybeans, peanuts, roots, dried fish, more fish, snake skin fruit, vegetables, processed tobacco, another view, yet another view
bamboo weaver, start of a basket, weaving basket, video, slicing bamboo strips, more slicing, the bamboo weavers, making baskets, another view, making strips, weaving a ring, another view, basket maker, another view, close-up, making more strips, another view, adjusting the ring, another view, my ring, another view, mother and children, close-up
We got on the bus and drove for quite awhile till we got to a black-sand beach. We had picked up our lunch earlier and, here, sat in a covered porch and ate our lunch. We had steamed rice, curried beef, fried chicken, vegetable dish, and fired tempeh with bean curd.

our small bus, black-sand beach, another view, yet another view, and another, another one, our group on the beach, black sand, another view, garden area, palm-leaf thatching, close-up
We got back on the bus and drove 1.5 hours to the village of

Senaru

and the Pondok Senaru cottages. This area is on the flanks of Mt. Rinjani and most of the treks start from here. It takes three days to reach the top and get back. We are not doing that. We could see a nice waterfall (Sendanggila waterfall) from the hotel and also the ocean in the other direction. Its a little cooler here, about 80-85 degrees F, but humid.

view from hotel (top of Rinjani obscured by clouds), another view, Sendanggila waterfall, video, paddies on slope of Rinjani, same view from hotel, sign for hotel, hotel office and dining area, trekking replica of Rinjani crater, my room, closet, bathroom, view from room, next cottage, cottages, my porch, path to dining area
At 4, we all met in the parking lot where Katnee (I don't know how to spell it), our lady guide, took us for a 3-hour walk through the mountain villages. These villages are separated by foot paths. The compounds are multi-family and there is a chief and an elder with each. The huts are wood framed with woven bamboo walls, and thatched roofs. The people don't speak Indonesian, but are of the Sadek culture. We saw their plantings, fruit trees, rice, manioc, tobacco, etc. I took lots of photographs. It was dark before we got back. The bus picked us up at the end of the walk and took us back to the hotel.

tethered cows, another view, village buildings, lady with tray, another view, tray with rice?, puppy, another view, guide with roasted coffee, closer view, cotton, cotton plant, goats, another view, lady with tobacco, chili plant, multi-building compound, another view, woven sides, swing set, thatched house, elder's house, another view, sweeping the ground, chewing tobacco, several houses, water bottles, chicken cages, compound, our group, kitchen area, closer view, home-made guitar
path to next village, skyline, another view, man smoking, another view, grandmother, village lady, mother and child
I tried to take a much-needed shower, but there was no water available. No one else had water either. I decided to take a shower later when the water pressure builds back up. I went to the restaurant and we all had dinner together. I had Gado-Gado, which was a noodle dish with vegetable and a peanut satay-like sauce. The electricity went out about five times. After dinner I went back to my room. I tried the shower again but the shower head didn't work. I had to use a dipper and cold water from the sink to take my shower. I was completely lathered up when the water cut off again and the lights started to flicker, but after a minute it came back on and I was able to finish my "shower." I then went to bed by about 9:30.



3 August 2011, Wednesday


I got up at 7. There were periods during the night when there was chanting and prayer. I didn't have any water again this morning. No toilet, no faucet. I went to breakfast and had a nice banana pancake and sediment coffee.
At nine we met our guide Kanji. He took us on a walk through the jungle. We had to clamber through roaring creeks but after 40 minutes, we arrive at a high and robust waterfall, the Tiu Kelep waterfall. We got into our swimming outfits and everyone got into the pool. The blast of wind and spray was intense and very invigorating. After awhile the guide led us behind the falls where the blast was also intense. Taking pictures close to the falls is impossible without a water-proof camera. After 30 minutes or so we clambered back to the path and walked to an irrigation tunnel. We floated down a short section in front of the tunnel then we walked quite a ways in the tunnel with fast flowing water to our knees. I heard several screams as bats flew near our heads. We emerged and continued our hike along the outside of the irrigation tunnel. At the end, we arrived at the road, loaded onto our bus and rode back to the hotel.
I went for a shower, but there was no water or electricity again (nor toilet). So, I went for lunch. I had fried noodle (mie gorent) with chicken, vegetable and egg. After lunch, I paid my bill.

We loaded our packs onto the bus and took off by 1:30. We have a very congenial group and I enjoy talking to all of them. After 1.5 hours or so we arrived at a sort of port. We loaded our packs onto a long and narrow boat and headed for Gili Air, which means Air Island. I don't know what Air means in Indonesian. After about a 20-minute boat ride, we disembarked onto a beach and walked about 1/2 mile to Lucky's Cottages. We had reservations for two night at a resort called Hotel Villa Karang, which had swimming pool, TV, air conditioning, restaurant, hot and cold running water, toilet paper, and electricity. However..., they ignored our reservations made much earlier. I'm guessing that another tour group bribed them with more money to cancel our reservation. Never trust this hotel. I got a cottage at Lucky's. There was a trickle of cold, brackish water, occasionally electricity, no TV, no air conditioning, no swimming pool, no toilet paper, but it was fine. We were all pissed of at... Hotel Villa Karang... and would certainly never stay there in the future.

long boats, boarding the boats, our boat, another view, series of islands, our beach landing, another view
reception area of Lucky's Cottages, my cottage, my bed, Mr. Lucky's bed, my room, another view, bathroom, shower
At 5:30, we went to the beach and watched the sunset. I looked at all the life at the tidal pools. I saw lots of brittle stars (ophiuroids), some crawling over my feet. There was an interesting variety of invertebrates and algae along the strand. Others came down and looked too.

huts at front of hotel, tidal flat and distant surf at coral edge, another view, broken coral at beach, shells (Cowrie, true limpet, snails), another view, strand line, horn coral, another view, yet another view, brittle star, video, another video, Lucky's boat, Gertrude and Holly, another view, yet another view, another one, and another, still more, John and Sarah, another view, sunset, another view, yet another view, sun going down, almost gone, boat and beach
After awhile, we all walked along the sand road to look at the restaurants, bars and shops. We stopped at one place for cocktails and we placed our orders for drinks. The electricity went out and we had to leave. We walked on to another restaurant and had a tremendous seafood banquet. We were all very pleased with it. After lots of discussions, we walked back to our cottages in the dark (we had flashlights). I went to bed with the sound of generators in the background.



4 August 2011, Thursday


I woke up at daylight. Well, actually, I woke up all through the night. The bed had one sheet and so I slept on it with no cover sheet or other covers. All through the night, something kept jumping on me. It felt like a large insect. I brushed it off every time and finally turned on the light to see what it was, but it vanished. So, I left the light on. After a few minutes, I woke up to see a mouse right in front of my face. It quickly vanished when it saw me looking at it. I call him "Lucky," or "Mr. Lucky." It was impossible to sleep with Lucky and his friends trying to get on the bed. I went out on the porch and slept on the bamboo settee. So when the sun came up, I was up. I decided to take a shower. I opened my pack to get a clean shirt and when I did, a mouse (perhaps Mr. Lucky) ran out of the pack. I guess he thought it was a good place to live. I took a cold-water (brackish) shower (no towels). Oh yes, and no toilet paper. You have to bring your own. We went to the Hotel Villa Karang for breakfast and I had two fried, over-easy eggs and two pieces of toast and a cup of sediment coffee. We were late getting service because of all the hotel guests (who had taken our rooms) came all at the same time. We were served after them.
At about 9:30, we boarded our outrigger boat, got our snorkel gear and proceeded to Gili Meno (Meno Island). The boat also had a glass bottom. We snorkeled at four places there. We saw turtles at several places and I touched two who were swimming around. I also saw lots of crinoids (black, red, green and yellow) nestled in the coral. I rubbed my hand across them and I could feel their tube feet sticking to my hands. After snorkeling we landed on Meno and walked along the sand road amongst the shops and cafes. We went to Bolongs Turtle Rescue (gilimenoturtles.com) and saw the tubs of baby sea turtles. We walked back down the sand road and sat in two shaded platforms overlooking the water. We ordered lunch here. This is a restaurant called Mallias Child. I ordered a Mallias Child pizza. It had salami, chilies, tomato sauce, cheese and a few other things, and it was wood fired. It was very nice. After the meal, it was very relaxing to sit in the shade with a gentle breeze.

Lombok and Rinjani volcano, another view, our boat, another view, view of Rinjani
turtles at Bolongs Turtle Rescue, another view, one turtle, another view, yet another view, video, sign for turtle rescue, another view, T-shirt, another sign, found items
view from lunch stop, another view, view of the other islands and volcano on Bali, close-up, view toward Lombok
After lunch, we got back on the boat and returned to Gili Air. I tipped the boat operator and walked back to our cottages. I took a cold water shower and air dried. I sat on my bamboo settee on the porch and filled out my journal.

At 5, I went to the beach strand and looked at the shells. I found a nice sea urchin (almost a sand dollar) and gave it to Chris. After a few minutes the group had gathered and we walked to Scallywag's restaurant. I had grilled mahi-mahi and fries, which was very good. Most everyone had a fudge brownie with ice cream, but I was too full. I was starting to get very sleepy. A group of us left and we used flashlight to get back. I let Mr. Lucky and his family have the bed and I slept on the hard bamboo settee again.



5 August 2011, Friday


I was awake at the first hint of daylight as the roosters a few feet away crowed. At about 7, I took a shower and filled out my journal. I walked to Hotel Villa Karang and had two fried eggs, toast and several pieces of watermelon and pineapple, and to drink, a cup of sediment coffee. After breakfast, I walked back to my cottage and packed.

This morning, there is nothing scheduled, so we are all on our own. We all walked to Scallywags. Some sat on the beach and others in the shade (I was in the shade). Several ordered lunch but I was not hungry and had a Bintang.
At two we left and went to our boat to take us back to the mainland of Lombok. After 20 to 30 minutes, we arrived at the beach, disembarked and loaded our packs on the bus. We rode for about an hour across the very scenic coastline. This is the most scenic coastal segment in Lombok.

boat ride back to Lombok, another view, Andy, another view, our boat, another view, Lombok and my sandals, Lombok shore, a catamaran, preparing for our landing, Andy, another view
view of bay from overlook point, linear features in the beach rock, windy point, view of Gili Air from point, video, another view of point, another view
We got to our hotel in

Senggigi

, Puri Bunga Beach Cottages about 3. This is a nice place and they have everything that you'd expect... pool, shower, hot and cold water, TV, air conditioning, towels and toilet paper. I got a single room again. It was very warm and humid and I decided to go for a swim.

landscaping in front of hotel, hotel lobby, dining room, another view, steps to my room, my door, my bedroom, another view, yet another view, bathroom,
At 5:30 we met at the reception area and Andy took us for a walk along the beach track. This is a fairly touristy area but was not crowded. We went to one beach bar and had a Bintang and then walked to our restaurant. I had Lombok spicy beef with water spinach and steamed rich, which was very good. This was a farewell dinner and people passed me money (tip money) to give to Andy. I gave a brief talk praising Andy and the tour participants. This usually is the part for the old men to do, but I was happy to do it (come to think of it, I guess I qualify).
Andy then took us to a karaoke bar. They pushed me to get up and sing "Born in the USA," which I was vaguely familiar with (I would have picked something else to sing, more in my register). Others from Australia did "Land from Down Under," and the UK people did the "Mull of McIntyre," among others. We briefly went to a blues bar and listened to two blues songs before the band quit for the night. I talked to the head blues player and found out that he was from Australia. I was tired and decided to go back to my room early. I walked several of the ladies back as well. I caught up in my journal and went to bed. Tomorrow, I do a lot of traveling.



6 August 2011, Saturday


I woke up at daylight but didn't get up till 7:30. I went down to breakfast and saw the early risers. I had an Indonesian breakfast and two fried eggs, toast and coffee. I said farewell to the four that left for the airport early. I went to my room and had my first warm shower in a long time. I went back to the restaurant and the rest of the group was there.
We got two cabs for seven of us. The ride to the airport in

Mataram

was about 20 minutes and my share for the ride was 10,000 rupiah, about one US dollar. I went through airport security and then to the Garuda airlines counter which was closed. The security agent said that it would open around noon (it's 10:30 now) and said that I could sit on the luggage rollers at check in. So I did and took the opportunity to fill out my journal. It will be a long wait. After an hour several other people came. Some of the latecomers even pushed their luggage in front of mine. I could see that people were jockeying for a more advantageous position in the checkout line. One fellow was especially aggressive about getting ahead of everyone. I asked the counter lady if I was at the correct counter and she took my information and gave me a boarding pass. I beat the fellow who thought he would be first, though I saw him second in line and in front of other people.

I board at 1:55 and I land at the domestic airport in Jakarta. I will have to get on a shuttle bus to the international terminal in Jakarta and check in all over again. The original ticket had me arriving at the international terminal. I hope it all works out. To get in the waiting area (in Lombok), I had to pay 25,000 rupiah departure tax (about US$2.50) and I had to go through another security checkpoint. Eventually a mob of people gathered at the gate, our boarding passes were checked and we walked to the plane.

I had a window seat on the left side (port) which was lucky. The plane flew westward and I could see all the volcanoes out of the left side of the plane. There must have been 25 or 30, all in a row from Lombok to Jakarta. I took photos but I'm not sure the camera could focus through the haze. We'll see.

Mt. Agung on Bali, another view, yet another view, close-up of Agung, another view, yet another, Agung again, Batur and the caldera lake, distant view of eastern Java, another view (Baluran has small cloud circle), volcanoes Raung in the back and Ijen in front, another view, low volcano Baluran, closer view of Raung, Baluran in foreground, point near Mangaran (east Java), Argopuro (Java), video of volcanoes, Semeru, island northwest of Sampang, another view, volcanoes of central Java, another view, two from central Java, distant view of volcanoes from western Java, coastline at Rembang, two from western Java, four more, more in the distance
We landed in Jakarta and were at the terminal by 3. This is a big, modern airport. I didn't have to change terminals after all. The lady in Lombok check-in was wrong. It saves me a lot of grief. I checked in at Garuda International check-in, only one person was ahead of me. I got my boarding pass and paid my 150,000 rupiah international surcharge (about $15). I went through immigration which was quick too. I went through another security checkpoint and walked to my gate. I had one more boarding pass and passport check and then I sat down in the very nice and modern lounge. It's air-conditioned too. Looks like I might get to Singapore today after all. I'm preparing to leave Indonesia. Based on my experiences on Bali and Lombok (during Ramadan) I wouldn't hesitate to come to Indonesia again. And now on to my next travel experience, Malaysia.

I boarded the Garuda Indonesian flight to Singapore and had an onboard dinner of fried rice with some ginger chicken, shrimp crackers, bread, little bit of fruit, some kind of dessert that is hard to describe (a jelled chocolate thing) and a small cup of Sprite.

The rest is continued at the following link.