Many interests, one biotech degree—the agricultural and medical biotechnology degree brings together students with a large range of interests to use science to improve our lives in the world today.    Whether you are genetically engineering drought resistance crops or developing treatments for a genetic disease, basic scientific concepts, problem solving and critical thinking skills are needed to solve today's health and agricultural problems.  Our degree combines critical thinking and hands-on learning with instruction in genetics, molecular biology, genetic engineering, chemistry, and biology, to train students in the scientific investigation process. 
we grow careers
You will be prepared to assume government, university, and industry positions with research and technology applications to agriculture and food production. Employment opportunities include
Human genetics
Pharmaceutical development
Public Health
Food Safety
Genetic engineering technologies
Antibody and vaccine production
Bio manufacturing
Bioinformatics
Fermentation biotechnology
Plant genetics
Genomics
Biofuel production
Forensics
Medical devices
Research
You will have an excellent foundation to pursue advanced degrees for a multitude of areas including agriculture, biological sciences, health care (e.g., medicine, pharmacy, dentistry, and physician assistant studies), law, molecular biology, and veterinary sciences.
Examples of research areas include: gene cloning, pest and disease resistance genes, development of new immunological and nucleic acid types of diagnostic probes for plant and animal disease, genetic engineering of microorganisms for the production of important pharmaceutical agents, and development of new bioengineered strains of microorganisms for fermentation and food production services.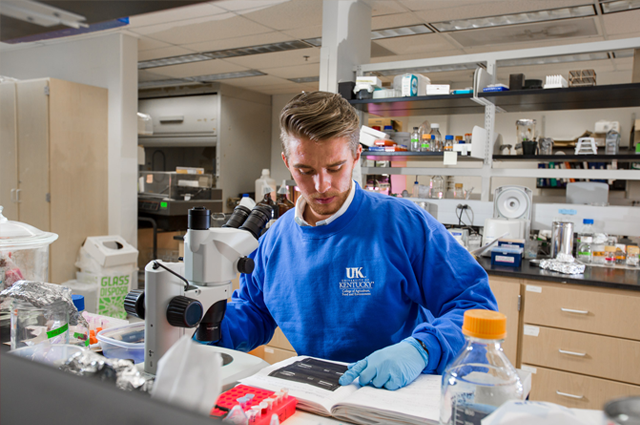 Science was always where I was destined to be.
Agriculture Biotechnology student and admit to the UK College of Medicine's Medical Sciences Graduate Program
Current Curriculum Information
Access Major Template
source: myUK: GPS
Click to toggle each Academic Year. Click each course for more information.
Freshman Year
Fall Semester
ABT 101 - INTRODUCTION TO BIOTECHNOLOGY

1

An introduction to biotechnology: historical perspectives, current applications and future directions. The course will consist of informal lectures and interactive discussions led by Biotechnology faculty and visiting professionals. The course will also orient students to the educational/career opportunities in Biotechnology and assist them in developing a focus for their individualized degree programs. Lecture, two hours per week.

GEN 100 - ISSUES IN AGRICULTURE, FOOD AND ENVIRONMENT

3

An introductory course requiring critical analysis of the major social, economic, political and scientific issues in agriculture and related disciplines. The historical development of agriculture will be surveyed, followed by discussions of major issues related to agriculture, food and environment. Development of skills in information gathering, critical analysis of issues, and written and oral communication will be emphasized. Satisfies the U.S. Citizenship area of UK Core. Prereq: Students enrolled in the College of Agriculture, Food and Environment; freshmen only in fall semesters and transfer students only in spring semesters.

CHE 105 - GENERAL COLLEGE CHEMISTRY I

4

A study of chemical principles and their application to pure and mixed substances. Not open to students who have already completed both CHE 109 and CHE 110.

CHE 111 - GENERAL CHEMISTRY I LABORATORY

1

A laboratory course, to accompany CHE 105 or CHE 110, dealing with the properties of chemical substances and providing an introduction to quantitative chemical analysis.

UK Core - Comp. & Comm. I

3

MA 123 or MA 113 or MA 137

4
Spring Semester
UK Core - Comp. & Comm. II

3

CHE 107 - GENERAL COLLEGE CHEMISTRY II

3

A continuation of CHE 105. A study of the principles of chemistry and their application to elements and compounds.

CHE 113 - GENERAL CHEMISTRY II LABORATORY

2

A laboratory course, to accompany CHE 107, emphasizing qualitative and quantitative chemical analysis.

ABT 120 - GENETICS AND SOCIETY

3

This course is designed for science and non-science majors, giving students an understanding of how genetics influences and impacts our social fabric on a daily basis, and equipping students with a sufficient understanding to participate in the policy debates that are impacting our lives. The course will introduce students to the basic concepts of genetics and to the modern methodologies of molecular genetics. The course will also educate students in the process of scientific discovery and empower students with the knowledge and critical thinking skills necessary to evaluate the present and future impact of genetics on society. While the course is intended for first semester freshmen, students at all class standings are welcome to enroll.

BIO 148 - INTRODUCTORY BIOLOGY I

3

BIO 148 introduces the student to the biological mechanisms operating at the molecular, cellular, and population level that contribute to the origin, maintenance, and evolution of biodiversity including the origins and history of the evolutionary process. Course material is presented within a phylogenetic context, emphasizing the shared history of all living organisms on earth through common ancestry. The first semester of an integrated one-year sequence (BIO 148 and BIO 152).

BIO 155 - LABORATORY FOR INTRODUCTORY BIOLOGY I

1

This course is designed to provide a broad introduction into the data, results, and information associated with biological research, and into some of the analytical approaches used to test biological hypotheses. Communication of these aspects of biological research is crucial, and much of this lab course will be focused on the development of effective writing skills for the delivery of this information.
Sophomore Year
Fall Semester
CHE 230 - ORGANIC CHEMISTRY I

3

Fundamental principles and theories of organic chemistry.

CHE 231 - ORGANIC CHEMISTRY LABORATORY I

1

Laboratory for CHE 230 or CHE 236. Laboratory, three hours per week.

BIO 152 - PRINCIPLES OF BIOLOGY II

3

The second semester of an integrated one-year sequence (BIO 148 and 152) that is designed to develop understanding and appreciation for the biocomplexity of multicellular eukaryotes, with emphasis on animals and terrestrial plants. Structure and function relationships will be explored at many levels of organization.

ABT 201 - SCIENTIFIC METHOD IN BIOTECHNOLOGY

1

A course designed to acquaint students with the common experimental methods used in agricultural biotechnology. Students will be presented with several case studies which demonstrate basic scientific reasoning and experimental strategies. The students will then use their understanding of basic scientific methods and agricultural systems to critically evaluate work from the current scientific literature. Each student will be required to provide a written and oral evaluation of a research project in some aspect of agricultural biotechnology. The class will provide the students with the basic skills needed for preparing their own research proposals. This course is a Graduation Composition and Communication Requirement (GCCR) course in certain programs, and hence is not likely to be eligible for automatic transfer credit to UK.

UK Core - Arts and Creativity

3

Elective

4
Spring Semester
CHE 232 - ORGANIC CHEMISTRY II

3

A continuation of CHE 230.

CHE 233 - ORGANIC CHEMISTRY LABORATORY II

1

Laboratory for CHE 232. Laboratory, three hours per week.

UK Core - Statistical Inferential Reason

3

UK Core - Social Sciences

3

UK Core - Humanities

3

Elective

3
Junior Year
Fall Semester
PHY 211 - GENERAL PHYSICS

5

First part of a two-semester survey of classical and modern physics, focusing on the motion of solids and fluids as governed by Newton's Laws and by the conservation laws of energy, momentum, and angular momentum. Lecture, two hours; recitation, two hours; laboratory, two hours. Credit is not given to students who already have credit for PHY 231 and 241.

ABT 360 - GENETICS

3

The basic principles of heredity as currently understood from evidence accumulated in classical, cytogenetic, molecular, and squantitative genetic experiments. Emphasis is placed on a thorough understanding of genetic principles and the relationship of genetics to all biological disciplines.

ABT 301 - WRITING AND PRESENTATIONS IN THE LIFE SCIENCES

2

The goals of this course are to expose students to current scientific literature in the life sciences, develop skills for the evaluation of primary research literature and presentations, prepare students to write an independent research proposal, and develop oral communication skills. Student participation is a key component of activities, and students are required to provide both oral and written evaluations of research publications, presentations, and proposals. A major part of the course involves students developing, writing, and presenting an independent research proposal in coordination with a research mentor. This course should be taken prior to ABT 395 or ABT 399, and students must identify a research mentor early during the semester. This course is a Graduation Composition and Communication Requirement (GCCR) course in certain programs, and hence is not likely to be eligible for automatic transfer credit to UK.

UK Core - Global Dynamics

3

Specialty Support

3
Spring Semester
BCH 401G - FUNDAMENTALS OF BIOCHEMISTRY

3

Descriptive chemistry of amino acids and proteins, carbohydrates, lipids, and nucleic acids. Discussion of structure and function; metabolism and bioenergetics; and biological information flow. At the undergraduate level, understanding is demonstrated through hour examinations; at the graduate level, understanding is demonstrated through hour examinations and a brief paper. Lecture, three hours; one optional conference.

BIO 308 - GENERAL MICROBIOLOGY

3

Fundamental concepts of microbiology. The nutrition, physiology, genetics, molecular biology of microorganisms, and their roles in nature and in infection and immunity will be studied.

BIO 309 - MICROBIOLOGY LABORATORY

2

This course includes laboratory exercises that are designed to illustrate processes central to microbiology and to familiarize students with basic skills required for working with microorganisms in a safe environment. Students will become familiar with isolating, culturing, and identifying microorganisms, and with molecular techniques used to study and manipulate microbes.

PHY 213 - GENERAL PHYSICS

5

Continuation of PHY 211, covering electrostatics, de circuits, magnetism, Maxwell's Equations, electromagnetic radiation, light and some modern physics. Lecture, two hours; recitation, two hours; laboratory, two hours. Credit is not given to students who already have credit for PHY 232 and 242.

Specialty Support

3
Senior Year
Fall Semester
ABT 495 - EXPERIMENTAL METHODS IN BIOTECHNOLOGY

4

A laboratory techniques course designed to give students the technical skills and understanding necessary to critically examine biological systems at the molecular level. The course will emphasize the principles of chemistry, biochemistry and molecular biology as applied to a model system for laboratory investigations. Laboratory, nine hours per week.

ABT 395 - INDEPENDENT STUDY IN BIOTECHNOLOGY

3

ABT 395 INDEPENDENT STUDY IN BIOTECHNOLOGY (1-4 credit hours). Independent study in biotechnology under the supervision of a faculty member. May be repeated for a maximum of six credits. Prereq: Agrciultural Biotechnology major and consent of appropriate instructor before registration. Will allow multiple registrations during the same semester.

Specialty Support

3

Specialty Support

3

Elective

3
Spring Semester
ABT 460 - INTRODUCTION TO MOLECULAR GENETICS

3

Molecular genetics is the study of the biochemical basis of heredity and focuses on the structure and expression of DNA at the molecular and cellular level. The course will provide a detailed understanding of the biochemical events involved in genome replication, prokaryotic and eukaryotic transcription, and translation of DNA, as well as RNA processing, recombination and the theoretical underpinnings of genetic engineering.

ABT 461 - INTRODUCTION TO POPULATION GENETICS

3

This survey course examines the population dynamics and equlibria of genes in nuclei, chloroplasts and mitochondria. Emphasis will be on biological relevance (in plants, animals, and micro-organisms), but some theoretical derivations will also be introduced.

Specialty Support

3

Specialty Support

3

Specialty Support

3
what you'll study
Agricultural and Medical Biotechnology is at the intersection of biology, chemistry, genetics, as well as the scientific method. Not only will these core concepts be explored, but you will also be involved in an independent research project mentored by exceptional scientists and gain valuable hands-on experience in cutting edge research.
Further, special support courses will allow you to tailor your curriculum toward your individual interests and career goals. Opportunities for study tours, study abroad, and internships are also available options to bolster your coursework.
Click the most recent major sheet below for a complete list of coursework.
---
Enhancing Your Time at UK
There are countless ways to "see blue." on campus, but the best way to maximize your journey at the University of Kentucky is by engaging in an Education Abroad opportunity.
This will allow you to gain a global perspective and enhance future employability. As you take the first step towards investing in your future, we encourage you to take advantage of all the opportunities UK has to offer. Take a look at some of the options UK Education Abroad & Exchanges office suggests to complement your major! #SeeBlueAbroad
View Major Advising Page
---