Degree Audit Home - Web Statistics (www.uky.edu): September 2004 through August 2006
Degree Audit Home Page -- http://www.uky.edu/degreeaudit/
This information was obtained from the MONTHLY WEB STATS web site at: http://www.uky.edu/Stats/ which has monthly reports showing the transactions for the World-Wide Web Servers (www.uky.edu and ukcc.uky.edu).
Statistics are shown By Year and By Month. See also APEX Audits Run per Month statistics.
** NOTE: DARSweb server stats are NOT included in these figures. DARSweb is where audits are run. This includes data ONLY for the www.uky.edu web server.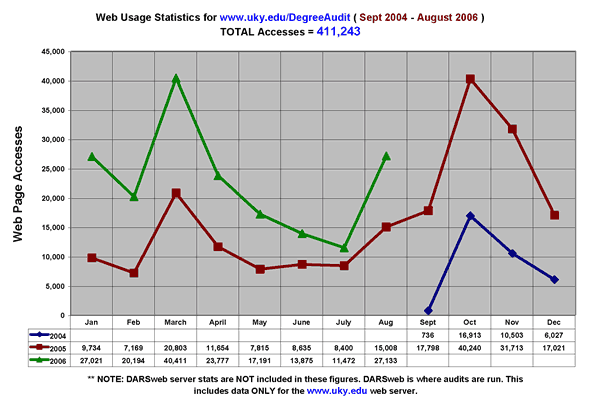 webstats-chart-August2006.pdf (chart above in PDF format)
By Year: -------------------------------------------------------------------------------
2006
Month
Ranking
Total
Off-Campus
Daily
Notes

  Jan  2006  115th     27,021    13,860          901
  Feb  2006  128th     20,194     9,190          673
  Mar  2006   94th     40,411    19,411        1,347
  Apr  2006  106th     23,777    12,521          793
  May  2006  123rd     17,191    11,875          573
  June 2006  128th     13,875     9,047          463
  July 2006  123rd     11,472     6,971          382
  Aug  2006   96th     27,133    17,195          904
                    ---------
           TOTAL     181,074         GRAND TOTAL  34,179 + 195,990 + 181,074 = 411,243 (2004 and 2005 and 2006)

2005
Month
Ranking
Total
Off-Campus
Daily
Notes

  Jan  2005  158th      9,734     5,312          324
  Feb  2005  181st      7,169     3,013          239
  Mar  2005  122nd     20,803     8,325          693
  Apr  2005  170th     11,654     5,064          388
  May  2005  208th      7,815     4,413          261
  June 2005  190th      8,635     4,091          288
  July 2005  209th      8,400     4,199          280
  Aug  2005  167th     15,008     7,773          500
  Sept 2005  154th     17,798     6,901          593
  Oct  2005   97th     40,240    16,171        1,341
  Nov  2005  104th     31,713    13,315        1,057
  Dec  2005  144th     17,021     9,827          567
                    ---------
             TOTAL   195,990         GRAND TOTAL  34,179 + 195,990 = 230,169 (2004 and 2005)

2004
Month
Ranking
Total
Off-Campus
Daily
Notes

  Sept 2004  481st        736        21           25 **Degree Audit web site created
  Oct  2004  108th     16,913     7,162          564
  Nov  2004  134th     10,503     4,598          350
  Dec  2004  174th      6,027     3,481          201
                    ----------
             TOTAL    34,179

By Month: --------------------------------------------------------------------------------
January
Month
Ranking
Total
Off-Campus
Daily
Notes

  Jan  2006   115th    27,021     13,860        901
  Jan  2005   158th     9,734      5,312        324

February
Month
Ranking
Total
Off-Campus
Daily
Notes

  Feb  2006   128th    20,194      9,190        673
  Feb  2005   181st     7,169      3,013        239

March
Month
Ranking
Total
Off-Campus
Daily
Notes

  Mar  2006    94th    40,411     19,411      1,347
  Mar  2005   122nd    20,803      8,325        693

April
Month
Ranking
Total
Off-Campus
Daily
Notes

  Apr  2006   106th    23,777     12,521         793
  Apr  2005   170th    11,654      5,064         388

May
Month
Ranking
Total
Off-Campus
Daily
Notes

  May  2006   123rd    17,191     11,875         573
  May  2005   208th     7,815      4,413         261

June
Month
Ranking
Total
Off-Campus
Daily
Notes

  June 2006   128th     13,875     9,047          463
  June 2005   190th      8,635     4,091          288

July
Month
Ranking
Total
Off-Campus
Daily
Notes

  July 2006   123rd     11,472     6,971          382
  July 2005   209th      8,400     4,199          280

August
Month
Ranking
Total
Off-Campus
Daily
Notes

  Aug  2006    96th     27,133    17,195          904
  Aug  2005   167th     15,008     7,773          500

September
Month
Ranking
Total
Off-Campus
Daily
Notes

  Sept 2005   154th    17,798      6,901         593
  Sept 2004   481st       736         21          25 **Degree Audit web site created

October
Month
Ranking
Total
Off-Campus
Daily
Notes

  Oct  2005    97th    40,240     16,171       1,341
  Oct  2004   108th    16,913      7,162         564

November
Month
Ranking
Total
Off-Campus
Daily
Notes

  Nov  2005   104th    31,713     13,315       1,057
  Nov  2004   134th    10,503      4,598         350

December
Month
Ranking
Total
Off-Campus
Daily
Notes

  Dec  2005   144th    17,021      9,827         567
  Dec  2004   174th     6,027      3,481         201