Vitae of General Editors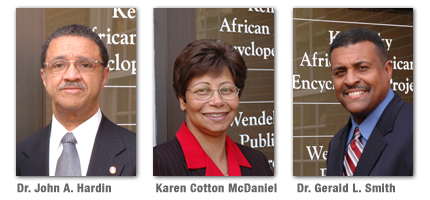 Dr. John A. Hardin
Dr. John A. Hardin is a Professor of History at Western Kentucky University. He has served as Assistant to the Provost for Diversity Enhancement (2002-2005) in the WKU Office of Provost and Vice President for Academic Affairs and as Assistant Dean of Western's Potter College of Arts, Humanities and Social Sciences (1997-2002). He has taught Black Studies at Eastern Washington University at Cheney, Washington (1984-1991) and history at Kentucky State University, Frankfort, Kentucky (1972-1974; 1976-1984). He has served as a visiting faculty member at Kentucky Wesleyan College, Spokane Community College, University of Kentucky and University of Louisville.
His academic preparation includes degrees in History from Bellarmine University, (B. A.), Fisk University (M. A.) and the University of Michigan (Ph. D.).
He is the author of two books: Fifty Years of Segregation: Black Higher Education in Kentucky 1904-1954 (Lexington: University Press of Kentucky 1997) and Onward and Upward: A Centennial History of Kentucky State University 1886-1986 (Frankfort: KSU Foundation, 1987). He was an editor of Community Memories: A Glimpse of African Americans in Frankfort, Kentucky (Frankfort: Kentucky Historical Society, 2003). Six biographical entries were included in The Encyclopedia of Louisville (Lexington: University Press of Kentucky, 2001).
Other scholarly publications include "Green Pinckney Russell of Kentucky Normal and Industrial Institute for Colored Persons," Journal of Black Studies 25 (May 1995) 5: 610-621; and "Green Pinckney Russell, Francis Marion Wood, and Kentucky Normal and Industrial Institute: 1912-1929: A Study in Politics and Race" Filson Club History Quarterly, Volume 69, No. 2, 171-188. Reviews of books by other authors have been published in the Register of the Kentucky Historical Society, Filson Club History Quarterly, Annals of the American Academy of Political and Social Science, Journal of Southern History, Lexington Herald-Leader and Bowling Green Daily News.
He is married to Maxine Randle Hardin and has one son and two grandchildren.
Karen Cotton McDaniel
Karen Cotton McDaniel is Visiting Scholar at Eastern Kentucky University in both the African/African American Studies Program and the Women's Studies Program. She is Professor Emeritus at Kentucky State University where she was an academic librarian for more than twenty years and was Director of Libraries (1989-2005). McDaniel has also served as a law librarian at the Kentucky Department for Public Advocacy, as well as an archivist at the Kentucky Department for Libraries and Archives. She has published numerous essays on black Kentuckians in The Encyclopedia of Louisville, Black Heroes, Notable Black American Men, Kentucky Women, and Notable Black American Women II. Included among her biographical essays are Lucy Harth Smith, Emma Clement, Charles Anderson, Muhammad Ali, and Whitney Young, Jr. She also serves as the topical editor on women for the Encyclopedia of Northern Kentucky.
Professor McDaniel received a B.S. degree in Business Administration from Berea College (1973) and the Masters in Library Science from the University of Kentucky (1975). Currently McDaniel is completing her dissertation for a doctorate in history from the University of Kentucky. Her doctoral research focuses on Kentucky African American women's clubs.
As a librarian, McDaniel actively participated with many library organizations and served as an officer for several associations including the HBCU Library Alliance Board, the 1890 Library Deans/Directors Association, the Southeastern Library Network Board of Directors, and the Women's History Coalition of Kentucky. Her current memberships include the American Historical Association, the Association for the Study of African American Life and History, the Association of Black Women Historians, the National Women's Studies Association, and the Kentucky Historical Society . Her awards include 1999 Distinguished Alumna Award from the University of Kentucky School of Library and Information Science; Who's Who in American Education; Who's Who in the South and Southwest; and Who's Who Among African Americans. She was also a 2001-02 Carter G. Woodson Lecturer at the University of Kentucky.
She is married to Rodney McDaniel, Sr. and they have three children and five grandchildren.
Dr. Gerald L. Smith
Dr. Gerald Smith is a native of Lexington, Kentucky. He is also the pastor of the Farristown Baptist Church in Berea, Kentucky. He is an associate professor in the department of history at the University of Kentucky. He is the author, editor and coeditor of three books. He co-edited volume six of The Papers of Martin Luther King, Jr: Adovocate of the Social Gospel, September 1948- March 1963. He is also the author of more than thirty book reviews, essays, articles, and book chapters for historical journals and reference books. He is currently researching and writing a general history of the African American experience in Kentucky.
Dr. Smith received his bachelor and masters degrees in American history from UK in 1981 and 1983, respectively. In 1988, he earned his Ph.D. in history from UK with a concentration in urban and African American history.
From 1988 until 1993 he was an assistant professor at the University of Memphis. He returned to UK to join the history faculty as a tenured professor in 1993. From 1997-2005 he was director of the African American Studies and Research Program.
Dr. Smith serves on a number of different boards and committees. His awards include selection as a National Faculty Scholar (1997), Outstanding Young Man of America Award (1981), Who's Who Among African Americans (2000), induction into the Martin Luther King Jr. Collegium of Scholars of Morehouse College, in Atlanta, Georgia ( 2000), the Real Men, Real Fathers Award from Phi Beta Sigma Fraternity (2004), and the Evelyn Black Award, from the UK Black Student Union, (2005). He was inducted into the Henry Clay High School Fame in 2006.
He is married to the former Teresa Turner. They are the proud parents of two daughters, Elizabeth and Sarah.