Arts Administration teaches students how to connect audiences to the arts within the context of a non-profit arts organization. Students learn fundraising, communications, marketing, financial management and programming skills while also pursuing a minor in the fine arts area of their choice. 
Careers
Hands-on experiences are a critical element of an education in Arts Administration. Students majoring in Arts Administration at the University of Kentucky are required to complete an internship. In addition to helping students gain experience, internships encourage the practice of serving the community, a primary goal of arts organizations.
Arts Administration students must complete at least six credit hours of internship to graduate. Students in the Arts Administration Program have worked with local arts organizations, state companies and even nationally-known organizations.
Career opportunities in Arts Administration:
Program Management
Event planning
Marketing and Public Relations
Audience Development
Community Engagement and Education
Fundraising
Financial Management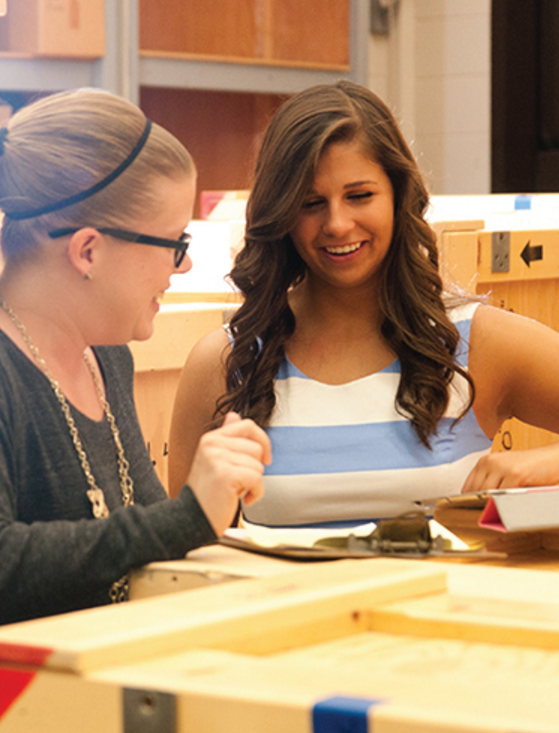 "I love the fact that it combines something I'm good at, business and marketing, with something I truly love, music and the arts. It's made me more involved on campus by getting me to go to Gallery Hops and working other events, and it opens the door to a world of opportunities after graduation."
Arts Administration
Classes & Requirements
What You'll Study
Arts Administrators transform the arts. They apply dance, music, visual art and theatre in a way that is real, tangible and accessible. They are armed with an arsenal of savvy business knowledge, financial footwork, contemporary technologies and stellar communication skills. In its 25th year, UK's Arts Administration program offers one of the most comprehensive curriculums in the country that will prepare students for the opportunities and challenges they will meet as an arts administrator. Our alumni can be found working in arts institutions throughout the country and abroad.
In addition to the Arts Administration curriculum, students are required to complete a minor in an area of the arts housed within the College of Fine Arts. Students will also complete 30 hours of UK Core. The College of Fine Arts additionally requires that all majors complete six hours of coursework outside their departments but within the College of Fine Arts and at least 39 hours of courses at or above the 300-level.
College of Fine Arts Minors:
Art History
Art Studio
Dance
Digital Media and Design
Music History
Music Performance
Photography
Theatre
Visual Studies
---
Premajor Status
All new students are admitted into the Arts Administration Program as Pre-Arts Administration. When the premajor requirements have been completed, students may apply for admission into full major status.
Major Admission
To be admitted into the Arts Administration Program as a major, an applicant must first:
Be enrolled in the University of Kentucky.
Complete 30 semester hours of premajor course work. 

Have a minimum overall 2.8 cumulative grade-point average. 

Complete premajor core requirements with a cumulative grade-point average of 3.0 in premajor courses. 

Students meeting these requirements will be accepted as majors in the program. Applications for admission must be submitted before the end of the semester prior to a student taking an upper division Arts Administration course.
---
Enhancing Your Time at UK
While there are endless ways to create an unforgettable journey as a Wildcat, we can only think of one that gives you the chance to step outside the classroom and into exploring new parts of the world around you: participating in an Education Abroad opportunity! Whether it's in a study, research, service, or internship program, taking your UK experience international with EA is the most hands-on way for you to expand your global perspective while making yourself a more well-rounded, marketable candidate to future employers no matter your field. As you take these first steps towards investing in your future, EA encourages you to take advantage of all the opportunities UK has to offer. Take a look at some of the many suggested opportunities UK Education Abroad & Exchanges has to complement your major! #ukyabroad
View Major Advising Page
---