Interested in how diet, physical activity, and other lifestyle factors play a role in improving health and preventing disease? The Human Nutrition program prepares students for further advanced study in health-related fields.
Passionate About Health?
With a Bachelor of Science in Human Nutrition, you will be prepared for a number of career possibilities as well as advanced academic study in dentistry, medicine, nutrition research, occupational therapy, optometry, osteopathic medicine, pharmacy, physician assistance studies, physical therapy and public health. You will study the biological and physical sciences and learn how to apply them to the interactions between nutrition and human health.
Join us for an upcoming Dietetics & Human Nutrition Open House on Friday, February 17 or Friday, April 7.
Learn more and register here.
Farm-to-Fork
In addition to professional development and research opportunities, our students are leaders in a number of service groups and projects - including the UK Farm to Fork program. This effort is led by UK's Campus Kitchen. The goal is to bring awareness to issues surrounding hunger, albeit in a different way. The focus of the kitchen is on helping people on and off campus in the greater Lexington community while also trying to keep food from going to waste.
"Farm-to-Fork is a grant-funded meal program that provides not only free locally sourced lunches using recovered foods and produce, but also education and a sense of community to any UK students. To offer a multidimensional, interdisciplinary approach to college food insecurity, Farm-to-Fork integrates social, sustainable, local and educational elements through healthy lunchtime meals served to approximately 100 students weekly."
-Kendra Oo, UK Nutrition & Food Systems graduate student
Our Professors
Our professors do more than teach. Many of them are very active in Kentucky communities which provides meaningful, real-life learning opportunities for Human Nutrition students.
Come See for Yourself
To learn more about this program, campus life, and chat with an advisor, schedule a campus visit. Virtual visits may be necessary in some cases.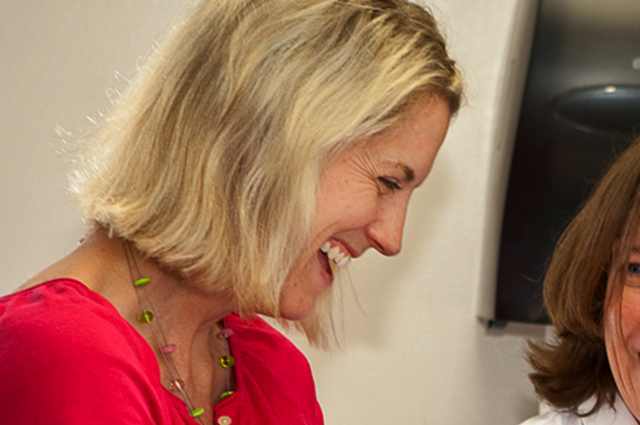 As Albert Einstein wrote, "It is the supreme art of the teacher to awaken joy in creative expression and knowledge." I strive to do this on a daily basis with each of my students.
Director of Undergraduate Studies & Recipient of the 2016 UK Alumni Great Teacher Award
Courses You Will Take
Access Major Map
source: myUK: GPS
Total Freshman Year Credit Hours : 32 - 33
Total Sophomore Year Credit Hours : 31
Total Junior Year Credit Hours : 30
Total Senior Year Credit Hours : 29 - 31
Please login to http://myUK.uky.edu to access your major map and personalized degree audit via the myUK Graduation Planning System (myUK GPS).