The Dietetics major prepares students for the field of food and nutrition systems management. The curriculum provides a thorough foundation in the biomedical, nutritional, behavioral, managerial and clinical sciences.
we grow careers
A career in dietetics puts you on the forefront of promoting health and wellness through education and in disease prevention. UK's program is a nationally accredited program and prepares students for an internship that leaders to the Registered Dietitian (RDN) status.
RDN graduates function as entry-level professionals with opportunities to practice in:
medical nutrition therapy
community dietetics
food systems management
business and entrepreneurship
nutrition/product research
nutrition counseling
Employers that are looking for RDN graduates include hospitals, long-term care facilities, rehabilitation facilities, school systems, health departments, sports nutrition, corporate wellness centers, outpatient clinics, and in research areas.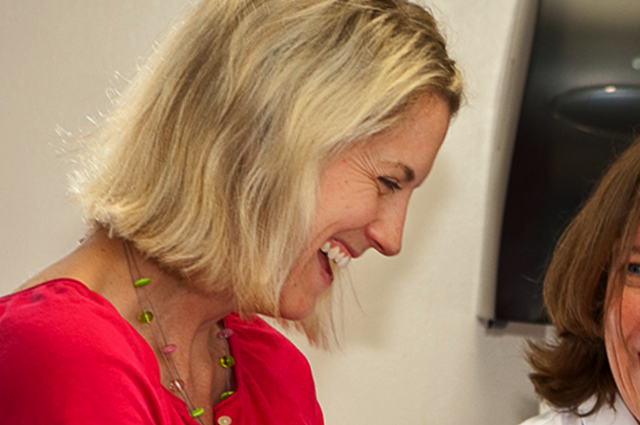 As Albert Einstein wrote, "It is the supreme art of the teacher to awaken joy in creative expression and knowledge." I strive to do this on a daily basis with each of my students.
Director of Undergraduate Studies & Recipient of the 2016 UK Alumni Great Teacher Award
what you'll study
You will become a food and nutrition expert by way of a core curriculum of dietetics and nutritional science related courses along with complementing coursework in chemistry, biology, physiology, business, sociology, and psychology.
The Bachelor of Science in Dietetics prepares students to be recognized as nutrition experts in a wide variety of settings, including hospitals, community organizations, and food systems. Graduates of this program are prepared to apply for an accredited supervised practice program (or dietetic internship) in order to become eligible to sit for the Commision on Dietetic Registration (CDR) national registry exam to earn the credential Registered Dietitian (RDN).
The Dietetics program offers two options for earning a Bachelor's of Science in Dietetics:
Option A: Didactic Program - complete academic coursework needed for for a supervised practice/dietetic internship.
Option B: Coordinated Program - complete academic coursework AND supervised practice experience before earning a degree (selective admissions).
Click the most recent major sheet at the bottom of the page to see a complete list of required coursework.
---
Enhancing Your Time at UK
There are countless ways to "see blue." on campus, but the best way to maximize your journey at the University of Kentucky is by engaging in an Education Abroad opportunity.
This will allow you to gain a global perspective and enhance future employability. As you take the first step towards investing in your future, we encourage you to take advantage of all the opportunities UK has to offer. Take a look at some of the options UK Education Abroad & Exchanges office suggests to complement your major! #SeeBlueAbroad
View Major Advising Page
---