The Dietetics major prepares students for the field of food and nutrition systems management. The curriculum provides a thorough foundation in the biomedical, nutritional, behavioral, managerial and clinical sciences.
Food is Our Fuel...
You will become a food and nutrition expert through a core curriculum of dietetics and nutritional science - along with complementary work in chemistry, biology, physiology, business, sociology, and psychology.
A Bachelor of Science in Dietetics prepares students to be recognized as nutrition experts in a wide variety of settings including hospitals, non-profit organizations, corporations and community food systems. Our graduates are prepared to apply for an accredited supervised practice program (or dietetic internship) and sit for the Commision on Dietetic Registration (CDR) national registry exam to earn the Registered Dietitian (RDN) credential.
The program offers two options for earning a Bachelor's of Science in Dietetics:
Option A: Didactic Program
complete academic coursework needed for for a supervised practice/dietetic internship.
Option B: Coordinated Program
complete academic coursework AND supervised practice experience before earning a degree (selective admissions).
Your Future...
A career in dietetics puts you on the forefront of promoting health and wellness through education and in disease prevention. Our program is nationally accredited and prepares students for an internship leading to Registered Dietitian (RDN) status.
Employers looking for RDN graduates include hospitals, long-term care facilities, rehabilitation facilities, school systems, health departments, sports nutrition, corporate wellness centers, outpatient clinics, and in research areas. RDN graduates function as entry-level professionals with opportunities to practice in:
medical nutrition therapy
community dietetics
food systems management
business and entrepreneurship
nutrition/product research
nutrition counseling
Come See for Yourself
To learn more about this program, campus life, and chat with an advisor, schedule a campus visit. Virtual visits may be necessary in some cases.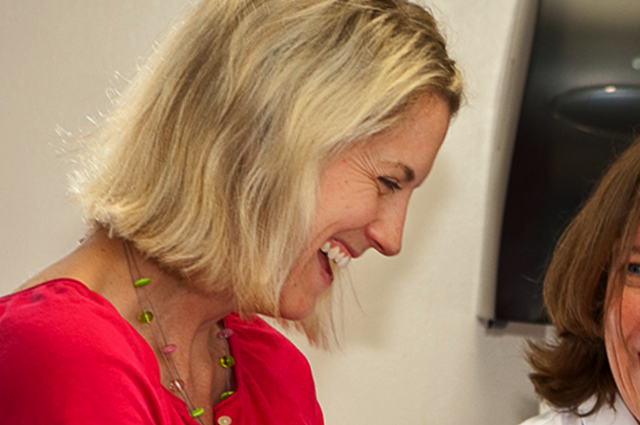 As Albert Einstein wrote, "It is the supreme art of the teacher to awaken joy in creative expression and knowledge." I strive to do this on a daily basis with each of my students.
Dietetics Professor & Recipient of the 2016 UK Alumni Great Teacher Award
Courses You Will Take
Access Major Map
source: myUK: GPS
Total Freshman Year Credit Hours : 30 - 32
Total Sophomore Year Credit Hours : 29
Total Junior Year Credit Hours : 29
Total Senior Year Credit Hours : 23 - 33
Please login to http://myUK.uky.edu to access your major map and personalized degree audit via the myUK Graduation Planning System (myUK GPS).
Give More
In addition to professional and research opportunities, our students are leaders in a number of service groups and projects - including the UK Farm to Fork program.
Many Dietetics graduates also go on to work in the sports industry to help atheletes maximize their performance with a healthy, wholesome diet plan.
---
Imagine Your Future
Dietitians and Nutritionists
Dietitians and nutritionists advise people on what to eat in order to lead a healthy lifestyle or achieve a specific health-related goal.



Source: Bureau of Labor Statistics | Click the link for more info.
Median Salary
$63,090
per year in 2018
Number of Jobs
74,200
in 2018
10 Year Job Outlook
5,900
new jobs (average)
---