The forestry major is a professional degree program and is the only one in Kentucky accredited by the Society of American Foresters. We are looking for students who share our passion for forests, wildlife, and other natural resources, and who wish to learn how to manage them for future generations. Learn more about forestry and what you can do with a forestry degree. 
Career Outcomes
We want you to grow your future and pursue your passion. Our students come from all across Kentucky, as well as other states throughout the region, but one thing that unites them is a love for the outdoors. Whether they like to hunt and fish or simply hike in the woods, our students have found a place they can get a college degree that will lead to many different outdoor careers, and pursue their passion at the same time.
Our classes cover topics like forestry, wildlife, water, fire, forest economics, forest products, and GIS/GPS. We teach land-management techniques using the latest technologies and because many of our classes are actually conducted outdoors, our motto is "small classes, BIG classrooms".
Here are a few examples of employers of forestry majors: U.S. Forest Service, U.S. Fish and Wildlife Service, National Park Service, Bureau of Land Management, Kentucky Division of Forestry or other state forestry agencies, forest products companies, non-profit organizations, and forestry consulting firms. Many forestry graduates continue their education in graduate school. Job opportunities for forestry graduates include:
Forester
State and federal forester
Land Manager
Urban Forester
Consulting Forester
Wildland Firefighter
Utility Forester
Arborist
Forest Biologist
GIS Specialist
County Extension Agent
Environmental Scientist
Water Quality Specialist
Researcher
Naturalist
and many more.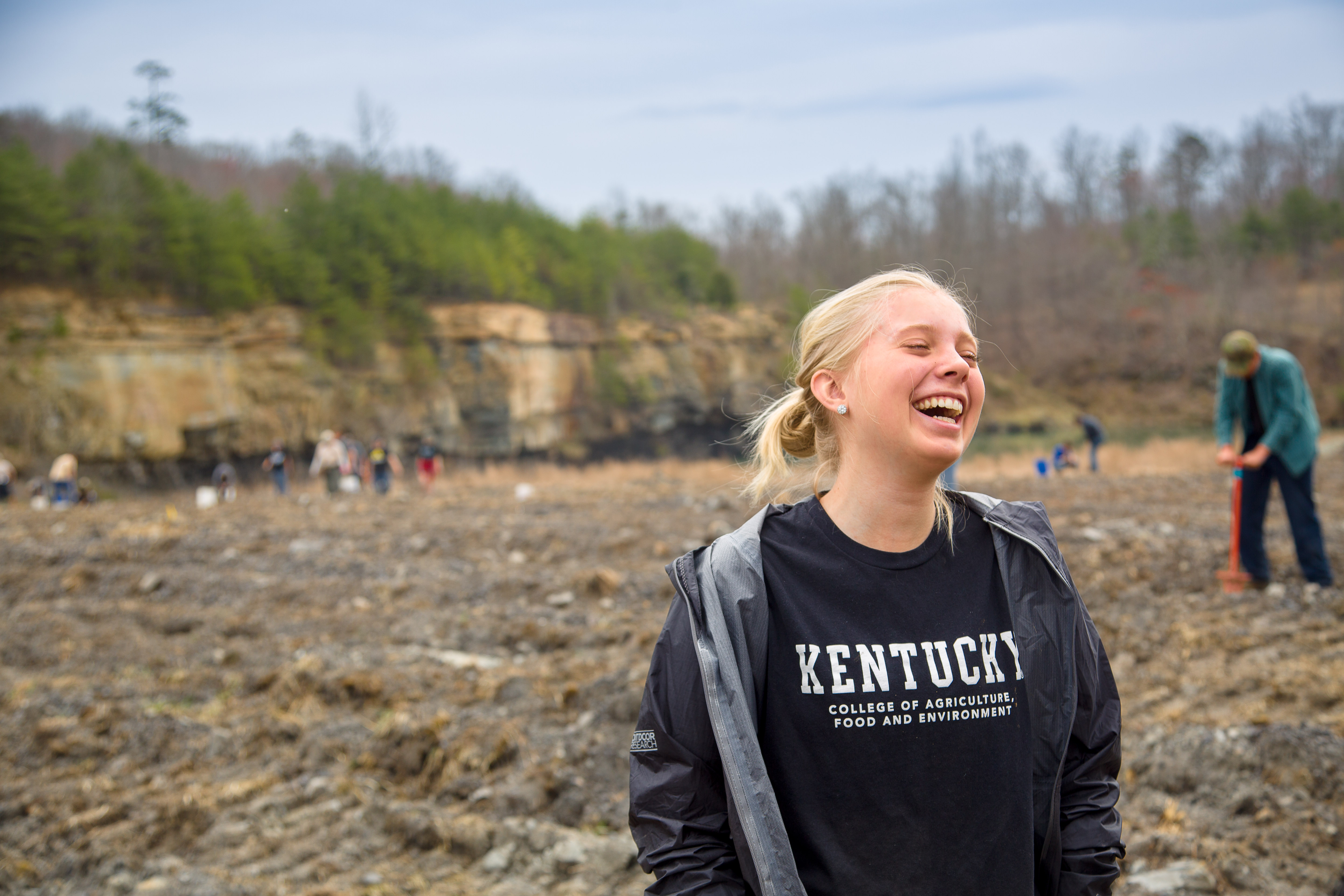 In May 2019, UK students visited Eastern Kentucky to teach local high school students how to reforest local land that had been used for logging and coal mines. Thanks to a careful selection of native trees, grasses and other plant life, the land shown in this photo will be full of wildlife within two years.
what you'll study
A forestry degree will prepare you to work with a diversity of landowners, agencies, wildlife, and a wide range of forest industries to help manage the benefits of and threats to forests throughout the region. As a forestry major, you will learn:
how a forestry degree is an effective background for managing forests and a wide range of natural resources
wildlife and watershed management
how to enhance the health and integrity of our forests
forest policy and ways to address complex socioeconomic issues involved with practicing forestry
fundamental forestry concepts such as dendrology, ecology, silviculture, and forest measurements
---
Imagine Your Future
Conservation Scientists and Foresters
Conservation scientists and foresters manage the overall land quality of forests, parks, rangelands, and other natural resources.



Source: Bureau of Labor Statistics | Click the link for more info.
Median Salary
$61,340
per year in 2018
Work Environment
Conservation scientists and foresters work for governments (federal, state, and local), on privately owned lands, or in social advocacy organizations.
Source: Bureau of Labor Statistics
Read More
Similar Occupations
Source: Bureau of Labor Statistics
Agricultural and Food Scientists
Environmental Science and Protection Technicians
Firefighters
Forest and Conservation Workers
Zoologists and Wildlife Biologists
---