Landscape Architecture encompasses the art and science of land design, planning, and management. Its science involves the conservation and management of natural resources. Its art is the creation of outdoor spaces that are enjoyable, comfortable, and safe. 
Where can LA take you?
Landscape architecture is a diverse and growing profession with opportunities in both the private and public sectors.
In the private sector, graduates may work in landscape architecture design firms, multidisciplinary firms or design-build companies. In the public sector, landscape architects work with federal agencies such as the U.S. Forest Service, National Park Service and U.S. Army Corps of Engineers. State and local governments also employ landscape architects in planning, urban design, park and open space design, transportation, and community development.
Landscape architects…
design public spaces such as parks, campuses, streetscapes, and urban gathering places that create community identity and public life
create sustainable and active communities with infrastructure for walking, bicycling, and other forms of transportation
improve air quality and lower urban temperatures with green spaces
solve infrastructure problems such as increased flooding from storm water and rising sea levels
collaborate with private clients to make memorable places for work, living and recreation
conserve natural and agricultural landscapes byworking with communities on landscape stewardship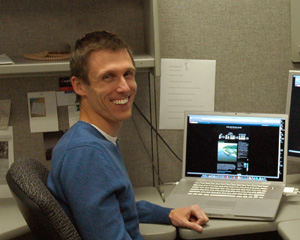 Design education is a place where creativity and spontaneity should guide exploration and serve as a basis for learning. My goal as an educator is to create responsible and creative designers.
Associate Professor