Our agricultural and medical biotechnology (ABT) students have a variety of interests, but they all share one thing in common: they want to use science to improve lives around the world. 
Many paths. One biotech degree.
We emphasize hands-on learning in genetics, molecular biology, genetic engineering, chemistry, and biology to train tomorrow's scientific leaders. Whether you are developing treatments for a genetic disease or genetically engineering drought resistant crops, you will learn to combine basic scientific concepts with problem solving and critical thinking skills to solve medical and agricultural problems.
A Versatile Degree For Many Science-Based Careers...
Many ABT graduates pursue advanced degrees in areas such as health care (e.g., medicine, pharmacy, dentistry, and physician assistant studies), agriculture, biological sciences, law, molecular biology, and veterinary sciences.
There are also many ABT graduates who immediately enter the workforce. This bachelor of science degree will prepare you for positions with biotechnology organizations, government and public affairs, academia, research and development, and more. Future employment can include work with:
Human Genetics
Public Health
Pharmaceutical Development
Food Safety
Genetic Engineering
Vaccine Production
Bio Manufacturing
Bioinformatics
Fermentation Biotechnology
Plant Genetics
Genomics
Medical Device Development
Forensics
Biofuel Production
Research and Development
Students Say We're Great....
Dr. Robert Hirsch, Director of Undergraduate Studies for the Agricultural and Medical Biotechnology program, received the 2020 Great Teacher Award from the University of Kentucky Alumni Association and the University of Kentucky's Outstanding Teaching Award in 2023.
Come See for Yourself
Thanks to agreements through the Academic Common Market, students from the following states can enroll in the ABT program at in-state tuition rates:
Delaware
Georgia
Louisiana
Maryland
Tennesee
West Virginia
These agreements are subject to change without notice. For the most up-to-date information on the Academic Common Market,
click here
.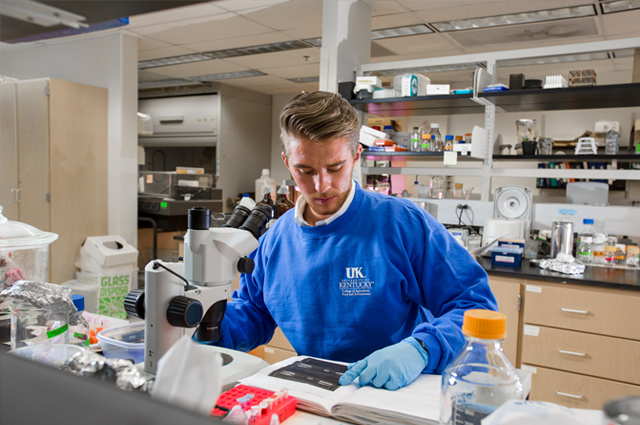 "Science was always where I was destined to be."
Agricultural and Medical Biotechnology student and admit to the UK College of Medicine's Medical Sciences Graduate Program
Courses You Will Take
Access Major Map
source: myUK: GPS
Total Freshman Year Credit Hours : 33
Total Sophomore Year Credit Hours : 29
Total Junior Year Credit Hours : 32
Total Senior Year Credit Hours : 28
Please login to http://myUK.uky.edu to access your major map and personalized degree audit via the myUK Graduation Planning System (myUK GPS).