Students get hands-on training and one-on-one mentorship from a professional theatre faculty. Our liberal arts focus is coupled with ongoing career counseling to ensure successful transition from campus to professional life. Students are encouraged to find their passion and pursue it – many students participate in internships and study abroad opportunities as a core component of the undergraduate experience.
Careers
Beyond the classroom
UK Theatre and Dance produces a full mainstage production season annually including dance and musical theatre productions. Additionally, students have the opportunity to direct in the student laboratory season. Whether you assist with scenic, light, costume or sound design, or let your talents soar on stage, there is a practicum section that will help you gain the hands-on experience to reach your artistic and professional goals. Theatre majors are also encouraged to pursue internships to bridge the divide between academic study and a professional career. The Department of Theatre and Dance regularly hosts renowned guest artists for residencies and master classes.
The Bachelor of Arts in Theatre offers concentrations in:
Acting
Playwriting
Directing
Set Design
Costume Design
Technology
Theatre Studies
Lighting Design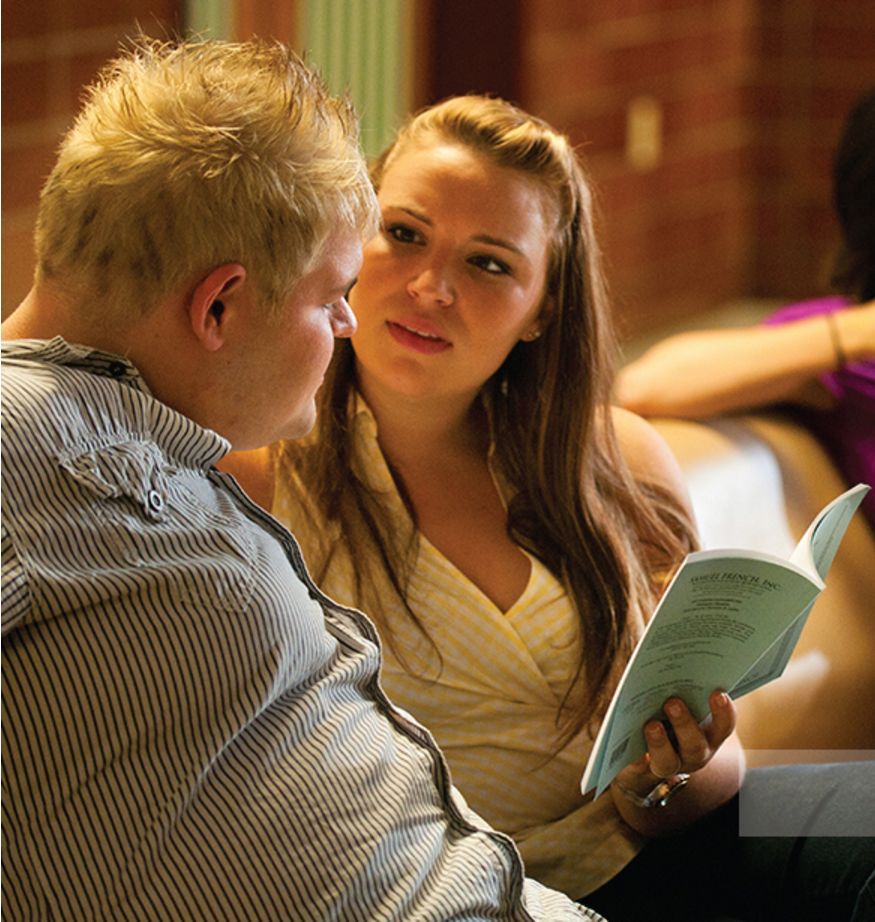 "When I began my college search, I thought I wanted to attend a small university where I would be able to develop close, personal relationships with my peers and professors. I did not realize that this was possible at a flagship university until I visited UK. Here, I am able to be a part of a small community within my major while still being a part of the legacy that comes with being a Wildcat."
Theatre and Family Sciences
Classes & Requirements
What You'll Study
Students in the Department of Theatre and Dance receive the highest caliber training--whether their passions are onstage or backstage--and our success is proven through the success of our alumni nationwide. The department's rich history and tradition, going back over 100 years, ground our programs with the consistency and reputation to excel in a competitive marketplace. Our faculty are committed to helping our students to develop to their fullest potential and ensure that their college experiences are exceptional. The Bachelor of Arts in Theatre is also flexible enough to allow for our students to pursue a double major.
---
Major Requirements
All Theatre majors are required to complete 11 core courses.​ The Core Major requirements total 33 hours. Students will also complete 30 hours of UK Core. The College of Fine Arts additionally requires that all majors complete 6 hours of coursework outside their departments but within the College of Fine Arts and at least 39 hours of courses at or above the 300-level.
Theatre Electives
If a student has a particular interest area within theatre, these electives may be selected and completed with within a specific theatre focus under the guidance of the student's advisor. Every Theatre major is required to complete at least 12 hours of Theatre electives. The focus areas are Performance, Design and Technology, Playwriting, and General Theatre Studies.
---
Musical Theatre Certificate
Open to Theatre, Dance, and Music Performance (Vocal) Majors
The undergraduate interdisciplinary certificate in Musical Theatre gives students the opportunity to study with seasoned Broadway professionals and hone their skills in the field. A collaboration of the Department of Theatre and Dance and School of Music, the program offers mentorship and training in voice, dance, acting and musical theatre techniques, fostering versatile and highly-skilled performing artists.
A limited number of students are admitted to this selective program through an audition each spring.
Beyond the Classroom
Students in the Musical Theatre Certificate Program are encouraged to audition for and participate in the annual UK Theatre and Dance musical, the UK School of Music's "It's a Grand Night for Singing!," and national summer stock opportunities to enhance their skills. In addition, UK Choristers produces a musical revue each year that features musical theatre repertoire.
Additionally, students have the opportunity to work with renowned guest artists for residencies and master classes. Recent guests include Jonathon Groff (Frozen, Glee, Spring Awakening) and Sheri Sanders (Rock the Audition master class).
Courses Include:
Vocal Ensemble Class
Class Instruction in Piano
Voice Class
Musical Theatre Technique
Ballet
Jazz Dance
Acting: Scene Study
Musical Theatre Dance
Sign up for an Audition
Check Out Our Current Season
---
Enhancing Your Time at UK
There are countless ways to "see blue." on campus, but the best way to maximize your journey at the University of Kentucky is by engaging in an Education Abroad opportunity.
This will allow you to gain a global perspective and enhance future employability. As you take the first step towards investing in your future, we encourage you to take advantage of all the opportunities UK has to offer. Take a look at some of the options UK Education Abroad & Exchanges office suggests to complement your major! #SeeBlueAbroad
View Major Advising Page
---
Imagine Your Future
Actors
Actors express ideas and portray characters in theater, film, television, and other performing arts media.



Source: Bureau of Labor Statistics | Click the link for more info.
Number of Jobs
50,600
in 2021
10 Year Job Outlook
4,100
new jobs (average)
Work Environment
Actors work in various settings, including production studios, theaters, and theme parks, or on location. Work assignments are usually short, ranging from 1 day to a few months.
Source: Bureau of Labor Statistics
Read More
---