USA, Lexington Kentucky - December 15th, 2007 (Joe Omielan) - Project Update
From December 12 to 14 our group was in Louisville attending the 2007 National Soybean Rust Symposium. This provided an opportunity for the PIs (Claudia, Saratha, and Jim) to discuss the project face to face (see photo below).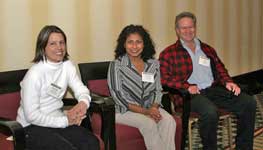 Saratha was invited to give a talk on "Developing a yield loss prediction tool for Asian Soybean rust". Joe Omielan and Elena Prior presented posters about some of our work. The titles were "Utility of vegetation indices in assessing soybean canopy leaf area" and "The impact of soybean rust on leaf photosynthetic rate: The role of lesion age and resistance genes", respectively. The presentation and posters are available on the Proceedings of the 2007 National Soybean Rust Symposium website.

http://www.plantmanagementnetwork.org/infocenter/topic/soybeanrust/2007/
Here are direct links to the PDF versions of the UK team's presentations:
Here are most of the authors (Elena, Saratha, Brenda Kennedy, Don Hershman, Joe) in front of Elena's poster, along with a young "Scientist-in-training".