Oil and Gas Maps
---
Contact: Brandon Nuttall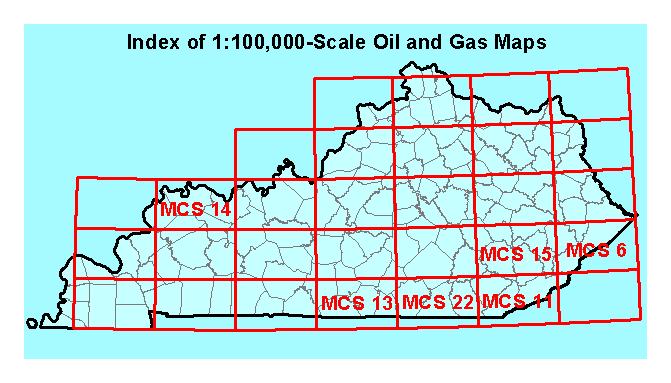 Click the image to view a map. File sizes range from 400 kb to 1 mb. Depending on your connection speed, they may take a while to download and display. Instructions for plotting are available.
The Kentucky Geological Survey is preparing a series of maps of these quadrangles showing oil and gas drilling activity and results. The maps are printed at a scale of 1:100,000, using GIS software, and are periodically updated. To date, maps have been released for the Tompkinsville, Evansville, Hazard, Corbin , and Middlesboro quadrangles. A printed copy of the Pikeville quadrangle map was previously released. These maps are useful for oil and gas exploration and development and are becoming increasingly important in assessing environmental issues. Individual map components may be downloaded for compiling your own maps.
Summary maps at a scale of 1:1,000,000 are available.
How to make an oil and gas map using free base map and well data available on the web.
Lease Maps for Kentucky
Keller farm maps are an important resource for the oil and gas industry in western Kentucky. They are the only commercially available well location and lease maps available for any part of Kentucky. A reference set of the maps is available for inspection in the Geologic Data Center at the Kentucky Geological Survey. For information on viewing the map set in our Lexington office, contact KGS Public Information Center( Tel: 859.257.3896 or Email: KGS-Pub@lsv.uky.edu). For more information or to order copies of the maps, contact Scout Check at 812.425.4321 or email: scoutcheck@bellsouth.net.
---
© 2000, 2001 Kentucky Geological Survey, University of Kentucky
Created 23-Jun-2000