Rough Creek Graben Study
---
Contact: Dave Harris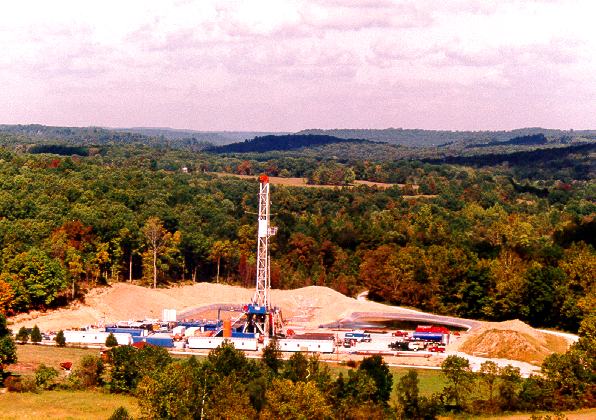 The Conoco No. 1 Shain well, Grayson County, tested deep prospects along the Rough Creek Fault in 1993.
Photo by Jim Goodwin.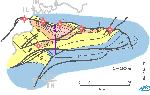 The Rough Creek Graben is one of a number of Cambrian rift grabens in eastern North America. The graben is an asymmetric basin containing up to 18,000 feet of pre-Knox Cambrian sedimentary fill near its northern boundary, the Rough Creek Fault Zone. The basin may be an important target for deep natural gas in the future.
Most of the pre-Knox oil and gas drilling has been near the northern boundary fault. The fault zone, however, is known to have been reactivated at least twice since its initial formation in the Cambrian; once during the Ouachita orogeny, when high-angle reverse faulting took place, and again during the Jurassic, with normal faulting as the Gulf of Mexico began to open. The past exploration strategies are questionable in that the reservoirs near the boundary fault are certainly breached as evidenced by the long history of fault reactivation.
There is strong seismic evidence that the Rough Creek Graben has basin-floor fan complexes that could be excellent hydrocarbon reservoirs, as they are in many parts of the world. Reservoirs would be the most prospective in areas of the graben away from throughgoing fault zones where the hydrocarbons could be preserved. Both oil and gas shows in shallower Cambrian rocks suggest that Cambrian source beds are present in the deep part of the rift. The southern, updip edges of both the northern and southern fan complexes should be optimum positions for production. Depths to the fans are very deep in the western part of the basin. Fewer seismic data are currently available for the eastern part of the Rough Creek Graben, but the depth to basement shallows in that direction. Similar fan complexes are probably present in that area and could be penetrated at shallower depths. Additional data and further study are needed to confirm this potential.
---
© 2000 Kentucky Geological Survey, University of Kentucky
Created 8-Aug-2000