Teaching
I genuinely enjoy and greatly benefit from teaching. In fact, if you've explored my research page, you already know that I have a strong research focus on improving instructional communication in applied contexts. I've been developing a causal process model that attempts to identify the most salient teacher and student behaviors to predict knowledge application and acquistion.
In the spring of 2017, students in my (COM 454) communication and technology honors course surprised me with a cake for my 30th wedding anniversary! Thanks to all of you for making it a great day and a great semester!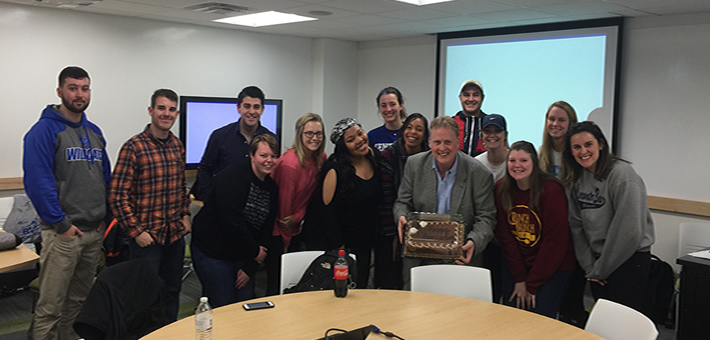 Pictured from left to right: Alex Padilla, Shawn McLuckie, Fotis Tompoulidis, Jen Branscum, Emily Wakeley, Caran Kennedy, Caitlyn Barnes, Alicia Perkins, me, Reid White, Bri Poe, Hannah Schuler, Ansley Siebold, and Madalyn Klika (Not pictured: Hannah Clendenin, Katherine Huffman, or Brandon Lee).
In the fall of 2019 I taught COM 315 (Understanding Workplace Communication in a Diverse U.S. Society to 150 undergraduate students!
Please use the blue buttons below to learn more about my teaching.
Trust. Cooperation. Support. Mutual Respect. These are the four fundamental features of what constitutes an optimal learning environment. They also allow me to make connections with (and for) my students. Effective teaching is a catalyst for life-long learning--which requires students to actively engage with course content. Communication plays an integral role in the teaching and learning process. Thus, my philosophy of teaching is best understood through the lens of student learning. Ultimately, students arrive in my classroom with a finite level of intellectual potential (some with more than others), prior knowledge (some of which is not accurate), and state motivation (their inerent interest and pleasure associated with engagement and persistence in my course). Despite my best efforts, student
"grit"
is a better predictor of learning than anything I do as a teacher--though my behavior can certainly interfere with student learning.
There are several communication behaviors that eventually influence my success as a teacher--because students will view me as more or less competent based on my mastery of these behaviors. Some behaviors will influence student attitudes and their affect toward learning (e.g., immediacy, caring, confirmation, and shared control) while other behaviors are fundamentally related to student knowledge acquistion and application. For example, how I use different types of knowledge to engage students can also make a tremendous difference. Taken together, my knowledge of content, pedagogy, curriculum, pedagogical content, learners and their characteristics, educational contexts, and knowledge of educational ends, purposes, and values, have all been cultivated as I attempt to positively impact student learning (For more information about knowledge growth in teaching see Shulman (1987) and Friedrich (2002)).
is the unique model and innovative teaching techniques I have shared with my students and colleagues throughout the academy. I genuinely enjoy and greatly benefit from teaching. For me, helping students to understand the theory and application of communication in multiple contexts always leads to an improved clarity and sense of renewal in my own personal development as an educator, researcher, and student of communication science. I value the importance of communication in the teaching and learning process. I understand that the difference between knowing and teaching is communication Download Teaching Philosophy as PDF
Philsophy of grading will be added soon.
Undergraduate and Graduate Class Logs will be added soon.
+ Teaching and Course Evaluations
+ Teaching Awards and Recognition
Teaching awards and recognition will be added soon.