LIGHTNINGBUGS
AKA "FIREFLIES"
Critter Files/Insects/Beetles/Lightningbugs
By Blake Newton
University of Kentucky Department of Entomology
TAXONOMY

KINGDOM: Animalia | PHYLUM: Arthropoda | CLASS: Insecta | ORDER:Coleoptera | FAMILY:Lampyridae (lightningbugs or fireflies)

Other Names: Fireflies, Lightning Beetles, Lampyrids
WHAT IS A LIGHTNINGBUG?
LIFE CYCLE
ECOLOGY
PEST STATUS
COMMON KENTUCKY LIGHTNINGBUGS
COLLECTING & PHOTOGRAPHY
LIGHTNINGBUG FACTS
MYTHS, LEGENDS, AND FOLKLORE
WHAT IS A LIGHTNINGBUG?

Like all beetles, Lightningbugs, also called Fireflies, have chewing mouthparts and hardened front wings (elytra) that meet in a straight line down the back of the abdomen when closed. Most lightningbugs have glowing abdomens, but even the species that do not glow are easily recognized by their elongated bodies, distinctive black-and-orange colors, and their hood-like "pronotums."

All insects have a pronotum, the first plate on the top of the thorax, but lightningbugs have large pronotums which conceal the head when viewed from the top. Lightningbugs are also unusual among beetles because their elytra, while more hardened than normal insect wings, are much softer than the elytra of most beetles. Most lightningbug species are about 1/2-3/4" long, but some species are much smaller, at about 1/4".

Typical Lightningbug
(B. Newton, 2003)
Some species of soldier beetle (family Cantharidae) closely resemble lightningbugs (shown below). In fact, lightning beetles and soldier beetles are closely related. Both are elongated in shape, have relatively soft elytra, and both are often patterned with black and orange.
Soldier Beetle (B. Newton, 2003)

Soldier Beetle (B. Newton, 2003)

However, the heads of soldier beetles are never concealed by the pronotum (shown below).

Lightningbug: head concealed by pronotum
(B. Newton, 2003)

Soldier Beetle: head not concealed
(B. Newton, 2003)

Lightningbug larvae (shown below in the Life Cycle section) look very similar to sowbugs or roly-polies and are found in similar habitats (low to the ground and under rock and logs), but sowbugs have 14 legs, while lightningbug larvae have only 6 legs.
SIZE: Adult and larval body length up to 3/4"
LIFE CYCLE

Like all beetles, lightningbugs have "complete" metamorphosis with egg, larval, pupal, and adult stages. Female lightningbugs place eggs in moist soil on lawns, meadows, and the forest floor. Upon hatching in the spring, larvae live and feed at the soil level for 1-3 years, pupating in the spring in small chambers in soil. Adults emerge in early summer. During mating, males and females find one another by flashing their luminesecnt abdomens. Different lightningbug species use different rhythms while flashing. Some adult females do not fly. Instead, they rest on the ground or on vegetation and signal for males, who fly to meet them.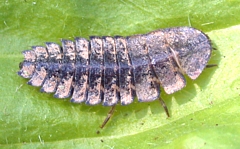 Lightningbug larva (B. Newton, 2005)
ECOLOGY
Larval lightningbugs are predators that feed on small insects, worms, slugs, and snails. They are primarilty nocturnal, patroling the thatch layer in lawns and other locations that are damp and close to the soil. In the daytime, they hide under loose bark, logs, and rocks. As adults, some lightningbug species feed on nectar and pollen, others are predators.
Some lightningbug species also feed on other lightningbugs. Among these species, larvae and adults attract other lightningbugs by resting on the ground or on vegetation and mimicing the mating signals used by other species.
Lightningbugs and their larvae are a plentiful food source for other animals. Birds, bats, and spiders feed on the adults. Spiders, ground beetles, and other soil-dwelling predators feed on the larvae.
PEST STATUS
Lightningbugs are not considered pests.
COMMON KENTUCKY LIGHTNINGBUGS

LIGHTNINGBUGS
GENUS: Photinus, Photuris, others
There are many species of lightningbugs in Kentucky, but most of them are very similar in size, appearance, and behavior. In fact, the best way to distinguish many species is by examining the color of their glowing abdomens (some species have yellow lights, others have green) and by their flashing patterns. Common species belong to the Photinus and Photuris genera, and most of these have dark gray or brown elytra with yellow or orange borders. A few other species, including some which do not have luminescent abdomens, have black elytra with no borders.

Lightningbug (R. Bessin, 2000)

Lightningbug (R. Bessin, 2000)
COLLECTING & PHOTOGRAPHY
Lightningbug adults are easy to find and capture during early summer nights in Kentucky. Look for them in lawns, meadows, and woodlands. Flying adults can easily be captured by hand. Larvae can be found in the same habitats: glowing spots on the ground may be lightningbug larvae! During the day, look for lightningbug larvae under logs, mulch, and rocks. Lightningbug adults can sometimes be found resting on plants during the day. It is best to take pictures of lightningbugs and their larvae during the day when the insects are less active and more light is available.

LIGHTNINGBUG FACTS
Lightningbugs are not the only insects that are able to glow. Read about other glowing insects in our online article, Beacons in the Night.
Read this interesting article about the bioluminescent properties of lightningbugs at the Norman Bird Sanctaury website.
MYTHS - LEGENDS - FOLKLORE
Because they are so noticable, lightningbugs have always been a part of human culture, and they have often been the subject of myth, legend, and folklore. Europeans once believed that if a lightningbug flew in a window, a person would soon die. The Chinese believed that lightningbugs were produced by burning grass. Native Americans smeared glowing lightningbugs on their faces for decoration. Japanese believed that fireflies represented the souls of the dead, an idea expressed in the animated movie, Grave of the Fireflies (1988). There is also a novel called Fireflies (1970) by Shiva Naipaul. In the book, a Trinidad man is fascinated by fireflies on his first trip to the countryside.
---
Original document: 25 May 2004
Last updated: 19 Oct 2006

Photos courtesy R. Bessin and B. Newton, University of Kentucky
The Kentucky Critter Files are maintained by Blake Newton, Department of Entomology, University of Kentucky.
Contact: blaken@uky.edu