KENTUCKY CENTIPEDES
Critter Files/Centipedes
By Blake Newton
University of Kentucky, Department of Entomology
Common Kentucky Centipedes:
TAXONOMY
KINGDOM: Animalia | PHYLUM: Arthropoda | CLASS: Chilopoda (Centipedes)
ORDERS: Scutigeromorpha, Lithobiomorpha, Scolopendromorpha, Geophilomorpha, and others
WHAT IS A CENTIPEDE?
LIFE CYCLE
ECOLOGY
PEST STATUS
COMMON KENTUCKY CENTIPEDES
COLLECTING & PHOTOGRAPHY
CENTIPEDE FACTS
MYTHS, LEGENDS, AND FOLKLORE
WHAT IS A CENTIPEDE?
Centipedes are long, multi-segmented arthropods that resemble millipedes. Centipedes have only 1 pair of legs on each segment, while millipedes have 2 legs on most segments. Centipedes also resemble insects, but insects have only 3 body segments and 6 legs. Centipedes have 1 pair of antennae, and chewing mouthparts. Centipedes are unique because their first pair of legs have evolved into venomous fangs.
SIZE: Body length up to about 4" (10 cm) for Kentucky centipedes
LIFE CYCLE
Centipedes have incomplete metamorphosis: young centipedes hatch from eggs and look like small adults. Centipedes shed their skin (a process called "molting") as they grow into adults. Some species add legs each time they molt.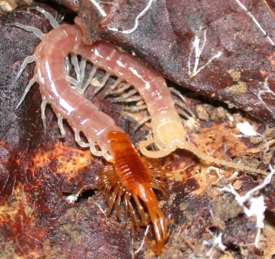 Scolopendromorph centipede in the process of molting (B. Newton, 2005)
Pictured below are immature house centipedes (called "nymphs"). Each time a centipede (or any arthropod) molts, it enters a new life-stage, or "instar." The one on the top is very young (2nd instar), while the one of the bottom is a little older (4th instar). Note that the nymphs have only 5 (younger) and 9 (older) pairs of legs, while the adult house centipede (pictured in the Common Kentucky Centipedes section below) has 15 pairs.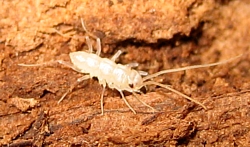 2nd Instar Centipede Nymph: 5 pairs of legs (B. Newton, 2011)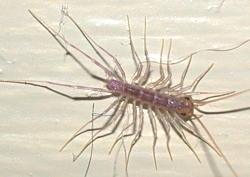 4th Instar House Centipede Nymph: 9 pairs of legs (B. Newton, 2004)
ECOLOGY
Most centipedes live underneath rocks, fallen logs, and in soil and leaf litter. Centipedes are primarily carnivorous, and they feed on crickets, worms, termites, ants, and other small creatures. Centipedes use their venomous front legs to capture and paralyze their prey. Most centipedes hunt at night and hide during the day. Centipedes are sometimes eaten (especially when they are young) by spiders, predatory insects, other centipedes, and insectivorous mammals and birds.
PEST STATUS
Centipedes are predators, so they are not pests of crops, garden plants, or stored food. Sometimes, though, they get into homes, where their frightening appearance and painful bites can occasionally cause problems. Centipedes in Kentucky and surrounding states are not dangerous unless a bite victim has an allergic reaction to the bite ( a potential problem with any biting or stinging insect or insect relative). Centipede bites are very rare in Kentucky, and dangerous side reactions are rarer still. A few species of large tropical centipedes native to South America, Asia, and elsewhere are considered to have very dangerous bites, however.
COMMON KENTUCKY CENTIPEDES
SCOLOPENDROMORPH CENTIPEDES
ORDER: Scolopendromorpha
Other than the house centipede, the most familiar centipedes in Kentucky may be the Scolopendromorphs (order Scolopendromorpha). Full-grown scolopendromorph centipedes have more than 21 or 23 pairs of legs. Pictured below are some common scolopendromorphs.
Hemiscolopendra marginata
ORDER: Scolopendromorpha | FAMILY: Scolopendridae | GENUS and SPECIES: Hemiscolopendra marginata
Hemiscolopendra marginata is probably the largest centipede found in Kentucky. It can reach 3". They are commonly found under logs and loose bark.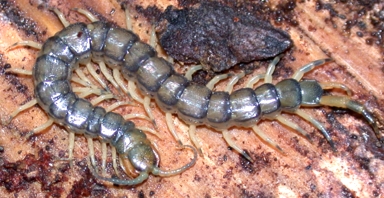 Hemiscolopendra marginata (B. Newton, 2004)
Scolopocryptops sexspinosus
ORDER: Scolopendromorpha | FAMILY: Scolopocryptopidae | GENUS and SPECIES: Scolopocryptops sexspinosus
Scolopocryptops sexspinosus is common under rocks, logs, and loose bark in Kentucky. This vivid red-orange centipede can reach 2-3". The molting centipede pictured in the Life Cycle section above is also probably S. sexspinosus. And visit this Bugguide link to see an incredible image of S. sexspinosus guarding a clutch of eggs.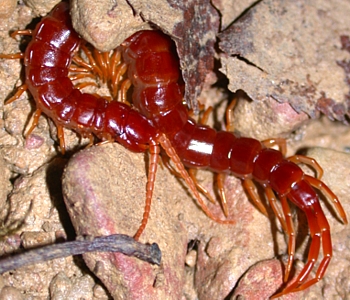 Scolopocryptops sexspinosus (B. Newton, 2003)
STONE CENTIPEDES
ORDER: Lithobiomorpha
Like scolopendromorphs, Stone Centipedes (Order Lithobiomorhpa) are often found under logs and rocks. They are usually shorter than scolopendromorphs, with 15 pairs of legs. The stone centipede pictured below was about 1.5 inches long and belongs to the Lithobius genus.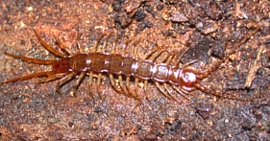 Stone Centipede (B. Newton, 2004)
HOUSE CENTIPEDES
ORDER: Scutigeramorpha | FAMILY: Scutigeridae | GENUS and SPECIES: Scutigera coleoptera
House Centipedes (Scutigera coleoptera) have very long legs, and are often seen running (quickly) in basements and attics and other cool, indoor places. These centipedes hunt crickets, ants, roaches, sowbugs, and other small creatures. House centipedes are one of the few types of centipedes that are not commonly found underneath rocks and logs. The house centipede is probably not native to Kentucky. It is believed to be native to the Mediterranean region in Europe and has come to our part of the country from further south. A house centipede nymph is pictured above in the Life Cycle section.
House Centipede (R. Bessin, 2000)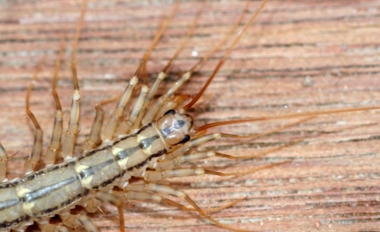 House Centipede, close-up (Photo Whitney Cranshaw, Colorado State University, courtesy Bugwood network)
SOIL CENTIPEDES
ORDER: Geophilomorpha
Not pictured here are the Soil Centipedes, members of the centipede order Geophilomorpha. These small centipedes are very common in Kentucky, but difficult to photograph! See some examples at Bugguide.
COLLECTING & PHOTOGRAPHY
Look for most centipedes underneath logs, loose bark, rocks, mats of dead leaves, or inside rotten wood. Scolopendromorph centipedes are especially common underneath loose bark on fallen logs. House centipedes are very common in many homes and buildings in Kentucky, especially in garages, sheds, and similar locations. If you are interested in collecting a centipede, never pick one up with your hands; instead, "herd" it into a container with a stick or forceps. Centipedes are best preserved in alcohol.
If you are brave (and careful!) enough, you can try to keeping a centipede as a pet in a small container. Provide a few inches of potting soil, and some rocks or wood to hide under. The soil should be kept fairly moist. Feed centipedes living insects or worms that are about ¼" the size of the centipede.
Centipedes also make interesting photography subjects, but they are so fast-moving that it can be hard to get a picture. Make sure to use a fast film speed in bright light. Another trick: before a photo session, cool down a centipede in a refrigerator for about 15 minutes. The centipede will recover fully in a minute or so after it is removed from the cold, but it will move slowly in the meantime - just enough time for a few good pictures.

CENTIPEDE FACTS
Some centipedes are incredibly large. Giant centipedes from South America will grow to over a foot in length. For a large centipede like this, insect aren't much of a meal: instead, prey include mice, snakes, lizards, and frogs.
Centipedes have different numbers of legs depending on the species. Although the species with the most legs look impressive, the fastest centipedes are often the ones with the fewest legs (such as house centipedes).
Centipedes and millipedes are believed to be more closely related to insects than to spiders and other arachnids.
For more information about scolopendromorph centipedes, including the geographic ranges for common species, visit the North Carolina Museum of Natural Sciences website here.
MYTHS - LEGENDS - FOLKLORE
It is often said that centipedes have "100 legs." Although the word "centipede" means "100 legs," centipedes usually have much fewer legs, around 30-50. Some species of soil centipedes can have over 300 legs.
Centipedes are used as ingredients in treatments for malaria and snakebites in some cultures.
It is sometimes said that, when cut in half, the two halves of a centipede will grow into two separate centipedes. Although this is sometimes true for certain worm species, it is not true for centipedes or millipedes (although the two halves may wiggle and move for quite a while!).
---
Original document: 25 May 2004
Last updated: 9 May 2011

The Kentucky Critter Files are maintained by Blake Newton, Department of Entomology, University of Kentucky.
Contact: blaken@uky.edu