KENTUCKY SCORPIONS
Critter Files/Scorpions
By Blake Newton
University of Kentucky, Department of Entomology
TAXONOMY
KINGDOM: Animalia | PHYLUM: Arthropoda | CLASS: Arachnida | ORDER: Scorpiones (scorpions)
WHAT IS A SCORPION?
LIFE CYCLE
ECOLOGY
PEST STATUS
KENTUCKY SCORPIONS
COLLECTING & PHOTOGRAPHY
SCORPION FACTS
MYTHS, LEGENDS, AND FOLKLORE
WHAT IS A SCORPION?
Scorpions are members of the arthropod class Arachnida which also includes spiders, daddy-long-legs, and mites. Like other arachnids, scorpions have 2 body segments (cephalothorax and abdomen), no antennae, 4 pairs of legs, and fang-like mouthparts called "chelicerae." Although the pincers of a scorpion resemble legs, they are "pedipalps," which are actually mouthparts. All arachnids have pedipalps, but on most arachnids the pedipalps resemble antennae. Scorpions are equipped with a venomous stinger located on the end of the abdomen. Most scorpions have 6 to 12 tiny eyes.
SIZE: Body length up to 2" for Kentucky scorpions
LIFE CYCLE
Scorpions go through incomplete metamorphosis: young scorpions look like smaller versions of adult scorpions, and they shed their skins as they grow. Unlike most arachnids, scorpions give birth to live young, and the mother will often carry her offspring on her back until the young scorpions are able to hunt on their own.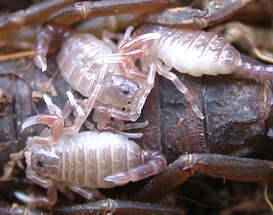 Nymphs of a Southern Devil Scorpion (B. Newton, 2004)
Shown below is a short clip of immature Kentucky scoprions riding on their mother's back.
ECOLOGY
Like spiders, scorpions are predators that feed on smaller animals, especially insects and other invertebrates. They use their venomous stingers and pincers to capture their prey. Although they appear formidable, small scorpions like the ones found in Kentucky are not well equipped to defend themselves from larger animals, and are often eaten by lizards, birds, spiders, and other scorpions.
PEST STATUS
Although they are able to sting, the scorpions that live in Kentucky rarely interact with people, and are not important pests. They are sometimes found in buildings, however, and can be startling to homeowners. Read more about scorpions in homes in our Scorpion ENTFact.
KENTUCKY SCORPIONS
SOUTHERN DEVIL SCORPION
FAMILY: Vaejovidae | GENUS and SPECIES: Vejovis carolinianus
The Southern Devil Scorpion, Vejovis carolinianus, (also called the Plain Eastern Stripeless Scorpion and the Southern Stripeless Scorpion) is the only kind of scorpion known to live in Kentucky. It is about 2" long when fully grown, and is fairly common in wooded areas in the southeastern United States. They are often seen in rocky areas around Kentucky's lakes and ponds. These scorpions usually hunt at night and hide during the day under rocks, logs, and loose bark.
See a short video of this scorpion at our YouTube channel:
http://www.youtube.com/user/UKEntomology#p/a/u/0/VOC4jF61TDo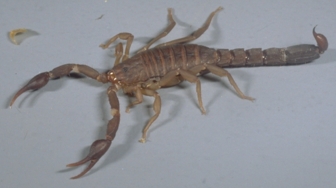 Southern Devil Scorpion (R. Bessin, 2000)
COLLECTING & PHOTOGRAPHY
Although the southern devil scorpion is not very dangerous, no scorpion should be picked up with bare hands. Like spiders, scorpions should be "herded" into a container when captured. A trick for finding scorpions: when illuminated with ultraviolet light (a "black light") a scorpion will "glow in the dark." Because of this, many scorpion hunters work at night with hand-held ultraviolet lights. As with other arachnids, scorpions should be preserved in alcohol.
Southern Devil Scorpions can also be kept as pets: a small aquarium with soil, rocks, and wood on the bottom makes a good habitat. Keep the aquarium humid, but not so moist that mold grows. Kentucky scorpions will eat just about any living creature small enough for them to subdue with their pincers - tiny crickets, worms, and similar creatures are good prey.
SCORPION FACTS
Most scorpions are not very dangerous to people, but there are a few species in the western United States that can be deadly.
Read more about scorpions from around the world at the "Scorpion Files," a website from the University of Trondheim, in Norway.
MYTHS - LEGENDS - FOLKLORE
Small scorpions (like the southern devil scorpion) found in the Southeastern United States are sometimes called "stinging lizards." Strangely, the broad-headed skink, a common lizard found in the Southeastern U.S., is often called a "scorpion." Coincidence?
---
Original document: 25 May 2004
Last updated: 27 Jan 2012

Photos courtesy R. Bessin and B. Newton, University of Kentucky

The Kentucky Critter Files are maintained by Blake Newton, Department of Entomology, University of Kentucky.
Contact: blaken@uky.edu