TAXONOMY

KINGDOM: Animalia | PHYLUM: Arthropoda | CLASS: Insecta | ORDER:Coleoptera | FAMILY:Lucanidae (stag beetles)

Other Names: Lucanids, pinching bugs
WHAT IS A STAG BEETLE?
LIFE CYCLE
ECOLOGY
PEST STATUS
COMMON KENTUCKY STAG BEETLES
COLLECTING & PHOTOGRAPHY
STAG BEETLE FACTS
MYTHS, LEGENDS, AND FOLKLORE
WHAT IS A STAG BEETLE?

Like all beetles, Stag Beetles have chewing mouthparts and hardened front wings (elytra) that meet in a straight line down the back of the abdomen when closed. Stag beetles range from reddish brown to black and have long legs with spiny tibia that are wide at the tips (pictured below left). The antennae are often elbowed with a comb-like club on the end (below right). Stag beetles are similar in appearance to the closely related Bess Beetles (Passalidae), but bess beetles do not have elbowed antennae and stag beetles do not have a horn like bess beetles have. There are 30 different species of stag beetles in the US. Two-thirds of them live in the western half of the country, but Kentucky is home to several species.

Stag Beetle Tibia (B. Newton, 2005)

Stag Beetle Antenna (B. Newton, 2005)

SIZE:Adult body length up to 60mm, most species between 15-35mm.
LIFE CYCLE

Like all beetles, stag beetles have "complete" metamorphosis with egg, larval, pupal, and adult stages. In many stag beetle species, females lay their eggs on or under the bark of dead, fallen trees. Upon hatching, larvae chew their way into the tree and feed on the juices of the decaying wood. Once they complete development (a process which may take several years), the larvae pupate in small chambers in the soil near their food source. When the adult emerges it searches for a mate. The males in some species use their huge jaws to fight each other over females. Adults live for 1-2 years, depending on the species.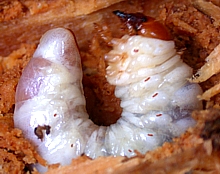 Stag Beetle Larva (B. Newton, 2005)
ECOLOGY
Stag beetles are slow-moving herbivores that climb well and are believed to feed on leaves, sap, and aphid honeydew. Kentucky species are found in wooded areas, but there are a few species from other parts of the world that live on beaches. Not much is known about the feeding habits of adult stag beetles, but they are often seen flying to lights at night during the summer. When disturbed, a stag beetle will rear back and hold its head high with its mandibles open.

Male Elephant Stag Beetle (B. Newton, 2004)

Because they help with the decomposition of dead trees, stag beetle larvae (like termites and other creatures) are a vital part of the forest ecosystem. No healthy hardwood forest in Kentucky is without stag beetle larvae.

Stag beetles and their larvae are food for a variety of animals, including birds, lizards, snakes, toads, raccoons, centipedes, and mustellids (weasels, skunks, etc.).

PEST STATUS
Stag beetles are not considered pests. They are beneficial insects because they help with the decomposition process of dead wood in forests.
COMMON KENTUCKY STAG BEETLES
COMMON STAG BEETLE
GENUS: Psuedolucanus
Common Stag Beetles, also called "Pinching Bugs," are the 2nd largest of the stag beetles, after the Elephant Stags. There are four species of pinching bugs in the genus Psuedolucanus, and all are similar in size and appearance. Females of both the common and elephant stag beetles look almost identical, but males can be distinguished by the mandibles, which are considerably smaller in the male common stag beetle. Common stag beetles are reddish brown and grow to be 22-40mm in length. Like most other stag beetles, these beetles eat decaying wood as larvae; the adults eat little or nothing.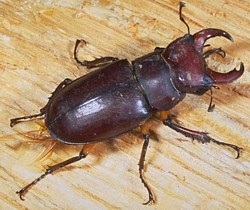 Common Stag Beetle, male (R. Bessin, 2000)
ELEPHANT STAG BEETLE
GENUS:Lucanus
Elephant Stag Beetles, also called "Giant Stag Beetles," are among the largest beetles found in Kentucky, growing to lengths of 60mm. Elephant stag beetles and their larvae are common in forested areas where decaying wood is present. Larvae are about the same length as the adults. Adult males have heads with huge, branching mandibles that are more than half as long as the beetle itself.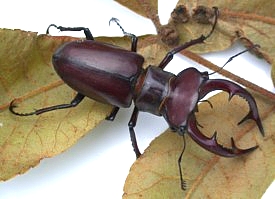 Elephant Stag Beetle, male (L. Thomas, 2005)
Ceruchus piceus
GENUS:Ceruchus
Ceruchus piceus is one of several stag beetle species that are much smaller (8-15 mm) than the beetles pictured above. These small stag beetles can easily be mistaken for beetles in other families (such as ground beetles), but can be distinguished by their elbowed antennae. Thanks to Ken Fujita from Saint Louis University for helping us to identify this stag beetle.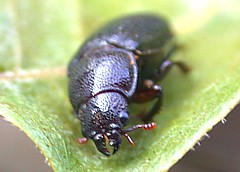 Ceruchus piceus female (B. Newton, 2005)
COLLECTING & PHOTOGRAPHY
Look for stag beetles and their larvae in rotting logs and under loose bark. In Kentucky, these beetles are common in healthy woodlands with lots of fallen hardwood trees. Almost all species will crawl or fly to lights at night. Contrary to their threatening appearance, stag beetles can be handled with little fear of injury, since they can do little more than give a mild pinch. It is relatively easy to get pictures of the larger stag beetles since they are very slow moving, though for the smaller ones it can be more difficult. Often, the best plan is to capture one, place it in a regular refrigerator for about 10 minutes, and then take its picture while it is warming up (this will not harm the beetle). During this period, the beetle will move slowly (it will recover quickly though, so you have to be fast with your camera!).

STAG BEETLE FACTS
Stag beetles are named because of the large branching mandibles, similar to those of the mammalian stags. Also like stags and similar mammals (deer, rams), male stag beetles use these "antlers" to fight with one another for mating privileges.
In Britain, stag beetles were once very common, but are now threatened because of cleared forests and the lack of large fallen hardwood trees.
In Japan, rearing stag beetles is a popular hobby. Take a look at this on-line guide to stag beetle husbandry:
http://www1.kamakuranet.ne.jp/kabu/beet/x-manual-siiku2.htm
MYTHS - LEGENDS - FOLKLORE
Have you heard any myths, legends, or folklore about stag beetles? If so, let us know.
---
Original document: 9 June 2005
Last updated: 23 June 2017

Photos courtesy L. Thomas, R. Bessin, and B. Newton, University of Kentucky
The Kentucky Critter Files are maintained by Blake Newton, Department of Entomology, University of Kentucky.
Contact: blaken@uky.edu