HOUSE FLIES
Including BLOW FLIES, FLESH FLIES, & TACHINID FLIES
Critter Files/Insects/True Flies/House Flies & Their Relatives
By Blake Newton
University of Kentucky Department of Entomology
Common Kentucky House Flies:
TAXONOMY
KINGDOM: Animalia | PHYLUM: Arthropoda | CLASS: Insecta | ORDER :Diptera
FAMILIES: Muscidae (house flies), Calliphoridae (blow flies), Sarcophagidae (flesh flies), Tachinidae (tachinid flies)
WHAT IS A HOUSE FLY?
LIFE CYCLE
ECOLOGY
PEST STATUS
COMMON KENTUCKY HOUSE FLIES
COLLECTING & PHOTOGRAPHY
HOUSE FLY FACTS
MYTHS, LEGENDS, AND FOLKLORE
WHAT IS A HOUSE FLY?
Many fly species in the related families Muscidae, Calliphoridae, Sarcophagidae, and Tachinidae closely resemble one-another. Although only one species (Musca domestica, in the family Muscidae) is properly called the "house fly," many species from these four families are nearly identical in appearance and are commonly found in houses. Some of the flies called "house flies" are really blow flies, flesh flies, or tachinid flies. All of these flies are usually dark colored or metallic, about 3/8" long, robust, and hairy.

Although it can be difficult to determine the family to which any one of these flies belongs, there are common characteristics exhibited by each family which are highlighted in the Common Types section below. These characteristics can aid in identification, but a microscope is essential for accurate identification. For technical details on identifying these flies, consult an accurate guide to insect taxonomy, such as:
Peterson Field Guide to Insects: Borror and White
Introduction To The Study of Insects: Borror, Triplehorn, and Johnson

Like all true flies (order Diptera), house flies and their relatives do not have chewing mouthparts. Instead, most flies in these 4 families have sponging mouthparts which are used to absorb liquids, such as nectar. Others, like stable flies, have piercing mouthparts used to suck blood. Like all insects, flies have 6 legs, 3 body regions (head, thorax, and abdomen) and 2 antennae.

Except for a few species whose larvae are parasitic on other insects, larvae from the "house fly" families are legless, soft-bodied maggots. Maggots are most commonly found in carrion or in animal waste.
SIZE: Adult body length up to 5/8", larvae up to 4/8"
LIFE CYCLE
Like all flies, house flies and their relatives have complete metamorphosis with egg, larval, pupal, and adult stages. The larvae are legless and wormlike. Winged adults are active outdoors during warm months, and indoors all year round.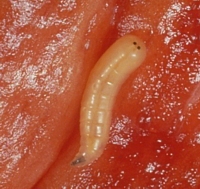 Blow fly larva: a typical maggot (R. Bessin, 2000)
ECOLOGY
Most flies in the families Muscidae (house flies and stable flies), Calliphoridae (blow flies), and Sarcophagidae (flesh flies) breed in carrion, animal wounds, or animal waste. Because of this, they can be found almost anywhere, indoors or out. Maggots serve an important ecological role by breaking down carrion, dung, and other wastes. They are also a food source for birds and many kinds of predatory insects, including carrion beetles and rove beetles. Although some adult flies in these groups, such as stable flies, feed on blood, most adults use their sponging mouthparts to feed on nectar and other liquids. Flies are preyed upon by a variety of animals, including birds, spiders, dragonflies, and other flying insects. Because they sometimes visit flowers for nectar, house flies and their relatives are important pollinators.

Parasitoid Flies: Although most flies in these 4 families lay their eggs in organic waste, some species (especially in the families Sarcophagidae and Tachinidae) lay their eggs inside other insects, where the larvae feed and develop. Some of these flies are important for reducing the numbers of insect pests.
PEST STATUS
Their are many important pests in the families Muscidae, Calliphoridae, and Sarcophagidae. Flies in all of these families are a nuisance when they get into homes and when they occasionally spread diseases to humans. Read about the control of home-invading flies in our ENTFact:
www.uky.edu/Agriculture/Entomology/entfacts/struct/ef624.htm
The family Muscidae also contains Face Flies, Horn Flies, and Stable Flies. These flies harm livestock by causing irritation and spreading disease. Read about these livestock pests in the following ENTFacts:
Face Flies and Pink Eye
Horn Flies and Cattle
Some flies in the families Calliphoridae and Sarcophagidae are capable of infecting open wounds on humans and animals, a condition known as myiasis. Myiasis in humans is rare in the United States, but commonly occurs in tropical regions.
COMMON KENTUCKY HOUSE FLIES, BLOW FLIES, FLESH FLIES, & TACHINID FLIES

THE HOUSE FLY
FAMILY: Muscidae | GENUS and SPECIES: Musca domestica
The House Fly, Musca domestica, pictured below, is one of the most common members of the family Muscidae, and one of the most common flies found in homes. It is about 1/4" long, and gray with 4 black stripes on the thorax. The house fly doesn't bite, unlike face flies, stable flies, and horn flies, which are also in the family Muscidae. Muscid flies and their maggots breed most commonly in manure.

The House Fly,

Musca domestica

(R. Bessin, 2000)

BLOW FLIES
FAMILY: Calliphoridae
Flies in the family Calliphoridae are called "Blow Flies." Many blow flies have distinctive metallic blue or green coloration. Blow flies and their maggots are most commonly associated with decaying animal flesh.

Blow Fly (R. Bessin, 2000)

Blow Fly (R. Bessin, 2000)

FLESH FLIES
FAMILY: Sarcophagidae
Flies in the family Sarcophagidae are the "Flesh Flies," so-called because many species lay their eggs in open wounds. Flesh flies are very common and are difficult to distinguish from the "house fly" in the family Muscidae. A rule of thumb: flesh flies usually have 3 black lines on their thorax; true house flies have 4. Although they are called flesh flies, not all of the flies in this family develop in wounds. Many are associated with carrion, and some are parasites of beetles and other insects.

Flesh Fly (B. Newton 2006)

TACHINID FLIES
FAMILY: Tachinidae
Flies in the family Tachinidae, commonly called "Tachinid Flies," are parasites of other insects. Like parasitic wasps, tachinid larvae live in or on other insects, and some tachinid flies help reduce pest numbers. Tachinid flies come in many shapes, sizes, and colors, but many feature gray stripes and dark-colored bodies, making them very difficult to distinguish from true house flies and flesh flies. Although an insect taxonomy guide and a microscope are needed to accurately identify these flies, tachinid flies are often very robust and hairy when compared to flesh flies and true house flies. Pictured below are 2 common tachinid flies.

Tachinid Fly (R. Bessin, 2000)

Tachinid Fly (R. Bessin, 2000)
COLLECTING & PHOTOGRAPHY
House flies and their relatives are easy to find in Kentucky. House flies, flesh flies, and blow flies are found year round, and are especially common in barns or other areas where animal waste is present. Tachinid flies are common as well, but are more likely to be found in weedy areas and in agricultural crops. None of these flies are very common during winter months. All of these flies are good fliers, and an aerial net is needed to catch one. They do not remain still for long, so sneaking up on one for a photograph requires much patience! Try finding one on a cool summer morning - during these times, the fly will still be warming up its muscles, and will not be as quick to fly.
Fly maggots are common as well, but should be avoided because they can sometimes spread disease.
HOUSE FLY FACTS
CSI Flies: Because blow flies are so common on carrion, their presence on human corpses often plays a part in criminal investigations. Read more about crime-solving blow flies at the Forensic Entomology Pages.
MYTHS - LEGENDS - FOLKLORE
Before scientists completely understood fly biology, it was believed that maggots spontaneously appeared in decaying flesh. Only during the 17th century was it scientifically proven that maggots appeared because of flies laying eggs in carrion.
---
Original document: 25 May 2004
Last updated: 25 May 2004

Photos courtesy R. Bessin and B. Newton, University of Kentucky
The Kentucky Critter Files are maintained by Blake Newton, Department of Entomology, University of Kentucky.
Contact: blaken@uky.edu