CICADAS
Critter Files/Insects/Cicadas
By Blake Newton
University of Kentucky Department of Entomology
Common Kentucky Cicadas:
TAXONOMY
KINGDOM: Animalia | PHYLUM: Arthropoda | CLASS: Insecta | ORDER: Homoptera | FAMILY: Cicadidae (cicadas)
Other Names: jarflies, locusts, harvestflies
WHAT IS A CICADA?
LIFE CYCLE
ECOLOGY
PEST STATUS
COMMON KENTUCKY CICADAS
COLLECTING & PHOTOGRAPHY
CICADA FACTS
MYTHS, LEGENDS, AND FOLKLORE
WHAT IS A CICADA?
Cicadas belong to the insect order Homoptera which also includes aphids, scale insects, mealy bugs, leafhoppers, and many other insects. All insects in Homoptera have piercing and sucking mouthparts and all members are plant-feeders who use their mouthparts to suck fluids from plants.
Note that many scientists and books place cicadas in the insect order Hemiptera instead of Homoptera. In fact, many entomologists have eliminated Homoptera as an order and have placed all of its members within Hemiptera. We have chosen to use Homoptera on this website because many of the identification guides used by Kentucky 4-Hers use Homoptera. However they are classified, all members of Homoptera and Hemiptera are believed to be closely related.
There are several species of cicadas in Kentucky. The most commonly encountered Kentucky cicadas are fairly large (bodies about 1" long), stout-bodied insects with two pairs of transparent wings. Most have black or green coloration.
SIZE: Adult and nymph body length up to about 1" long
LIFE CYCLE
Cicadas go through a simple metamorphosis with egg, nymph, and adult stages. After emerging from the ground during summer months, cicadas quickly mate and the females insert eggs into small twigs on living trees using a knife-like ovipositor (egg laying structure). When nymphs hatch from the eggs, they burrow into the soil where they feed underground on the juices of plant roots. During growth and development, the nymphs shed their skins several times as they get larger. After several years (1-3 years for most annual cicada species and 13 or 17 years for many of the periodical cicada species) the nymphs emerge from the soil, climb onto tree trunks, then shed their skins a final time to become winged adults. Adult cicadas produce hitch-pitched, droning noises. These courtship songs help male and female cicadas find one another, and each species has its own distinct song.

Annual Cicada Nymph (R. Bessin, 2008)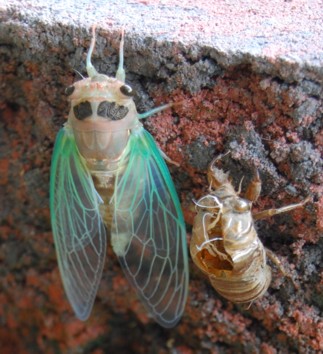 Freshly-emerged cicada adult (A. Osborne, 2009)
ECOLOGY
Cicadas are believed to be full-time herbivores. Adults and nymphs use their needle-like mouthparts to suck juices from plants, although some adults cicadas may not feed at all. Nymphs lead a subterranean existence and feed on the sap of plant roots. Cicada nymphs and adults are a food source for many predators. Nymphs are eaten by tunneling and digging mammals (like moles and skunks) and underground arthropod predators like centipedes and ground beetle larvae. Adults are poor fliers, so they are often captured and eaten by birds and mammals. There are also wasp species (such as the Cicada Killer, Kentucky's largest wasp) that capture cicadas and feed them to their young.
A large periodical cicada emergence (Brood XIV) is expected in Kentucky in 2008. Information about the 2008 emergence is posted and frequently updated on our Brood XIV site.
PEST STATUS
Cicadas are not normally important pests in Kentucky, and they cannot harm humans, pets, or livestock, but during years when large numbers of periodical cicadas emerge from the soil, young trees can suffer significant damage from egg-laying by female cicadas. Large numbers of periodical cicadas can also be a nuisance: their loud calls can be almost deafeningly loud.
Read more about pest cicadas in our ENTfact, Periodical Cicadas in Kentucky.
COMMON KENTUCKY CICADAS
PERIDOICAL CICADAS
GENUS: Magicicada
Periodical Cicadas are so-named because they are not seen every summer. Instead, they are only seen periodically, every few years. Most periodical cicada species in Kentucky have a very predictable development cycle where the nymphs live underground for exactly 13 or 17 years, depending on the species. Several species of periodical cicadas are found in Kentucky. Populations of periodical cicadas are referred to as broods. Periodical cicadas are generally a little smaller than annual cicadas. Also, typical periodical cicadas have red eyes, while annual cicadas have dark green or black eyes. Periodical cicada adults typically emerge in early summer, while annual cicada adults are typically seen in late summer.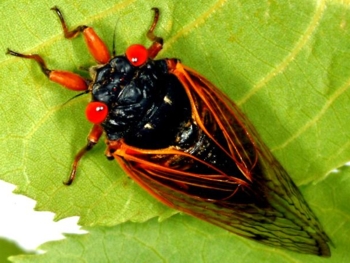 Periodical Cicada Adult (R. Bessin, 2005)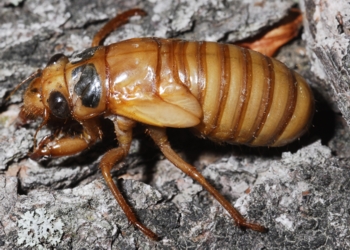 Periodical Cicada Nymph (R. Bessin, 2008)
ANNUAL CICADAS
GENUS: Tibicen, others
Annual Cicada adults are seen every summer in Kentucky. Their nymphs live underground for several years, and their emergence from the ground is not as predictable as it is for periodical cicadas. There are several species of periodical cicadas in Kentucky, many of which belong to the genus Tibicen. Most annual cicadas are larger than periodical cicadas and most have dark green or black bodies and dark eyes. Annual cicadas are typically seen in late summer, and some of them are called "dog day cicadas."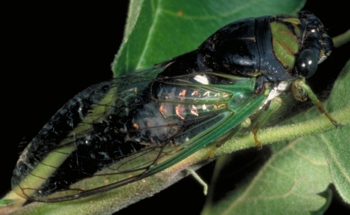 Annual Cicada Adult (R. Bessin, 2008)
Shown below are multiple views of a live annual cicada.
COLLECTING & PHOTOGRAPHY
While they are active, cicadas are very easy to find in Kentucky. Look for annual cicadas in late summer, especially August and September. They are often found in tree branches and on lawns, and can be located by their loud songs. When periodical cicadas emerge in Kentucky, they are impossible to avoid. During years when they are not active, though, they cannot be found at all. Cicada nymphs are almost completely subterranean are are rarely seen except when they emerge to shed their skins and turn into adults, and this usually happens at night. Nymphs and adults are fairly slow moving, so taking a picture is fairly easy.
CICADA FACTS
Some people eat cicadas. Read more about edible cicadas at this online article from the Washington Post.

MYTHS - LEGENDS - FOLKLORE
Cicadas have a variety of regional common names, including jarflies, harvestflies, and locusts. Some types of grasshoppers are also referred to as locusts.
There are several myths and legends concerning cicadas from cultures all over the world. Ancient Greeks told stories of Tithonus, the cicada-man. Cicadas are also a part of the folklore of many Native American tribes. And, like crickets and grasshoppers, some cultures believe that cicadas are good luck when kept as pets.
---
Original document: 1 May 2008
Last updated: 27 Jan 2012

Photos courtesy R. Bessin and B. Newton, University of Kentucky
The Kentucky Critter Files are maintained by Blake Newton, Department of Entomology, University of Kentucky.
Contact: blaken@uky.edu