LACEWINGS
Critter Files/Insects/Lacewings
By Blake Newton
University of Kentucky Department of Entomology
Common Kentucky Lacewings:
TAXONOMY
KINGDOM: Animalia | PHYLUM: Arthropoda | CLASS: Insecta | ORDER:Neuroptera
WHAT IS A LACEWING?
LIFE CYCLE
ECOLOGY
PEST STATUS
COMMON KENTUCKY LACEWINGS
COLLECTING & PHOTOGRAPHY
LACEWING FACTS
MYTHS, LEGENDS, AND FOLKLORE
WHAT IS A LACEWING?
Adult lacewings have 2 pairs of wings and chewing mouthparts. They also have long, thin bodies, and resemble dragonflies, but lacewings hold their wings over their backs when they are not flying: dragonflies are unable to fold their wings over their bodies. As the name suggests, the wings of these insects are lace-like, with a dense network of veins and cross veins. There are two common families of lacewings in Kentucky: green lacewings (family Chrysopidae) and brown lacewings (family Hemerobiidae). Other than color, they are very similar in appearance. Green and brown lacewings are in the order Neuroptera, which also include snakeflies, mantidflies, and other insects. Like all insects, lacewings have 3 body parts, 1 pair of antennae, and 6 legs.
Lacewing larvae resemble small caterpillars, but move more quickly, have longer legs, and have long, sickle-shaped mouthparts.
SIZE: Body length of adult lacewings up to 1" long, larvae up to 1/2".
LIFE CYCLE
Lacewings have complete metamorphosis. After hatching from distinct, stalk-shaped eggs in late spring, the predatory larvae feed and grow for a few weeks, molting several times until they are ready for pupation. In the summer, the pupal stage lasts for a short time, allowing the adults to emerge, feed, mate, and produce additional generations of eggs before the end of the season. Pupae formed in fall will overwinter, with adults emerging and mating in the spring.
Green lacewing eggs (R. Bessin, 2000)

Green lacewing larva (B. Newton, 2003)
ECOLOGY

Larval green and brown lacewings are fast-moving predators that patrol plants for aphids, insect eggs, and other arthropod prey. They are voracious, feeding whenever they find food. Larvae use their sickle-like mandibles to suck fluids from their prey. Lacewing larvae are sometimes eaten by other creatures, such as spiders, lady beetles, and larger lacewings.

Green lacewing larva preying on aphids.

(Image courtesy University of Florida)
Some lacewing larvae cover themselves with debris or with the remains of their prey as a way to camouflage themselves from larger predators.
Green and brown lacewing adults are also predators and feed on the same prey as the larvae: aphids, insect eggs, etc. Because lacewing larvae are well-known for feeding on aphids, they are often called "aphid lions." Lacewing adults do not fly very well, and are often eaten by flying predators such as birds and dragonflies.
PEST STATUS
Because they feed on aphids and other pests, lacewings are beneficial insects. They do not bite or sting.
COMMON KENTUCKY LACEWINGS
GREEN LACEWINGS
FAMILY: Chrysopidae | GENUS: Chrysoperla and others
Green lacewings are the most commonly encountered lacewings in Kentucky. Many of the common green lacewings found in Kentucky, such as the one pictured below, are in the Chrysoperla genus. They are typically about 1" long with lime-green bodies and golden heads.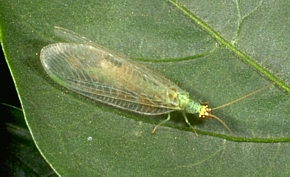 Green lacewing adult in the
Chrysoperla
genus (R. Bessin, 2000)
BROWN LACEWINGS
FAMILY: Hemerobiidae
Brown lacewing adults look and behave very much like green lacewing adults, but they are tan in color and are not encountered as often as green lacewings. Note that we had previously reported here that brown lace wing larvae are sometimes called "trashbugs" and that they carry debris on their bodies. This was based on old information, and is probably not true (although the larvae of green lacewings will carry debris).

Brown Lacewing Larva (Photo David Cappaert, Michigan State University, courtesy
Bugwood
network)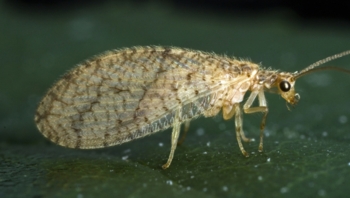 Brown Lacewing Adult (Photo David Cappaert, Michigan State University, courtesy
Bugwood
network)
COLLECTING & PHOTOGRAPHY
During certain times of the year, especially early and late summer, green lacewing adults are abundant and easy to find in Kentucky. Look in field crops, fence rows, and other places where weeds and shrubs are growing. Green lacewings do not fly very fast, so they are often easy to capture. They will also remain still for a few moments while they are eating, providing a good opportunity for a photograph. Green lacewing larvae are common all summer long. They can be found on weeds and on crop plants like corn and soybean where they patrol for aphids. When collected, lacewing larvae (like all insect larvae) should be preserved in alcohol.
Brown lacewings are found in the same habitats as green lacewings, but they are less commonly encountered. Remember that some lacewing larvae are camouflaged in debris and can be difficult to spot.
LACEWING FACTS
Green lacewings are beneficial insects that help farmers by eating aphids and other pests. Read more about how scientists and farmers at the University of Wisconsin are finding out better ways to use lacewings as biological control agents:
http://www.entomology.wisc.edu/mbcn/kyf103.html
MYTHS - LEGENDS - FOLKLORE
Have you heard any myths, legends, or folklore about lacewings? If so, let us know.
---
Original document: 25 May 2004
Last updated: 21 Apr 2008

Photos courtesy R. Bessin and B. Newton, University of Kentuck, except Lacewing Larva w/Aphids: University of Florida; used with permission.
The Kentucky Critter Files are maintained by Blake Newton, Department of Entomology, University of Kentucky.
Contact: blaken@uky.edu