MAYFLIES
Critter Files/Insects/Mayflies
By Blake Newton
University of Kentucky Department of Entomology
Common Kentucky Mayflies:
TAXONOMY
KINGDOM: Animalia | PHYLUM: Arthropoda | CLASS: Insecta | ORDER: Ephemeroptera (mayflies)
WHAT IS A MAYFLY?
LIFE CYCLE
ECOLOGY
PEST STATUS
COMMON KENTUCKY MAYFLIES
COLLECTING & PHOTOGRAPHY
MAYFLY FACTS
MYTHS, LEGENDS, AND FOLKLORE
WHAT IS A MAYFLY?
Adult mayflies have 2 pairs of wings that are held over their bodies when they are not flying. The front pair of wings is much longer than the back pair (which are tiny or absent in a few species). Mayflies have 2 or 3 long "tails" that extend from the tips of their abdomens. Mayfly adults do not have functional mouthparts. Young mayflies, called "naiads", are fully aquatic. They are flattened and have 3 hair-like tails on the tips of their abdomens, along with leafy gills all along the sides of their abdomens. Unlike adults, mayfly naiads have chewing mouthparts. As with all insects, mayflies have 6 legs, 3 body parts, and 2 antennae.
SIZE: Most mayfly adults and naiads are ½" - 1" long.
LIFE CYCLE
Mayflies have incomplete metamorphosis. Eggs are placed underwater by adult mayflies. After hatching, naiads may live underwater for several years before moving to the water surface to molt into "subimagos." The subimago is a stage in-between the naiad and the adult mayfly: like the adult, it has wings, but it is unable to mate. The subimago usually molts into a full-grown adult in a few hours. Adults only live for a day or two, just long enough to mate and lay eggs.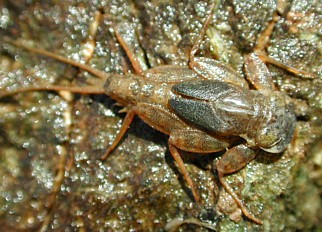 Mayfly Naiad (B. Newton 2002)
ECOLOGY
Most mayfly naiads are omnivores, feeding on algae, underwater plants, debris, and tiny aquatic animals. They are most commonly found clinging to the undersides of rocks in fast-flowing streams, but a few species are found in ponds and lakes. Although mayflies used to be very common, the naiads are especially sensitive to pollution, and these days they occur only in very clean water. Mayfly adults do not feed, but they are an important food source for birds and fish. Mayfly mating often occurs in a giant swarm, with males using their enlarged front legs to grab and hold females. After mating, females are ready to lay eggs within just a few hours.
PEST STATUS
Mayflies are not normally considered pests. Occasionally, many mayflies will emerge from a body of water at the same time, which leads to piles of foul-smelling mayflies that all die at the same time.
COMMON KENTUCKY MAYFLIES

FAMILIES: Ephemeridae, Heptaginiidae, others
There are several common mayfly species in Kentucky, but most are very similar in appearance and behavior. It is difficult even for experts to tell them apart. The mayfly pictured below right was photographed near Laurel River Lake in Kentucky. It is a very small species, only about 1/4" long, and is an example of a mayfly that lacks rear wings.

Mayfly (R. Bessin 2001)

Mayfly (B. Newton 2002)
COLLECTING & PHOTOGRAPHY
Despite their name, mayflies can also be found in June, July, and August (not just May!). Look for them near fast flowing streams and lakes. Mayflies will often come to lights on summer nights if there is water nearby. Because adult mayflies usually emerge from the water at very specific times of the year, depending on the species, they are very common at certain times, impossible to find at others. Mayfly naiads, on the other hand, can be found at almost any time of the year in clear streams. Pick up a rock from a stream, look under it, and you'll probably see a mayfly naiad. Mayfly naiads, like dragonfly and damselfly naiads, should be preserved in alcohol.
Unlike some other aquatic insects, mayfly naiads usually do not do well in home aquariums. Most mayflies need running water with lots of oxygen- a condition that is difficult to maintain with an aquarium.
MAYFLY FACTS
Mayflies have survived mostly unchanged for 350 million years according to scientists. So they were around before dinosaurs even existed!
Like many aquatic insects, mayfly naiads need clean water to live. Because of this, scientists can tell if a stream is polluted or not based on whether mayfly naiads are present. Read more about using insects to determine water quality: http://www.aces.edu/pubs/docs/A/ANR-1167/ANR-1167.pdf
MYTHS - LEGENDS - FOLKLORE
Have you heard any myths, legends, or folklore about mayflies? If so, let us know.
---
Original document: 25 May 2004
Last updated: 25 May 2004

Photos courtesy R. Bessin and B. Newton, University of Kentucky
The Kentucky Critter Files are maintained by Blake Newton, Department of Entomology, University of Kentucky.
Contact: blaken@uky.edu