TAXONOMY
KINGDOM: Animalia | PHYLUM: Arthropoda | CLASS: Insecta | ORDER : Hymenoptera
FAMILY: Vespidae | SUBFAMILIES: Polistinae (paper wasps), Vespinae (hornets and yellowjackets)
WHAT ARE HIVE WASPS?
LIFE CYCLE
ECOLOGY
PEST STATUS
COMMON KENTUCKY HIVE WASPS
COLLECTING & PHOTOGRAPHY
HIVE WASP FACTS
MYTHS, LEGENDS, AND FOLKLORE
WHAT ARE HIVE WASPS?
Paper Wasps, Hornets, and Yellowjackets are a group of closely related wasps in the family Vespidae. Like all wasps, these have four transparent or translucent wings and chewing mouthparts. All of the wasps mentioned on this page live in social colonies in above- or below-ground hives. It can be difficult to distinguish hive wasps from some of the larger solitary wasps. The best way is to observe behavior: hive wasps will remain close to their hive and return to it often during their daily routine. Also, many hive wasps have distinct patterns of red-and-black, white-and-black, or yellow-and-black (although some solitary wasps have similar color patterns).
SIZE: Adult body length up to 1 1/8"
LIFE CYCLE
Like all wasps, paper wasps, hornets, and yellowjackets have complete metamorphosis with egg, larva, pupa, and adult stages. Because these wasps live in social colonies, all of the immature life stages are kept inside the hive and are rarely seen. Hive wasp larvae are soft and maggot-like and live inside small cells within the hive, where they also pupate. Eggs are laid by the dominant queens. The majority of the members of a hive are female. Only a few males appear each year, and their role is to fertilize queens. Queens lay eggs during warm months. When the eggs hatch, the helpless larvae are fed by workers. During winter months, all of the colony dies except for a few egg-baring females who hide in protected areas until the following spring. Each hive or nest consists of very closely related siblings. Wasps from different hives do not work together.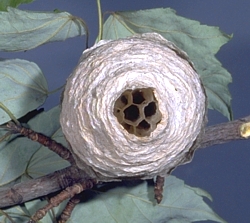 Hornet Nest (R. Bessin, 2002)
ECOLOGY
Paper wasps, hornets, and yellowjackets are social insects that live and work together in hives. Workers patrol the local environment for food and bring it back to the hive to feed larvae and other hive members. Hive wasps are omnivores, and gather a wide variety of food, but insects and other arthropods are a primary food. Hornet, yellowjacket, and wasp hives often have dozens or hundreds of members. Members of a single hive can catch and eat thousands of insects, including pest species. In addition to gathering food, workers also labor to build hives. Hives are complex structures made of a paper-like substance that the wasps make from partially chewed wood. Worker wasps are equipped with stingers, and they use these weapons to defend their hives from predators (wasp larvae are a very good food source for many predators, including mammals, birds, and insects). Hive wasps are very tough, but they are sometimes killed and eaten by birds, spiders, and other insects.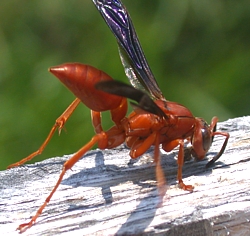 A paper wasp gathering wood for the nest (B. Newton, 2005)
PEST STATUS
Although paper wasps, hornets, and yellowjackets eat lots of pest insects and are often beneficial to humans, hives that exist close to human environments can cause problems. In fact, wasps, hornets, and yellowjackets can be a serious medical concern, especially for people who are allergic to their stings. Read more about the concerns of hive wasps at our online factsheet:
http://www.uky.edu/Ag/Entomology/entfacts/struct/ef620.htm
COMMON KENTUCKY HIVE WASPS

PAPER WASPS
SUBFAMILY: Polistinae | GENUS: Polistes, others
Paper Wasps are among the most common insects encountered around homes. Paper wasp nests are usually built on tree limbs and under the eaves of homes. Unlike the nests of hornets and yellowjackets, paper wasp nests are not completely enclosed. Paper wasp nests are also usually smaller than the nests of hornets and yellowjackets. Their are several paper wasp species in Kentucky, and most are about 1" long with vivid red, black, orange, and yellow patterns.

Paper Wasp (R. Bessin, 2000)

Paper Wasp Nest (R. Bessin, 2000)

HORNETS
SUBFAMILY: Vespinae
The most common Hornet in Kentucky is probably the Bald-Faced Hornet (3/8" long), Dolichovespula maculata (recently changed from Vespula maculata), pictured below. These distinctive black-and-white wasps build large nests in the limbs of trees and other such locations. Kentucky is also home to the Giant Hornet, also called the European Hornet, Vespa crabo. The giant hornet is our largest hornet, reaching lengths of 1 1/8." It is very similar in appearance to the smaller yellowjacket. The European Hornet is not a native insect, but was introduced to the United States in the 1800s. Giant hornets often build their nests in enclosed spaces, such as hollow trees, animal burrows, and wall voids in buildings. Hornets are typically not as common around homes as paper wasps and yellowjackets, preferring to make their nests in forests, meadows, and rural areas.

Bald-faced Hornet (R. Bessin, 2000)

YELLOWJACKETS
SUBFAMILY: Vespinae | GENUS: Vespula & Dolichovespula
Yellowjackets are close relatives of hornets and are in the same subfamily, Vespinae. These wasps have a bold black-and-yellow pattern and are usually 1/2-3/4" long. They build their nests underground in animal burrows or in hollow logs or wall voids. Yellowjackets are common around humans, and sometimes cause problems at picnics and other outdoor activities.

Yellowjacket (R. Bessin, 2000)
COLLECTING & PHOTOGRAPHY
Hive wasps are common and easy to find around homes and other buildings where they visit flowers for nectar and patrol plants for insect prey. Because of their stings, great care must be taken when adding a hive-dwelling wasp to a collection or trying to get a picture. If you are allergic to wasp, ant, or bee stings, you should never try to catch a hive wasp: ask your doctor to test whether or not you are allergic. Hive wasps should never be touched, and should be caught only in a net and transferred immediately to a sturdy glass container. It is usually safe to get a picture of a hunting worker wasp or hornet as long as the insect is not touched or disturbed.
HIVE WASP FACTS
The stings of worker wasps, hornets, and yellowjackets are modified egg-laying structures called "ovipositors." Because workers do not lay eggs, their ovipositors are used only for stinging.
Although all of the wasps mentioned on this page are in the family Vespidae, not all wasps in this family live in hives. Some are solitary and live alone in small burrows.
MYTHS - LEGENDS - FOLKLORE
It is sometimes said that hive wasps will not sting at night. This is not true! Although hive wasps are typically less active at night, they WILL sting to defend their hives.
---
Original document: 25 May 2004
Last updated: 21 Apr 2008

Photos courtesy R. Bessin and B. Newton, University of Kentucky
The Kentucky Critter Files are maintained by Blake Newton, Department of Entomology, University of Kentucky.
Contact: blaken@uky.edu