COBWEB SPIDERS
Critter Files/Spiders/Cobweb Spiders
By Blake Newton
University of Kentucky Department of Entomology
Cobweb Spiders can be difficult to distinguish from other kinds of web-building spiders, especially orb weavers.

The main difference: webs made by cobweb spiders appear messy and disorganized, unlike the organized, circular webs made by orb-weavers and many other web-building spiders. In addition, cobweb spiders often have abdomens that are comparatively larger and more spherical than orb-weavers. Cobweb spiders have 8 eyes and (like all spiders), they have 8 legs, 2 body parts, and fang-like mouthparts called "chelicerae."

Typical Cob Web
SIZE: Body length up to about 1/2"
LIFE CYCLE
Simple metamorphosis: like all spiders, young cobweb spiders hatch from eggs and look like tiny adults. They shed their skin as they grow. Many cobweb spiders live for less than 1 year. At the end of the summer, many types of female cobweb spiders produce a large amount of eggs that they wrap in an eggsac made of silk. In many species, the young spiders hatch in the spring.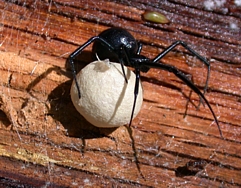 Black widow spider with eggsac (B. Newton, 2004)
ECOLOGY
Cobweb spiders are very common in Kentucky and can be found almost anywhere that they can find weeds, fences, trees, walls, or other upright structures to build their webs. Cobweb spiders are predators, and they will eat almost anything that is small enough to get trapped in their webs. Like most web-building spiders, cobweb spiders tend to have poor vision--they don't need to see very well because they can "feel" prey when it gets caught in their webs.

PEST STATUS
Most cobweb spiders are considered beneficial to humans. They eat flies, mosquitoes, and other creatures. However, The black widow spider is a cobweb spider, and its bite can be dangerous. Read more about black widow and other common spiders of medical significance by visiting our ENTfact: Common Spiders Found Around Homes and Buildings.
No other Kentucky cobweb spiders are known to have venom that is medically significant to humans (remember, though, that all spiders can be dangerous if a person is allergic or sensitive to spiders and insects).
COMMON KENTUCKY COBWEB SPIDERS
There are many different species of cobweb spiders in Kentucky. Most are similar in shape, but exhibit a wide array of color patterns. Shown here are some of the most common and distinctive varieties.

BLACK WIDOWS
GENUS: Latrodectus
Black Widows, with their shiny black bodies and bright red markings, are among our most distinctive cobweb spiders. Below left is a female black widow. The male is below right. Males have a more vibrant pattern on their abdomen than females, with many red and white spots. Male black widow spiders are rarely encountered, and are not known to bite humans. There are two species of black widow found in Kentucky, the Northern and Southern Black Widow. Both species have shiny black bodies with red markings, and both are in the genus Latrodectus. Black widows are fairly large cobweb spiders, with body lengths up to about 1/2."


Female Black Widow Spider (R. Bessin, 2000)

Male Black Widow Spider (B. Newton, 2004)

AMERICAN HOUSE SPIDER
GENUS and SPECIES: Parasteatoda tepidariorum
The American House Spider, Parasteatoda tepidariorum (previously Achaearanea tepidariorum), also called the Common House Spider, is a typical cobweb spider. It is also one of the most commonly encountered cobweb spiders in urban areas, and can be found in almost every garage, barn, and attic in Kentucky. It is harmless, and it catches and eats flies, mosquitoes, and other pests that enter buildings. It is an average-sized cobweb spider, with a body length up to about 1 cm.

American House Spider (R. Bessin, 2000)

THERIDULA sp.
GENUS: Theridula
Pictured below is a tiny (5 mm) cobweb spider in the Theridula genus. It is commonly found under leaves in meadows and other sunny, weedy habitats. We have other spiders in this genus as well. Most have similar patterns and body shapes, but with different color combinations. One species has a yellow spot on a red background, with black legs.


Cobweb spider in the

Theridula

genus (B. Newton 2003)

Spintharus flavidus
GENUS and SPECIES: Spintharus flavidus
While many types of cobweb spiders have predominantly dark coloration, a few species are brightly colored.Pictured below is Spintharus flavidus, a medium-sized (body apx 5mm long) cobweb spider that is found in low vegetation and at the woods edge. It has vivid black, red, and yellow markings on the abdomen, while the body color ranges from pale yellow to bright yellow-green. This image was taken at the Land Between The Lakes area by John Hewlett from Murray State University in August 2017.


Spintharus flavidus

with prey (J. Hewlett, 2017)
COLLECTING & PHOTOGRAPHY
Cobweb spiders are very common in all kinds of vegetation. They can also be found near buildings. Cobweb spiders and orb weavers often inhabit the same types of habitats. If anything, cobweb spiders may be more common and easier to find than orb-weavers, especially around buildings and other man-made structures.
As long as you do not disturb them, cobweb spiders will remain still for a photograph. Remember: no spider should ever be picked up by hand. All spiders are best preserved in alcohol.
COBWEB SPIDER FACTS
Although many kinds of web-building spiders are able to chew their food, cobweb spiders are only able to suck fluids out of their prey.
MYTHS - LEGENDS - FOLKLORE
It is widely believed that black widow females always eat males after mating. Although this sometimes happens, black widow males are often able to escape before being eaten. Sometimes, the female makes no attempt to eat the male.

---
Original document: 25 May 2004
Last updated: 23 Jan 2018

Photos courtesy R. Bessin and B. Newton, University of Kentucky
The Kentucky Critter Files are maintained by Blake Newton, Department of Entomology, University of Kentucky.
Contact: blaken@uky.edu