NURSERY-WEB & FISHING SPIDERS
Critter Files/Spiders/Nursery-Web & Fishing Spiders
By Blake Newton
University of Kentucky Department of Entomology
Nursery-web and fishing spiders are large, hairy spiders in the family Pisauridae. These spiders are typically patterned with black, brown, white, and gray markings. Although difficult to distinguish from wolf spiders, nursery-web and fishing spiders are often slimmer in build than commonly encountered wolf spiders. Like all spiders, nursery-web and fishing spiders have 8 legs, 2 body parts, and fangs (called "chelicerae"). Nursery-web and fishing spiders have 8 eyes.
SIZE: Body length up to about 1"
LIFE CYCLE
Simple metamorphosis: like all spiders, young nursery-web and fishing spiders hatch from eggs and look like tiny adults when they are born. They shed their skin as they grow. After laying her eggs, a female nursery-web or fishing spider will wrap them into a silk eggsac. She will then carry the eggsac in her chelicerae until the eggs hatch. When hatching time arrives, the female will build a "nursery" in which the eggs can hatch. The nursery often consists of a few leaves woven together with silk. This forms a protective pocket into which the eggsac is placed.

ECOLOGY
Many spiders in the Pisauridae family are active hunters that search the ground for insects, worms, spiders, and other small creatures. Others are ambush predators that wait motionless for prey to come to them. Fishing and nursery-web spiders are common in forests and meadows, especially near streams and creeks, where they patrol rocks and pebbles at the water's edge. Fishing spiders, in particular, are very common around ponds and streams, and will even hunt for prey on the water's surface, often by holding onto vegetation at the water's edge. Pictured below is a fishing spider (Dolomedes genus) feeding on a small frog. This image was sent to us by Devin Cherry in Western Kentucky.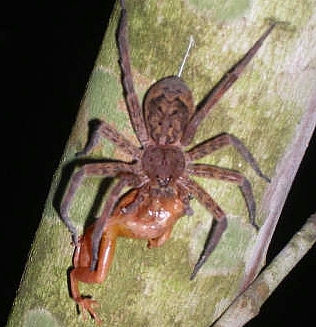 Fishing Spider preying on a frog (D. Cherry, 2008)
PEST STATUS
People who live close to wooded habitats may see nursery-web or fishing spiders that wander into their homes from time to time. This can be frightening, especially since the spiders are sometimes very large. Although nursery-web and fishing spiders are big enough to give a painful bite, they are not considered dangerous.

COMMON KENTUCKY NURSERY-WEB & FISHING SPIDERS
NURSERY-WEB SPIDERS, Pisaurina spp.
GENUS: Pisaurina
Several species of Nursery-Web Spiders live in Kentucky and all belong to the genus Pisaurina. Pictured below is Pisaurina mira. It is among the most commonly encountered nursery-web spiders in Kentucky. P. mira is about 1/2" long and often has a distinctive grey or brown stripe that runs along its cephalothorax and abdomen. Colors and patterns vary among individuals, however, and some specimens have a mottled pattern similar to the fishing spiders (pictured below).


Nursery Web Spider,

Pisaurina mira

(B. Newton, 2002)

FISHING SPIDERS, Dolomedes spp.
GENUS: Dolomedes
All Fishing Spiders in Kentucky belong to the Dolomedes genus. Common Dolomedes species in Kentucky are mottled with brown, gray, white, and black. One very large Kentucky fishing spider is Dolomedes tenebrosus (below left), which has a legspan of up to about 3". It is commonly found on the trunks of trees that are near water. The Six-Spotted Fishing Spider (Dolomedes triton, below right), is slightly smaller than D. tenebrosus, but it is nevertheless a very large spider. It is often seen hunting on the water's surface in ponds and slow-moving streams. Pictured below center is a male D. vittatus photographed at Tom Wallace Park in Louisville. Thanks to June Oakes for donating this image to us!


Fishing Spider,

Dolomedes tenebrosus

(R. Bessin, 2000)

Six-Spotted Fishing Spider,

D. triton

(B. Newton, 2003)

Fishing Spider,

Dolomedes vittatus

, male (J. Oakes, 2007)
COLLECTING & PHOTOGRAPHY
Look for nursery-web spiders and fishing spiders in wooded areas near streams and creeks. Nursery-web spiders are often found in low vegetation in meadows near the forest edge. Fishing spiders are often found close to the ground, especially during the day when they often hide under rocks and debris near stream beds. At night, large fishing spiders can often be found on tree trunks. If you don't disturb them, nursery web and fishing spiders will often stay still for a picture. If you collect one, remember: even though spiders in this family aren't very dangerous, they can possibly bite. Also, all spiders should be preserved in alcohol.
NURSERY-WEB & FISHING SPIDER FACTS
Some fishing spiders will partially submerge themselves underwater for brief periods of time to catch aquatic prey.
Although nursery-web and fishing spiders resemble tarantulas, they are not closely related. Nursery-web and fishing spiders are closely related to wolf spiders.
Fishing spiders in other parts of the world can grow very large! Read about this one from South America: http://en.wikipedia.org/wiki/Ancylometes
MYTHS - LEGENDS - FOLKLORE
Do you know any myths, legends, or folklore about fishing spiders or nursery web spiders? If so, let us know.
---
Original document: 25 May 2004
Last updated: 1 Feb 2010

Photos courtesy R. Bessin and B. Newton, University of Kentucky
The Kentucky Critter Files are maintained by Blake Newton, Department of Entomology, University of Kentucky.
Contact: blaken@uky.edu