JUMPING SPIDERS
Critter Files/Spiders/Jumping Spiders
By Blake Newton
University of Kentucky Department of Entomology
Among Kentucky spiders, Jumping Spiders may be the easiest to recognize. Jumping spiders have a very distinctive, flat-faced, big-eyed appearance that is difficult to confuse with other kinds of spiders. They also have a unique, herky-jerky way of moving. Most are small and hairy. Like all spiders, jumping spiders have 8 legs, 2 body parts, and no antennae. Eight eyes are present on jumping spiders, although 1 pair is often so small that it appears as though there are only 6 eyes. One pair of eyes is always very large and directed forward, almost like human eyes.
SIZE: Body length up to about 1/2"
LIFE CYCLE
Simple metamorphosis: like all spiders, young jumping spiders hatch from eggs and look like tiny adults. They shed their skin as they grow. Many female jumping spiders construct a silk case for their eggs and guard them until they hatch. The egg case is often built off of the ground in leaves, on branches, or in crevices on the sides of buildings.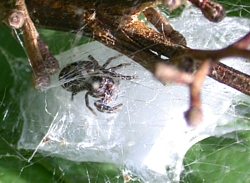 Female jumping spider guarding eggsac (B. Newton, 2004)
ECOLOGY

Jumping spiders are fast-moving, active hunters. Because they are excellent climbers and jumpers, they are able to search for prey in many different locations. Some hunt on the ground, while others search tree trunks and plants for prey. Many are also common on man-made structures like fence posts and the sides of buildings. Jumping spiders are also common inside barns and sheds.


Jumping spider attacking soldier beetle.
(R. Bessin, 2001)
Jumping spiders are among the fastest creatures in the arthropod world. Their speed and keen eyesight allow them to pounce on flies, crickets, and even other spiders with amazing accuracy. Many species of jumping spiders have colors that allow them to blend in with their surroundings. This makes it easier for them to stalk prey, and also helps them to avoid being eaten by birds, wasps, and other predators.
PEST STATUS
Jumping spiders are not normally pests, but they often wander into homes. They can bite, but they are not considered dangerous. Because they sometimes get into homes, jumping spiders are occasionally confused with the dangerous brown recluse spider. Take a look at the Case File for Brown Recluse Spiders, and our Brown Recluse ENTfact to learn how to identify Brown Recluse spiders.
COMMON KENTUCKY JUMPING SPIDERS
There are many different species of jumping spiders in Kentucky. Most of them are similar in size and shape, but there are many different colors and patterns among jumping spiders. Although we can't show them all here, we will try to spotlight some of the most common and most colorful. Thanks to Wayne Maddison from the University of British Columbia for help with identification of some of the jumping spiders pictured below. To learn more about jumping spiders, visit Wayne's Salticidae section of the Tree of Life web project at:
http://tolweb.org/tree?group=Salticidae

Phidippus sp.
GENUS: Phidippus
Jumping spiders in the Phidippus genus are some of the largest in the family. Many species are black with red or white markings, and some have metallic green chelicerae. Below left is a typical Phidippus species. The Bold Jumping Spider, Phidippus audax, (below right) also called the "Daring Jumping Spider" and the "Bold Jumper," is one of the largest jumping spiders found in Kentucky (1/2"). It is also one of the most commonly seen jumping spiders, and is often found hunting around homes and barns and on fences. This spider is large enough to bite, but its bite is not dangerous except to people with severe allergies. This spider is easy to recognize by its large size and metallic green chelicerae. The bold jumping spider is shown feeding on a beetle above in the Ecology section. Shown below (center) is a female Phidippus whitmani. P. whitmani is another large (1/2") jumping spider. While the female is tan with white markings, the male looks very different, with grey legs and an orange/red abdomen and thorax.

Phidippus sp. (B. Newton, 2005)

Bold Jumping Spider, Phidippus audax (B. Newton, 2004)

Phidippus whitmani, female (B. Newton, 2004)

Platycryptus
GENUS: Platycryptus
Typical jumping spiders in the genus Platycryptus are gray with black markings. Pictured below is a female Platycryptus undatus. It was about 1/2" long and is common in Kentucky.

Platycryptus undatus, female (B. Newton, 2004)

DIMORPHIC JUMPING SPIDER
GENUS and SPECIES: Maevia inclemens
The Dimorphic Jumping Spider, Maevia inclemens, is so-called because males of the species come in two forms: one form looks like the one pictured below left, and the other form resembles a thinner version of the female, below right. These jumping spiders are common in urban areas and meadows, and are about 1/4".

Male dimorphic jumping spider (B. Newton, 2004)

Female dimorphic jumping spider (B. Newton, 2004)

Paraphidippus aurantius
GENUS and SPECIES: Paraphidippus aurantius
Pictured below is Paraphidippus aurantius. This distinct jumping spider is about 3/8".

Paraphidippus aurantius (B. Newton, 2006)

Paraphidippus aurantius feeding on a fly (B. Newton, 2006)

HENTZIA sp.
GENUS: Hentzia
Shown below is a male Hentzia mitrata, photographed in Bullitt Co. Kentucky. Male jumping spiders in the Hentzia genus have very large chelicerae.


Hentzia mitrata (B. Newton, 2004)

ANT-MIMIC JUMPING SPIDERS
GENUS: Tutelina, others
There are several species of jumping spiders that resemble ants. Most of these spiders also feed on ants: by mimicking ants - in both behavior and appearance - these jumping spiders can "infiltrate" a group of ants and pick them off one by one because ants have trouble identifying these spiders as predators. Tutelina formicaria, shown below, was photographed in Rowan Co. Kentucky. It can be found among ants in woodland settings. Sometimes, before capturing its prey, this spider seems to interact with an ant: the spider touches its front legs against the ants antennae, much in the same way that two ants will communicate with each other. Perhaps this behavior is part of the mimicry that these spiders employ to confuse and capture ants.

Tutelina formicaria
(B. Newton, 2004)

Tutelina formicaria, feeding on an ant
(B. Newton, 2004)
COLLECTING & PHOTOGRAPHY
Jumping spiders are very common around buildings, gardens, homes, and most other places as well. Although jumping spiders are easy to find, they can be hard to catch - as soon as you think you have one cornered, it has jumped away. As with all spiders, never pick up a jumping spider with your bare hands.Use a jar or a similar container.
Taking pictures of jumping spiders is also difficult because the spiders do not stand still for very long. Make sure you have a lot of light and a fast film speed when trying to take close-up pictures of jumping spiders.

JUMPING SPIDER FACTS
Jumping spiders are believed to have the best eyesight of all spiders, maybe of all arthropods.
Jumping spiders do not build a web to catch prey. Instead, they use their silk in a different way. When jumping spiders jump, they always attach a silk line. That way, if they miss their target they they can climb back up and try the jump again.

JUMPING SPIDER LINKS
Because jumping spiders are so fascinating, there are many webpages devoted to them. Here are some of the best.
Wayne Maddison, a scientist who does research with jumping spiders, has put together a fantastic web page all about jumping spiders. Click here to access his jumping spider section on the Tree of Life web project. You'll find pictures of many species, in-depth discussions of jumping spider eyesight and courtship, and technical information on how to identify jumping spiders.
Also, be sure to see the page on Australian jumping spiders by Ed Nieuwenhuys. He has many other kinds of spiders featured on his website, too.
Visit the Jumping Spider Section of Bugguide for more common North American jumping spiders.
MYTHS - LEGENDS - FOLKLORE
Do you know any myths, legends, or folklore about jumping spiders? If so, let us know.
---
Original document: 25 May 2004
Last updated: 7 Feb 2008

Photos courtesy R. Bessin and B. Newton, University of Kentucky
The Kentucky Critter Files are maintained by Blake Newton, Department of Entomology, University of Kentucky.
Contact: blaken@uky.edu