Do you love English? Do you want to become a teacher?
In the Secondary English Education Program you'll be equipped to teach students grades (8-12) critical skills in reading, writing, speaking & listening, digital and non-print media, and literary studies. You will also learn to build classroom environments and meaningful experiences to engage and motivate adolescents to become critical thinkers, strong readers, and skilled communicators.
Our program includes hands-on, real-world experiences. You will learn about the language arts and literacy while working with students in actual public school classrooms. Please note that this program is the initial step for students to enroll in our one-year Master's with Initial Certification Program (MIC) in order to be eligible for teaching certification.
This program is for you if you are:
Intellectually curious, open, and excited to learn;
Invested in learning new ideas and methods for a long, fulfilling career;
Enthusiastic about using and understanding language arts in daily life;
Willing to challenge and refine personal and traditional beliefs;
Dedicated to teaching equitably for ALL learners, not just some;
Committed to teaching language arts to adolescent students (grades 8-12).
Careers
Grow Your Future
You will complete coursework strategically selected to support your successful work in teaching literature, reading, writing, rhetoric, linguistics, English as a Second Language, special needs instruction, educational technology, and more.
You will learn both traditional practices and state-of-the-art methods and approaches to teaching high school English, and use your knowledge in balanced ways to prepare all students you work with for success in and after high school.
Teaching opportunities in English Education:
Literature
Reading, Writing, & Rhetoric
Linguistics
English as a Second Language
Special Needs Instruction
Educational Technology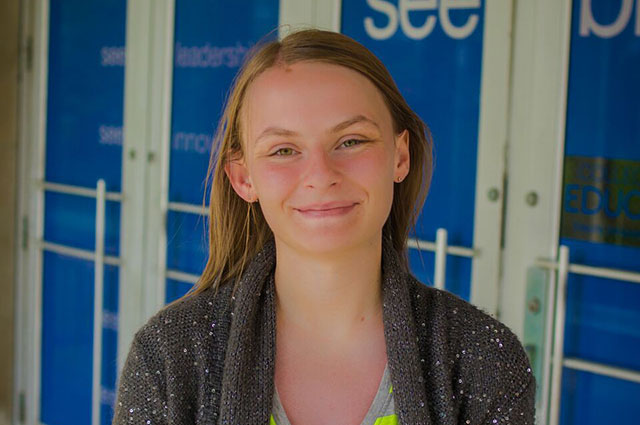 "Nothing is more rewarding than being able to make a positive impact on someone's life, leading me to the career path of a high school English teacher through the College of Education."
Secondary English Education Graduate
Apply for College of Education Scholarships
In addition to automatic and competitive scholarships from the University of Kentucky, our students are also eligible for a variety of scholarship awards from the College of Education.
For incoming freshmen the scholarship application deadline is February 1.
For transfer and current students the scholarship application deadline is April 5.
---