You can inspire students to think critically about current events and better comprehend the world around them.
We teach future social studies teachers to think about facts, such as historical dates, events, names, and places, as if they are building blocks. As a social studies teacher, you can help students use these blocks to put current events into context and build a broader understanding.
It is important to give students intentional exposure to cultures they see through globalization in the world today. The framework for teaching social studies, developed by faculty in our program, reflects this.
Why Choose UK Secondary Social Studies Education?
You will use your knowledge in balanced ways to prepare all students you work with for success in and after high school.
You will be equipped and inspired to prepare your future students (grades 8-12), teaching history, anthropology, economics, geography, political science, psychology, and sociology.
You will be taught by leading faculty in the field.
Please note: The program leads to a bachelor's degree, but you also need to complete our Master's with Initial Certification (MIC) program to become certified in the state of Kentucky.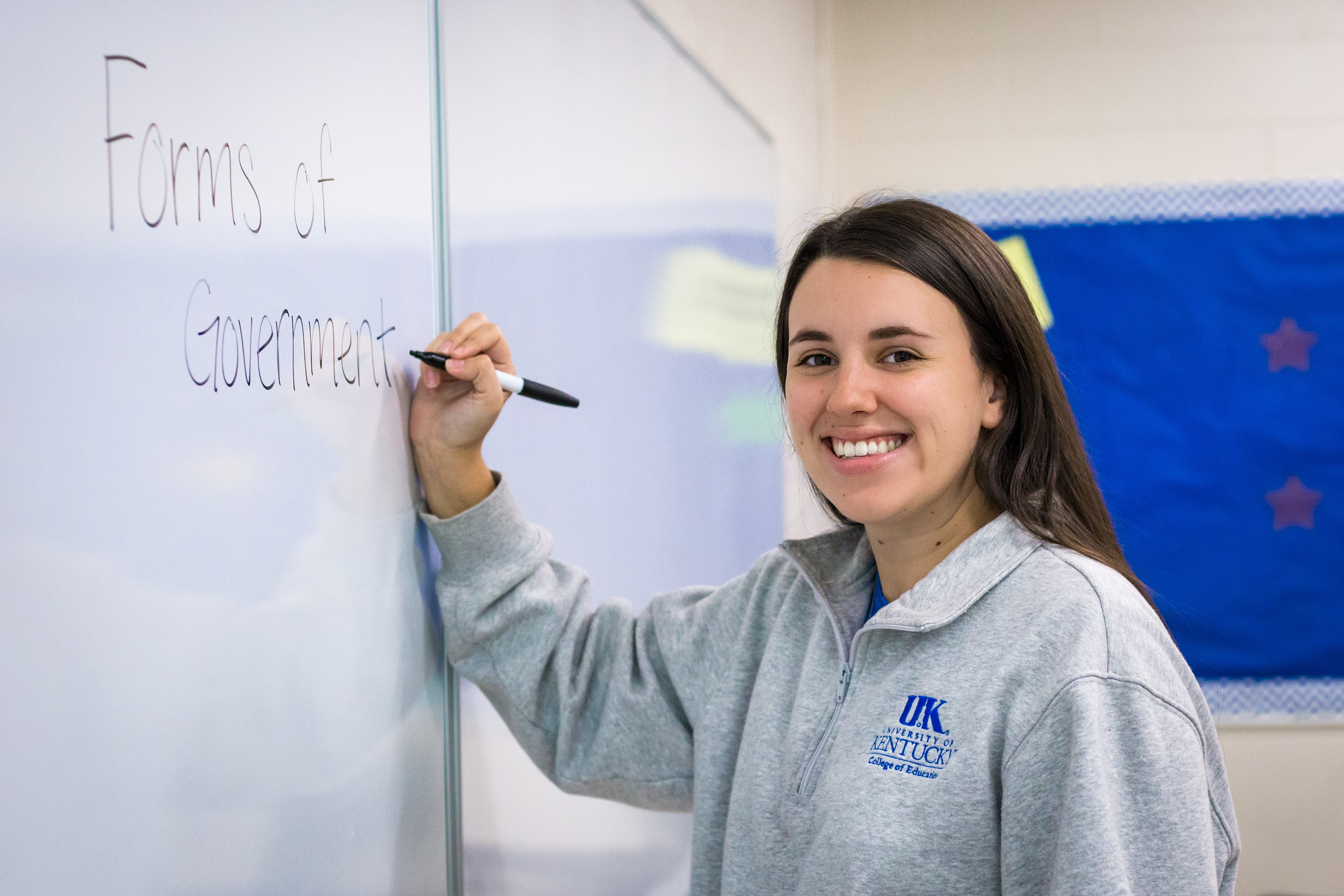 The University of Kentucky College of Education has given me the confidence to make a difference in the lives of my future students. I will be a more understanding and influential teacher, because of my time here at UK.
Secondary Social Studies Graduate
To recieve the B.A. degree in Secondary Social Studies Education, studets must: (1) complete the UK Core requirements; (2) complete the graduation compomposition and communication requirement program related studies courses; (3) complete program related studies; (4) complete major courses, and (5) complete minor courses.
---
Apply for College of Education Scholarships
In addition to automatic and competitive scholarships from the University of Kentucky, our students are also eligible for a variety of scholarship awards from the College of Education.
For incoming freshmen the scholarship application deadline is February 1.
For transfer and current students the scholarship application deadline is April 5.
---
Imagine Your Future
High School Teachers
High school teachers teach academic lessons and various skills that students will need to attend college and to enter the job market.



Source: Bureau of Labor Statistics | Click the link for more info.
Median Salary
$61,820
per year in 2021
Number of Jobs
1.06m
in 2021
10 Year Job Outlook
48,700
new jobs (average)
Work Environment
High school teachers work in schools. They work during school hours but may also work evenings and weekends to prepare lessons and grade papers. Most do not teach during the summer.
Source: Bureau of Labor Statistics
Read More
---