With an individualized Bachelor of Science in Agriculture, you can pursue one of two areas of specialization: Agricultural Ecosystem Sciences or Entomology.
Agricultural Ecosystem Sciences
Grow more. Impact less.
Through this individualized bachelor's program, students learn about factors that affect the productivity and quality of our environment. A solid background of agriculture ecosystems, management and sustainability give our students the skills to provide recommendations for production systems that consider ethics and social responsibility.
At the core of our curriculum is plant and soil sciences, animal production, and agribusiness management. Students will customize their degree by choosing a technical and agricultural concentration.
Technical Concentration (TC) areas:
Agricultural Economics & Policy
Applied Plant Biology
GIS & Technology Support
Sampling, Testing & Analysis
Agricultural Business Management
Agricultural Ecosystem Emphasis (AEE) areas:
Crop Production
Animal Production Systems
Soil Use and Water Management
Pest Management
Meet Dr. McNear, program director for Ag Ecosystem Sciences
Entomology
In our Entomology individualized program, you will learn all about insects - from their molecules to their ecosystems with a customized curriculum based on your specific interests and career goals.
Our students study a diverse collection of insects and examine their effect on humans, crops, and food chains. Through observations and research, our students learn about the most beneficial insects to the most dangerous.
Come See for Yourself
To learn more about this individualized program and its offerings, campus life, and chat with an advisor, schedule a campus visit. Virtual visits may be necessary in some cases.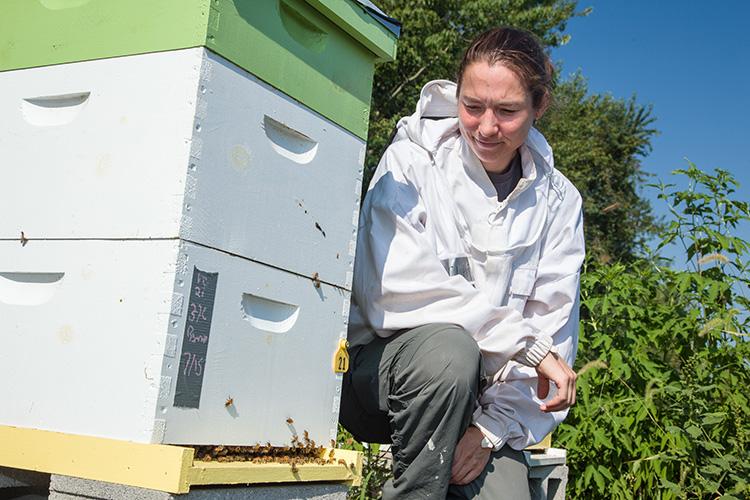 The best thing about mentoring is meeting and getting to know smart and interesting students who are excited to learn... watching students learn about the fun and frustration of research science."
Assistant Professor & Winner of the 2020 ESA Early Career Innovation Award
Imagine Your Future
Environmental Scientists and Specialists
Environmental scientists and specialists use their knowledge of the natural sciences to protect the environment and human health.



Source: Bureau of Labor Statistics | Click the link for more info.
Median Salary
$71,130
per year in 2018
Number of Jobs
85,000
in 2018
10 Year Job Outlook
7,000
new jobs (average)
---
Imagine Your Future
Agricultural and Food Scientists
Agricultural and food scientists research ways to improve the efficiency and safety of agricultural establishments and products.



Source: Bureau of Labor Statistics | Click the link for more info.
Median Salary
$64,020
per year in 2018
Number of Jobs
35,600
in 2018
10 Year Job Outlook
2,300
new jobs (average)
---