Many interests, one biotech degree—the agricultural and medical biotechnology degree brings together students with a large range of interests to use science to improve our lives in the world today.    Whether you are genetically engineering drought resistance crops or developing treatments for a genetic disease, basic scientific concepts, problem solving and critical thinking skills are needed to solve today's health and agricultural problems.  Our degree combines critical thinking and hands-on learning with instruction in genetics, molecular biology, genetic engineering, chemistry, and biology, to train students in the scientific investigation process. 
we grow careers
You will be prepared to assume government, university, and industry positions with research and technology applications to agriculture and food production. Employment opportunities include
Human genetics
Pharmaceutical development
Public Health
Food Safety
Genetic engineering technologies
Antibody and vaccine production
Bio manufacturing
Bioinformatics
Fermentation biotechnology
Plant genetics
Genomics
Biofuel production
Forensics
Medical devices
Research
You will have an excellent foundation to pursue advanced degrees for a multitude of areas including agriculture, biological sciences, health care (e.g., medicine, pharmacy, dentistry, and physician assistant studies), law, molecular biology, and veterinary sciences.
Examples of research areas include: gene cloning, pest and disease resistance genes, development of new immunological and nucleic acid types of diagnostic probes for plant and animal disease, genetic engineering of microorganisms for the production of important pharmaceutical agents, and development of new bioengineered strains of microorganisms for fermentation and food production services.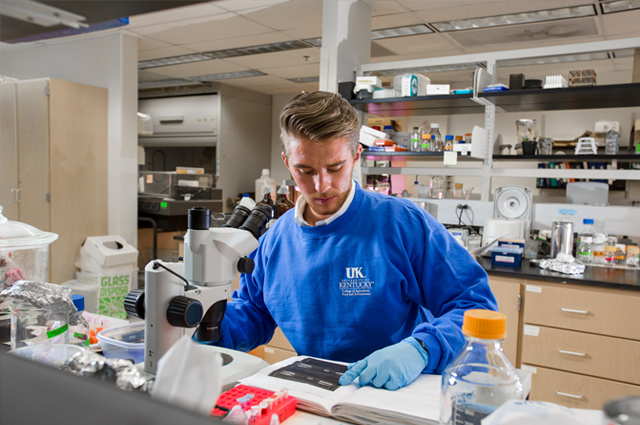 Science was always where I was destined to be.
Agriculture Biotechnology student and admit to the UK College of Medicine's Medical Sciences Graduate Program
what you'll study
Agricultural and Medical Biotechnology is at the intersection of biology, chemistry, genetics, as well as the scientific method. Not only will these core concepts be explored, but you will also be involved in an independent research project mentored by exceptional scientists and gain valuable hands-on experience in cutting edge research.
Further, special support courses will allow you to tailor your curriculum toward your individual interests and career goals. Opportunities for study tours, study abroad, and internships are also available options to bolster your coursework.
Click the most recent major sheet below for a complete list of coursework.
---
Enhancing Your Time at UK
There are countless ways to "see blue." on campus, but the best way to maximize your journey at the University of Kentucky is by engaging in an Education Abroad opportunity.
This will allow you to gain a global perspective and enhance future employability. As you take the first step towards investing in your future, we encourage you to take advantage of all the opportunities UK has to offer. Take a look at some of the options UK Education Abroad & Exchanges office suggests to complement your major! #SeeBlueAbroad
View Major Advising Page
---