The world needs ambitious change-makers to maximize and maintain global food production in an ethical, effective manner. If you want to be a part of that solution, this degree is for you.
Hungry for change?
From farm to fork, you'll grow to understand the complex social and scientific factors that influence food systems worldwide. Ultimately, you will use this knowledge to impact non-profit, human service, and agricultural industries around the world.
In this interdisciplinary program, you will explore the three pillars of Sustainable Agriculture:
environmental stewardship
economic profitability
social responsibility
Students will customize their degree by choosing from two tracks:
Farming Systems:
students focus on sustainable production methods and biophysical systems with courses in animal science, plant science, entomology and more.
Community Food Systems:
focus on issues related to food systems including food security and hunger issues with courses in nutrition, global issues, policies and more.
Hands-On Experience
Our program emphasizes experiential opportunities to give students practical, real-world skills. Students are required to complete an apprenticeship with the UK CSA farm where they learn to grow, harvest, and distribute organic vegetables. On the outskirts of Lexington, we own and operate a horticulture research farm where students and professors produce a variety of fruits and vegetables for research and consumption. It is also home to our nonprofit Community Supported Agriculture (CSA) project that provides organic produce to the Lexington community. As our student, this is just one of the many hands-on learning opportunities you'll have.
Come See for Yourself
To learn more about this program, campus life, and chat with an advisor, schedule a campus visit. Virtual visits may be necessary in some cases.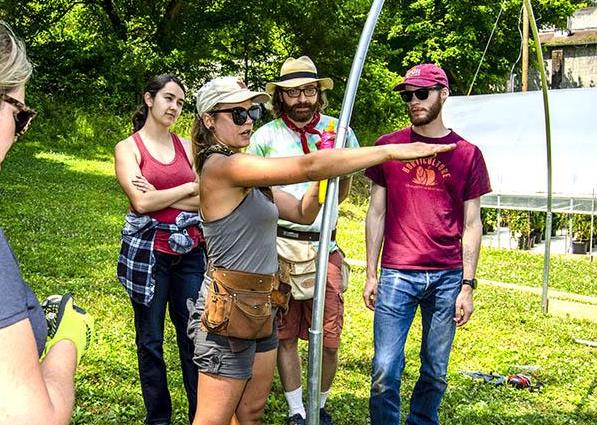 I want to use food to build connection points for people to fix things in their communities.
Sustainable Ag Student
Courses You Will Take
Access Major Map
source: myUK: GPS
Total Freshman Year Credit Hours : 31
Total Sophomore Year Credit Hours : 31
Total Junior Year Credit Hours : 30
Total Senior Year Credit Hours : 29
Please login to http://myUK.uky.edu to access your major map and personalized degree audit via the myUK Graduation Planning System (myUK GPS).