Campus Life
UK Mixed Use Parking Garage PS5 (Lexington, KY)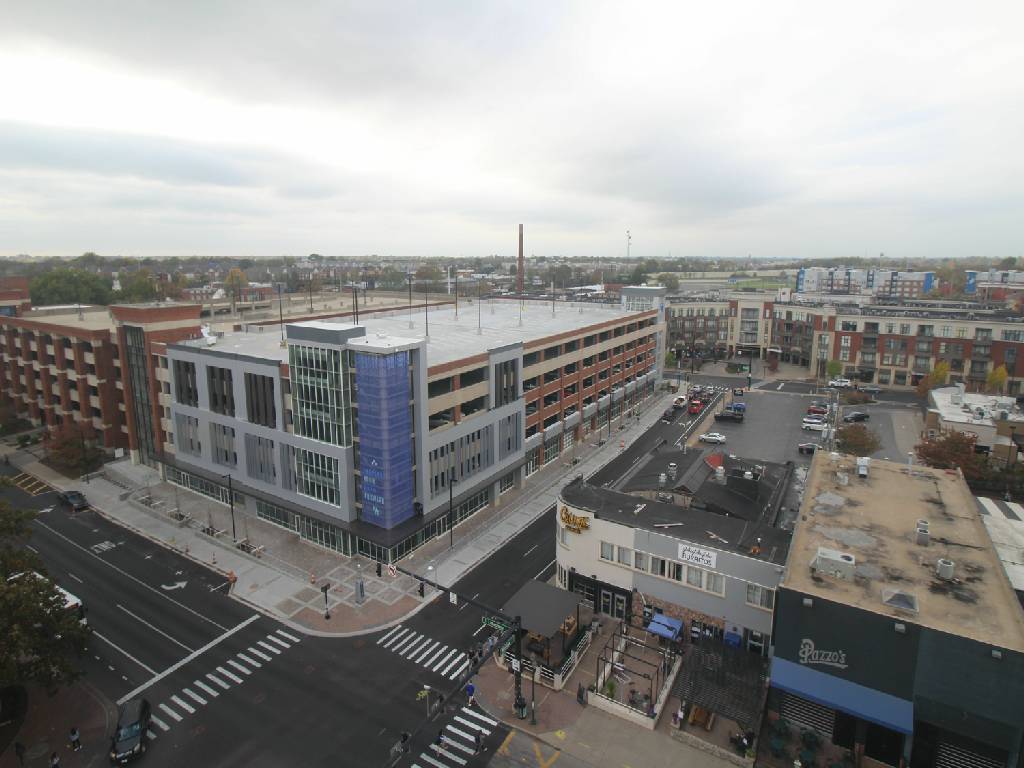 Transforming the Winslow Property
Transforming the Winslow property will allow us to provide much-needed additional parking capacity on the north side of campus, by expanding parking structure 5 to include more than 900 new spaces.  These additional parking spaces will further improve mobility to, from, and around campus for our students, faculty, staff, and visitors.
In addition, the ground floor of this expanded mixed-use facility will provide space to further enhance the north side of our campus. For instance, we are exploring how we might house innovation space and private retail space—the kind of venues that we know enhance community and belonging for our campus. The ground floor mix, which will be determined in the coming months, could include 15,000-25,000 square feet for:
Mixed-use retail space, which could include a full-service restaurant and bar,
Office and support space for UK faculty and staff, and
Innovation space that could house an app development technology partnership and/or an e-sports initiative and program for students.
A multi-story external media wall will also enhance the university's smart-campus efforts.
Anchored by one of the largest single gifts in the University's history, the 378,000-square-foot Student Center serves as the "living room" of UK's campus.
The Gatton Student Center is a space for students to collaborate, study, dine, recreate, and, most importantly, build community. The facility's layout is designed to extend outside environments, inside, and represent the natural landscape of Kentucky.
The Student Center features high-tech spaces for students and visitors while showcasing Kentucky's rich history and pride. Artwork and tributes to Kentucky line the walls and the ballroom carpets are interpretations of the Lexington city map. The details of the Social Staircase are inspired by the way water carves through Kentucky limestone and UK's fight song is embedded on the stairs. This state-of-the-art facility was designed with the past, present, and future University community members in mind. It serves as the bridge to the next generation of achievers.
Features of the building will include:
Space for Registered Student Organizations 
Students indicated that they want more space for their student organization offices — including the Center for Community Outreach, the Student Activities Board and Student Government. The new Student Center provides a dedicated area for these offices, with more space than the previous facility.
Visitor Center
A beautiful new Visitor Center is located off of the skywalk leading from Parking Structure 5, allowing prospective students and families to enter this area immediately when they arrive on our campus. 
Martin Luther King Center
The Martin Luther King Center is located at the heart of the building. It houses cultural heritage information, program and educational support functions, as well as social and cultural development areas.
Blue Box Theater
A 250 variable seat "Blue Box Theater" equipped with state-of-the-art technology makes it flexible for all kinds of performances from recitals, to concerts, to experimental theater and performance art, to dinner theaters. 
Senate Chambers
An 80+ seat, high-tech Senate chamber, equipped with video technology, roll-call voting and individual microphones creates an ideal space for Student Government functions and University Senate meetings, among other events.
Social Staircase
Located in the center of the building and inspired by the limestone creek and riverbeds, a social staircase serves as an ideal space to gather in the Student Center. 
Residential and Retail Dining
An approximately 600-seat residential dining area, Champion's Kitchen, provides a large fresh food area. Retail dining options like Subway, Chick-fil-A, Panda Express, Greens to Go, Starbucks and other favorites will also be included.
Outdoor Social Spaces
On all sides of the new and re-imagined Student Center, are outdoor social spaces for dining, informal programs and socializing. The outdoor spaces interact seamlessly with space inside the Student Center in a very transparent way, so the outside becomes an active part of the Student Center.
We take student safety, success, and experience seriously. The Gatton Student Center is intended to cultivate meaningful experiences for our University members and build a stronger community. We look forward to seeing how the Student Center will serve as a bridge to the next generation.